Joke: What has two legs, spikey hair, a charming personality, and has lost $110,000 in the past three months?
Oh, it's this guy! 👈👈
Haha…
And the cherry on top? We now have a new world record for the biggest drop in a month – $61,000, BOOM. Way to beat out the $60k loss from two months earlier!
Here's a look at how this year's gone from start to finish:

Jan: $840,243.99

(+$37,000 – Markets up)

Feb: $811,570.54

(-$29,000 – Markets crash)

Mar: $801,707.30

(-$10,000)

Apr: $818,204.91

(+$16,000 – Tax refund)

May: $841,903.39

(+$24,000 – Markets up)

Jun: $843,567.22

(+$2,000)

July: $867,121.96

(+$23,000 – Markets up)

Aug: $894,310.86

(+$27,000 – Markets up)

Sep: $902,133.51

(+$8,000)

Oct: $842,180.92

(-$60,000 – MARKET SPIRAL!!!)

Nov: $851,800.32

(+$9,000)

Dec: $791,150.37

(- $61,000 – MARKET MELTDOWN)
So, a total net (loss) of $50,000, despite a majority of the months being UP, womp womp…
And then just to add more salt to the wound, why not a visual of it all? ;)
It's safe to say we're not going to cross that $1,000,000 mark anytime soon, haha…
But as I told my wife as she started freaking out last week – AT LEAST WE HAVE MONEY TO LOSE!!! We should be so lucky!!

It's one thing to have $60k wiped out when all you have is $60k, but a whole other when you're still left with hundreds of thousands stacked there in the bank…
So while it does sting and is way less fun than $60k increases, at least we're fortunate to be in such a position. And even more so when you're able to take advantage of the dips and scoop everything up on discount! There are always plenty of wins in the seas of chaos! And I hope you all fall into this same position here too…
If it's not affecting your daily life, you'll do well to count your blessings.
******
Here's Net Worth Report #131: 
$791,150.37
[NOTE: These reports are shared to better start discussions around money and to showcase *real life* financial numbers… Some months we're up, and others we're down (like this month!), but it all gets displayed in hopes of giving you a little more perspective on stuff. Here's how this month broke down…]
CASH SAVINGS (+$3,590.44): The one saving grace from last month! And really the main area we have control over, eh?? I count it as a win any time this one is green over red despite what the markets are doing :)
THRIFT SAVINGS PLAN (TSP) (-$270.33): Wha wha…. And that's WITH over $500 of new money invested! It'll be interesting to see how this next month plays out with regards to the shutdown and getting back pay or not…
BROKERAGE (-$4,453.71): Vomit. It now would have been $3,000 better just keeping all the money in savings all year instead of investing it! Haha… But one day I'll be back saying the opposite, so I'll just go and keep my trap shut for the moment ;)
ROTH IRAs (-$12,090.58): Double vomit. See above.
SEP IRA (-$47,062.78): Triple vomit. See above. Or better yet, see this graph of how it's performed *overall* these past few years – a much prettier (and accurate) picture!
(All funds are in VTSAX – Vanguard's Total Stock Market Index Fund with a miniscule 0.04% expense ratio – "96% lower than the average expense ratio of funds with similar holdings.")
CAR VALUES (-$363.00): And then lastly the cars… which continue to go down since they're not true "assets" at all, although I still like including them here as they're worth *something* :)
Here are the values per KBB, all fully paid off:
Lexus RX350: $7,410.00
Toyota Corolla: $2,318.00
(And right before publishing this my wife comes in and says she's ready for that minivan now (!!!). Man I hate car shopping….)
Total change in net worth:
(-) $60,649.96
And sadly our kids' $$$ didn't fair too well either…
But look at that smile on my 7 mo old's face!!! He could give a crap about his wealth! 😂
And that's December! How'd you guys do??? Anyone kill it? Anyone lose *more* than me?
If so, congrats :)
Again – losing money sucks, but it sucks a lot more not having anything to lose to begin with. Keep counting those blessings and staying the course over there, and remember that life is good with or without a few extra dollars in the bank…
How lucky are we to even be alive right now???! Or have water/food/shelter/INTERNET????
Don't make me whip out that cemetery thesis again….
Yours in thankfulness,
(Visited 46 times, 1 visits today)
**********
PS:
If you're just getting started in your journey, here are a few good resources to help track your money. Doesn't matter which route you go, just that it ends up sticking!
If you're not a spreadsheet guy like me and prefer something more automated (which is fine, whatever gets you to take action!), you can try your hand with a free Personal Capital account instead.
Personal Capital is a cool tool that connects with your bank & investment accounts to give you an automated way to track your net worth. You'll get a crystal clear picture of how your spending and investments affect your financial goals (early retirement?), and it's super easy to use.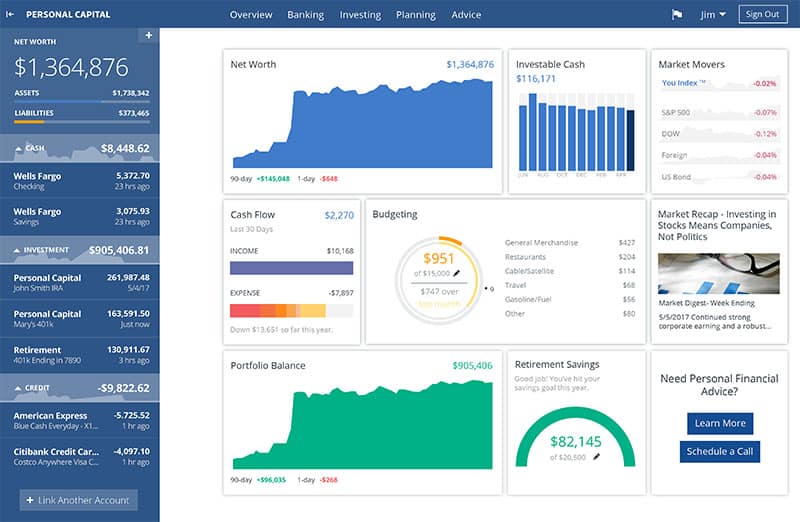 It only takes a couple minutes to set up and you can grab your free account here. They also do a lot of other cool stuff as well which my early retired friend Justin covers in our full review of Personal Capital - check it out here: Why I Use Personal Capital Almost Every Single Day.
(There's also Mint.com too btw which is also free and automated, but its more focused on day-to-day budgeting rather than long-term net worth building)
Get blog posts automatically emailed to you!