That time again to grab those spreadsheets and bank accounts and start calculating!! Gotta know where you been to know where you're going!
And you don't have to be any Warren Buffett to still live a good life ;)
Although I get blown away every damn time I come across this chart – jeez!!
That's some compounding!!! But look how long it took to REALLY get going there – a solid 40 years or so… So def. don't get too hard on yourself if you're just starting out with this stuff – it takes time! And fortunately none of us needs $58.5 billion to feel like we've "made it" :)
In fact, for me right now that number is only $1,659.4 – the amount it took for us to hit a new Net Worth high this month – woo! The market was making it hard for everyone the past few months, but as of May we got back to our January numbers plus a little extra on top giving us a new milestone… (Though we *did* throw in an extra $20,000 or so within that time frame as well – d'oh):
Just more proof to keep sticking with it though! Some months are up, and some are down, but ultimately everything trends upwards the more you continue to save and pay attention to things. And really it all starts with *tracking* your finances so you can see these advancements.
Some might even say it's just as important as budgeting?! ;)
Here's how our money broke down this month:
[These reports are shared every month to keep things transparent and start great conversations around money in our lives… Something we're not so great at in the *real world*. By putting this stuff out in the open my hope is that we can all learn and grow from it, but more importantly that it helps MOTIVATE everyone to keep going and know that it doesn't take much to get the seed planted! Just a little time, patience, and some good ol' fashion hustle :) So without further adieu, here's Net Worth Report #125…]
CASH SAVINGS (+$2,826.39): Always a good month when you bring in more than you spend! But I'll save the celebrating until we weather through the current Baby Storm as it sure doesn't ADD any money to your lives, haha… Unless places start accepting cuteness in lieu of cash?
SPAVINGS FUND! (+$103.19): Another nice bump here, courtesy of not going out and shopping much with said baby, as well as continued savings from nixing HBO and cheaper internet options from our move the other month… I also worked hard picking up pennies off the street, some more so than others!
(Yup, that's asphalt… #NoPennyLeftBehind)
THRIFT SAVINGS PLAN (TSP) (+$646.23): My wife's retirement account continues to go up with each paycheck! Another great example of compound savings over time – and in this case only around two years since she started working again… We have her invested 100% in the "L 2040" Lifecycle Fund, for those familiar with these gov't plans… (she's a bit more conservative than I and likes to be diversified more)
BROKERAGE (+$1,768.43): Only two months in and our $50k deposit continues to make dividends! Quite literally! You can read more about this new account of ours in last month's report, but basically I wanted to finally diversify our *types* of accounts more and was ready to move a lot of our cash savings out so it can be more productive. And since we had yet to have a normal *taxable* brokerage account in the mix vs retirement accounts, we decided it made the most sense. All invested in VTSAX, of course ;)
ROTH IRAs (+$3,701.35): A nice little uptick here as well, courtesy of the markets just doing their thing as we haven't been able to add extra in here for quite some time… (made too much last year to contribute which you can't complain about!)
SEP IRA (+$14,933.89): This account we *did* pump up two months ago, but the earnings this month are strictly from the markets doing well this round… And it really is SO CRAZY to think about as we literally didn't move a finger at all – in fact, I didn't even check the market *once* with all the baby hubbub, yet we still "earned" $15,000 just like that! That's passive income at its finest, right there… And all it takes is getting that ball rolling, *and then not touching any of it!*
Here's a screenshot of our investments since moving to Vanguard four years ago:
CAR VALUES (-$281.00): The only category you can't get mad about losing, haha… It's supposed to go down! And if you don't have any car payments it's even harder to be bothered by it ;)
Here are the values of our two cars presently, via Kelly Blue Book:
Lexus RX350: $8,859.00
Toyota Corolla: $2,789.00
Total change in net worth this month: +$23,698.48
And then here's a snapshot of just the past twelve months to give you a better overall picture. It doesn't always go up, no matter what you do!
Lastly, baby net worths…. Although now I need to add in a new one!
(For those interested, the 529s are from the state of Virginia and are invested in their "Aggressive Growth" portfolio option. Which "maintains a target asset allocation of 80% equity, 20% fixed income. This target asset allocation is comprised of the following Asset Classes and Funds: 48% domestic equity, managed by The Vanguard Group, Inc.; 32% international equity, managed by The Vanguard Group, Inc.; 14% market fixed income, managed by The Vanguard Group, Inc.; and 6% international fixed income, managed by The Vanguard Group, Inc." Yeah Vanguard!!)
And that's May! Anyone else reach a personal high? Anyone hit early retirement? :)
Our 401k Millionaire friend Fritz from The Retirement Manifesto just did, and is probably sitting in a jacuzzi somewhere right now pouring champagne all over his face! And really, isn't that what it's all about??? ;)
Make sure to pop over and give him a hearty congrats… You'll also love his announcement and parting thoughts: 6 Lessons Learned During 33 Years In Corporate America
'Til next time, friends! Keep those guards up and wallets down!
It'll all be reflected in next month's net worth report ;)
(I'm skipping the "life" update here as you already know what's going on in our world… BABY EXPLOSION!!!)
(Visited 16 times, 1 visits today)
**********
PS:
If you're just getting started in your journey, here are a few good resources to help track your money. Doesn't matter which route you go, just that it ends up sticking!
If you're not a spreadsheet guy like me and prefer something more automated (which is fine, whatever gets you to take action!), you can try your hand with a free Personal Capital account instead.
Personal Capital is a cool tool that connects with your bank & investment accounts to give you an automated way to track your net worth. You'll get a crystal clear picture of how your spending and investments affect your financial goals (early retirement?), and it's super easy to use.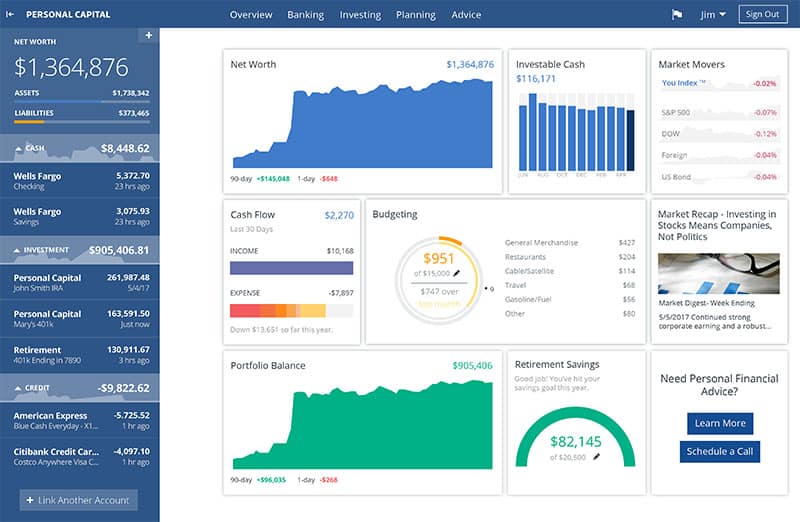 It only takes a couple minutes to set up and you can grab your free account here. They also do a lot of other cool stuff as well which my early retired friend Justin covers in our full review of Personal Capital - check it out here: Why I Use Personal Capital Almost Every Single Day.
(There's also Mint.com too btw which is also free and automated, but its more focused on day-to-day budgeting rather than long-term net worth building)
Get blog posts automatically emailed to you!