What up, y'all!
Your boy J. Money here… I'm the blogger behind the site and lover of all things money, biz, lifestyle design-y, minimalism, and most especially skateboarding (got into it last year at 41 y/o and it is amazing!! I feel 20 years younger and meeting all kinds of new friends!).
I started this blog back in 2008 in my 20s with no real budget or idea what I was doing, and over the past 14 years it ended up completely changing my life, my money, my community, and quite honestly my entire mindset. I went from chasing the money just to be able to call myself a Millionaire one day (hah!), quickly realizing it was more about the FREEDOM the money brings than the dollar signs themselves. Plus, when you're a Millionaire it means you're good at *saving* money, not *spending* it! 😂
Now in my early 40s and "early retired," I get to do what I want from sunrise to sunset and it's a beautiful thing – all because of Past Jay's hustle and persistence! Thanks dude!! And hopefully you're well into your own financial journey here too.
Some other things about me:
I'm married
Father to 3 beautiful (feisty) boys!
Proudly live and rep the commonwealth of Virginia
Have a rare autoimmune disease called Pemphigus Vulgaris (and a non-rare disease called ADHD ;))
I collect rare coins and books from my hometown (love local history!)
Been practicing minimalism since 2010
Been a professional full-time blogger/entrepreneur since 2010
Became a Millionaire by 40, then financially free shortly after that
Have created, sold, shut down, re-acquired dozens of online projects over the years – including this very blog here! (I sold it in 2019, then re-acquired it in 2022)
Have also FAILED a lot over the years as well → Failure Resume
Have won 12 industry awards, including Lifetime Achievement in 2016
Became a money coach, blog coach, fintech coach, and even judge!
I work out of coffee shops every day – the BEST!
Like mustard on my mac n' cheese
And was once turned into a bobblehead 😂
You can read more of my "story" here: jmoney.biz/story
Or sign up to get my weekly personal newsletter and get the scoop of all the projects I'm working on, as well as my favorite reads and tools from around the community I collect each week (goes out on Fridays): jmoney.biz/newsletter
*******
About The Blog
This blog all started out by accident. One fateful day my fiancé at the time and I were on a drive to check out a 2 bedroom apartment to rent, then quite literally took a wrong turn and ended up in front of a 2 bedroom townhouse for sale where we proceeded to buy it within 48 hours, on a whim and without a budget, handing over $350,000 and officially becoming "homeowners" (and by official, I mean debt owners as, a) the bank owned the house! And b) we put down exactly $0.00 on the deal right before the big market crash of '08 – oops).
Days later I realized I should probably start a budget and get my finances in order, so I googled "budget" or something to that effect and stumbled into the magnificent world of money blogs! I didn't even know what a blog was, but was absolutely ENTHRALLED by normal people talking about normal money things, with some even sharing their entire savings and investing and debts and Net Worth for the world to see!! (Shout out to My Money Blog) MIND BLOWN!!
Bored at work a few months later and wanting something fun and productive to do, I decided to start my own blog even though I'm not a writer in the least!, and with Justin Timberlake's new song buzzing in the background ("I'm bringing sexy back – yup!") I had the perfect name for it:
Budgets Are Sexy
A couple of months later advertisers started showing up and asking if they can give me money to display an ad (and I was like Hell Yeah! I didn't even know you could make money sharing your thoughts?!) and two years after that this little blog here became a full-fledged "business" and allowed me to do it for a living and I haven't had a "real" job ever since. Much to the dismay of my mother (and my college degree she paid for!).
But it's a brand new world out there, and the possibilities for online projects and businesses are endless, so if you're sitting on anything you're super passionate about and are constantly wondering "what if?", I challenge you to put it out into the world this weekend and find out once and for all!! Maybe it'll go on to change your entire life as it did mine? And worst case at least you DID SOMETHING about it and learned something in the process… You never truly *lose* going after your dreams.
These days I no longer track every last dollar that comes in, nor do I even budget for that matter (*gasp!* I do track my Net Worth every month though as I got my cash flow/expenses on lock), but I still very much love the confidence budgeting and tracking your money gives you, which ultimately goes on to affect your entire life in the process.
Budgets = Confidence = Sexy
And that's the basis of this blog. Pay attention to your money, grow as a person and feel more comfortable with yourself and your decisions, and every day work towards living your Best Life because you're confident in your finances and what you want out of life.
You got this!!
*******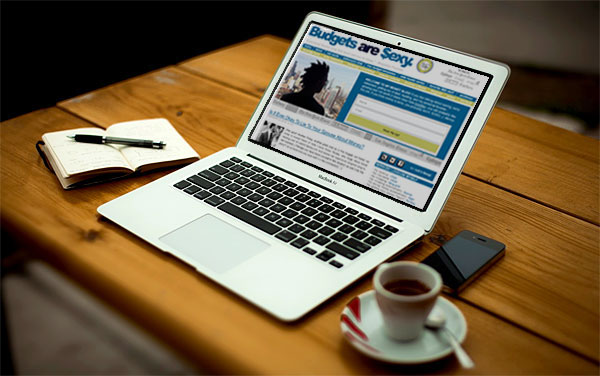 [Blog design from 2015 – early 2022]
More about the blog:
Launched Feb, 2008
Over 3,000 posts written (not all spectacular! lol)
Over 130,000 comments from the community!
Over 30,000,000 views from around the world! 🤯
Named "Best International Money Blog" in 2017 (SHOMO Awards)
Named "Blog of The Year" in 2012 (Plutus)
Named "Best Lifestyle Blog" in 2011 (Plutus)
Named "Most Humorous Personal Finance Blog" in 2010 and 2011 (Plutus)
Named "Best Personal Finance Blog for Generation Y or X" in 2010 and 2011 (Plutus)
Named "Best Microblog" in 2011 (@BudgetsAreSexy)
Named "Best Multi-Part Personal Finance Series" in 2011 (Side Hustle Series)
Named "Best Designed Personal Finance Blog" in 2010 (Plutus)
Featured hundreds of times in the media – both in print and online: Forbes, New York Times, TIME, LA Times, US News & World Report, Kiplinger, Entrepreneur, Mashable, Business Insider, Yahoo! Finance, Huffington Post, and dozens more
Sold the blog to The Motley Fool in 2019, then re-acquired it in May of 2022 – yay! My man 5AM Joel held down the fort while I was away, and I'll forever be grateful for it 🙏
I'm back and ready to continue the party!
*******
[Screenshot of the blog circa 2008!]
*******
Say Hello!
Poke around the blog, join the comments and community, and feel free to reach out anytime if you think I can help with something! Or just say hi!
I respond to all emails, even from the haters ;)
[If you have any juicy stories or tips/hacks/article ideas – pass those over too! We'll make you famous if we end up sharing them ;)]
Yours in finance,
PS: Subscribe down below to get my blog posts emailed to you so you never miss a thing! They'll automatically hit your inbox as new posts are published and it's 100% free 👊
(Visited 8,302 times, 1 visits today)
Get blog posts automatically emailed to you!