What up what up!
It's a good day to sit down and finally start tracking that money if you haven't already! I'm looking at you, Anthony H.! 👀
Haven't been paying attention to the markets lately, but apparently it did pretty well this month eh? I used to log on every day and obsess over it, but over time I realized it was completely out of my hands and fluctuated way to wildly to really grasp anything anyways. So now I just check in once a month to update these reports, and then go about my lazy business letting the markets continue to do their thing :) Not a bad idea to follow yourself if you find it stresses you out too! You know your $$$ will trend up as long as you're contributing to it every month!
At any rate, below is the breakdown of how last month went in the J. Money household… This marks month #127 in a row tracking this stuff, and it really does show that paying attention regularly works! I honestly don't do much outside of continually saving and investing!
Net Worth Breakdown: July, 2018
CASH SAVINGS (+$1,918.95): A good overall month of spending less than we earned. Something I'm noticing our daily wants tracker is starting to affect! I triple think all extra spending now! :)
SPAVINGS FUND! (+$216.64): A bit larger than normal as I let a $120 yearly service I was using expire instead of renewing it, but I'll probably be wrapping up this spavings experiment shortly as it's run its course and I'm more into the *daily* exercises now. $3,800 banked in 9 months isn't too bad though! I think we'll end up applying this towards getting that will/trust finally set up to speed up the process even more, haha… Much more fun to think about when you're getting it for "free!" :)
THRIFT SAVINGS PLAN (TSP) (+$745.76): Another nice bump in this bad boy too, courtesy of my beautiful wife having a beautiful job! She's been on maternity leave going on 2+ months now, but had accrued enough hours and sick time to cover her most of the way… We did lose a couple days worth here and there, but she's going back to work next week and the reality of having 3 kids will finally set in! Haha… Time for Daddy to take over and run the daily household – woot woot.
BROKERAGE (+$1,464.77): A sturdy little increase here as well, and much better than it would have been had we left it in our savings account like we did the previous 6 months before xfering it over! All into VTSAX at Vanguard, of course, as with my ROTH and SEP IRAs as well.
ROTH IRAs (+$4,173.19): Same story here too – nothing new added, and just the markets doing its beautiful thing. At least this month anyways :) I'll be waiting until the end of the year to max these puppies out so we don't make the same mistake as last year when we weren't allowed to! Literally the only time I maxed them out early, and of course it was the one year we shouldn't have, womp womp…
SEP IRA (+$15,478.43): Nothing new added here either (we also wait until the end of the year to max out, as it's tied to my business earnings), but very cool to see it continue to grow despite not touching anything. Here's the overall performance below since switching to Vanguard 4 years ago… It would probably still be up even if we hadn't switched, but not nearly as much as my portfolio was a hot mess back then!
CAR VALUES (-$443.00): Lastly – the cars, which are supposed to go down :) And why many people don't even include in their net worths as they're not "income-producing" assets. But I do since they'd easily convert to cash if you sold, and I like seeing an overall snapshot of my money/property at any given point as well. Maybe one day I'll throw my coin collection on it and really spark a debate! ;)
Here are their values according to KBB, valued super conservatively and all paid off:
Lexus RX350: $8,565.00
Toyota Corolla: $2,538.00
Total change in net worth this month: 
(+) $23,554.74
Much more fun than earlier in the year when it dropped $30,000! And I believe this is now our all-time high which is pretty cool… Hopefully yours is growing nicely as well! Or else I'm not doing my job here!
Here's what the last twelve months have looked like for better perspective:
And then lastly, OUR BABIES' NET WORTHS!
I'm continuing the tradition of adding a recent pic of Baby Dime to these to remind us there's more to money than just numbers :) I don't know who sent us this packet of paper ties to use every month, but they're absolutely brilliant as they remind us to snap more pics! Something we don't do nearly enough of after having babies #1 and #2, haha… Is that bad?
(Baby Dime also got his first savings account this month, in order to deposit a check in his name :) We tend to only keep $50 or less in them, with all extra $$$ going right into their 529s for tax-free growth)
So that's how our month went! How about yours? Anything good going on? Anyone start tracking it for the very first time?
I sound like a broken record here every month, but I seriously believe doing this one thing will change both your finances and your life. One of the top 3 things I ever did for our money for sure, which has probably accounted for 80% or more of our success! (The others being maxing out our retirement accounts every year, and then taking monthly challenges to continue staying conscious).
So yeah – tracking net worth works! And it's much easier than budgeting! ;) (But still good to do if you don't know where the hell your money is going…)
XOXO,
(Visited 35 times, 1 visits today)
**********
PS:
If you're just getting started in your journey, here are a few good resources to help track your money. Doesn't matter which route you go, just that it ends up sticking!
If you're not a spreadsheet guy like me and prefer something more automated (which is fine, whatever gets you to take action!), you can try your hand with a free Personal Capital account instead.
Personal Capital is a cool tool that connects with your bank & investment accounts to give you an automated way to track your net worth. You'll get a crystal clear picture of how your spending and investments affect your financial goals (early retirement?), and it's super easy to use.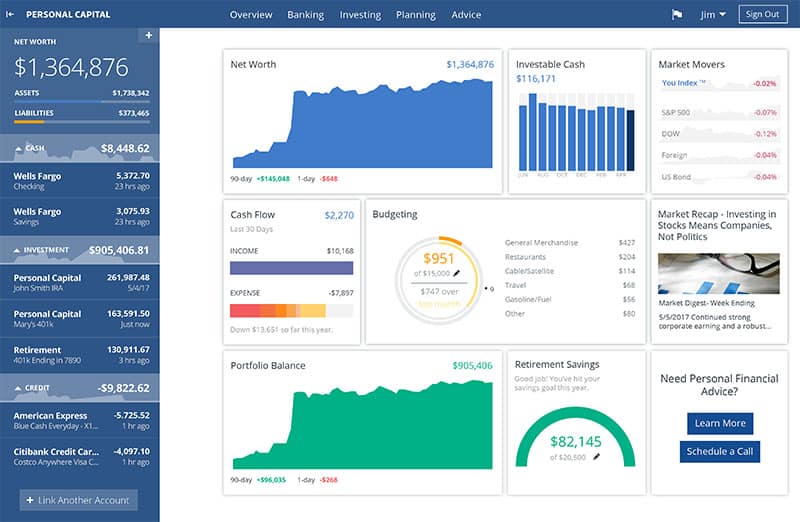 It only takes a couple minutes to set up and you can grab your free account here. They also do a lot of other cool stuff as well which my early retired friend Justin covers in our full review of Personal Capital - check it out here: Why I Use Personal Capital Almost Every Single Day.
(There's also Mint.com too btw which is also free and automated, but its more focused on day-to-day budgeting rather than long-term net worth building)
Get blog posts automatically emailed to you!