Whelp friends, the time has come to stop tracking all the money our baby has eaten over his lifetime, *tear*. I just can't keep up with it all, and there's no way in hell I'm gonna be sorting through TWO babies expenditures to figure out whose is whose in a couple months, bleh…
But while I didn't make it to the 18 years I originally wanted to (of course, coming up with this brilliant plan *before* the kids arrived and sucked our time!), I did make it past at least 18 months ;) And in fact, all the way up to 29 months! Which should award me something, right?
This also means Baby Money #1 is officially 20 months old this month – woo! (The other 9 mos tracked was pre-birth) Which comes out to a little longer than a year and a half, for all those non- parents out there who always wonders why we tell our babies' age in months (why DO we do that, exactly?). It's been an amazingly crazy and awesome trip experiencing fatherhood so far, and I can't wait to see what else this little cutie poop has in store for us down the line. And, his future brother too, for that matter.
How much do babies cost?

What isn't awesome, of course, is how much these little boogers cost you over time! And I know firsthand as I've been tracking almost every single penny of it since he was first conceived over these 29 months ago (2 and 1/2 years). Those studies that show kids cost $241,080 throughout their lifetime? Well, I'm starting to believe them now :)
While it is a sad day for spreadsheet lovers everywhere, we have collected quite the data over the years which we'll now be able to extrapolate out a bit :) Even though, yes, all kids and families and expenses will differ depending on thousands of variables (but this is my blog, and my story, so there.)
For those who have missed them, here are our past milestones:
Want to guess where we're sitting now? 5 months past the last update, and 29 total from day #1? I hope you're sitting down!! Or, that *I'm* sitting down for that matter! (I am – since I'm in my desk chair blogging this ;)).
The Grand Finale of Baby Costs:

$28,185.49!
BAM! No wonder our cash reserves have been leaking these days… Now if we extrapolate these numbers out to see what the future would hold had I continued to track these (and, if we happened to live in Magical Land where all numbers equally stayed the same throughout the months/years), I'm sure we'll see quite the chunk.
Using a monthly average of $1,270.19 (grand total of $28,185.49 minus pre-birth of $2,781.73, divided by 20 months), and then adding back in the pre-birth numbers, here's what we'd be looking at:
Total costs at 3 years old:

$

48,508.57

Total costs at 6 years:

$

94,235.41

Total costs at 9 years:

$139,962.25

Total costs at 12 years:

$185,689.09

Total costs at 15 years:

$231,415.93

Total costs at 18 years:

$277,142.77
Holy shit. That surpasses CNN's $241,080 by over $35,000! And then for two kids? $554,285.54.  And I call myself a personal finance blogger…
The Breakdown by Category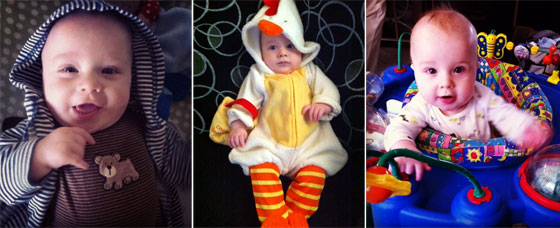 Now obviously the amounts above, and in your specific lives, will differ depending on how you spend your money and what's included in these number vs what's not (for example, does college money count? Do you use daycare? Home school?), but it's an interesting thing to look at for sure. Especially if you plan on having kids one day!
To give you a better idea of how all this counts FOR US, however, and so you don't think I'm some crazy $$$ waster ;), here's how much we've spent in the 29 months broken down by category:
Toys:

$360.76

Clothing:

$642.84

Diapers:

$1,141.59

Home/Furniture:

$1,117.12

Food:

$1,332.49

Supplies:

$1,859.52

College Savings:

$3,350.00

Medical:

$6,792.42

Daycare:

$10,588.75

Extra padding:

$1,000

(I added $50/mo for stuff I probably forgot to track)
So as you can see, our top 3 money suckers are daycare, medical costs, and college savings – which alone account for over $20,000 worth. And that's with semi-decent insurance and lower (to us, anyways) daycare since we moved out of the city! I can't even imagine what it would cost with no insurance or even higher daycare, ugh… Or what college will truly cost 15+ years from now.
I'd say we're fairly comfortable with the expenses in the other areas. We hardly spend any money on toys (grandma and pa give him a lot), hardly anything on clothing (most of it's been passed down by friends, which thankfully we'll be able to use a 2nd time now with baby boy #2!), diapers are certainly a bitch but it's a part of the game, and the rest – food and supplies – are pretty normal as well. At least from where we're sitting. So unless we plan on living on only 1 income going forward (we're not), or having our kids never get sick again (DEFINITELY not), we're stuck w/ the numbers pretty much as they are. Though we have nixed college savings for the time being until we turn our cash flow around.
In Summary
In summary, it's been a wild ride for our wallets to say the least. But as I always leave off with on this money tracking adventure – the love these babies pay us back with is immeasurable! I'd happily give $28,185.49 over and over again to have my little guy with us for many more years to come :) And from the looks of it, I'll be doing exactly that, haha…
Kids aren't for everyone, but I can confidently say they are for us. And plus, I plan on having them take over my online empire in just a few short years anyways, so by the time that happens I'll have a new source of passive income coming my way ;) That'll help recoup some of these costs!
To babies!
————-
PS: You can see an item by item breakdown of this $28,000+ here: Baby Money Tracker
(Visited 636 times, 1 visits today)
Get blog posts automatically emailed to you!