We sold another rental property! Woohoo!! 🥳🎉🍻🙌
That's 2 down, 2 to go. This is part of my long-term mission to reduce physical assets, lessen management duties, and move everything to more passive income streams. (Here are more details on why we're selling a few rentals if you're interested.)
The proceeds from this sale were about $50k. And while I won't go into the exact breakdown of profits I made from this private partnership, I'll just say that the killer return we made on this deal almost made up for the killer losses we sustained on the prior one. :)
Once the sale closed, I dumped the $50k cash straight into Vanguard Total Stock Market Index Fund (VTI) in our taxable brokerage account. This is its new forever home! So that's the reason for the big bump this month.
Here are the other net worth updates and June happenings …
Net Worth as of July 1, 2021: $718,071 (+$59,783)
Account summary with percentage increases/decreases:
Sweet! Apart from the $50k we brought in from our real estate partnership, our existing stuff grew an additional ~$9k this month. Here are the full breakdowns and deets.
Weddings, gifts, travel, and a class action WIN!
June was a fun month, both in spending and in earnings.
Wedding costs ($670):

One of my good friends got married! Since I was part of the wedding, I had to rent a suit ($270) and my wife and I also gave them $400 cash as a gift.
Pic of me and the happy couple :)  Here's a script of my officiant speech if you're interested. Nobody noticed me crying during the ceremony … because the groom was blubbering like a baby and all eyes were on him!
Birthdays, Fathers Day, etc (~$300):

My wise Dad turned 60

this past month! And since he'll be running a marathon later this year, we sprung for a new pair of Asics Kayanos as a birthday gift! Other gift spending this month was for Fathers Day and kids bday parties :)

FinCon Tickets/Accom (~$650):

It's official, I'm headed to FinCon in Austin in September. Flights were free (still got a ton of SW points to spare) so this $650 was for the conference ticket and my portion of the AirBnB rental!

Class Action Lawsuit WIN (+$575):

My wife participated in a 10-year-long class action lawsuit against Carribean Cruise Lines and

the case has finally settled

. We received a massive unexpected check in the mail this month. Woohoo!

More "afterhours" work (+$800):

My employer continues to offer me sporadic editing/creative work on some other websites they own. I find it fun (and lucrative!) so I've been doing this in some spare hours.
Detailed Account Breakdown
Cash Accounts: $34,842 (+$1,324): My wife is officially on school holidays, so no paychecks from school for July and half of August. My income can cover some of our monthly expenses through the summer, with any shortfall coming out of our cash bucket.
(BTW, does anyone follow Early Retirement Now's posts on how emergency funds are useless? Since reading his last post I'm starting to think much differently about our cash position and questioning why we have so much cash sitting around. More to come on this.)
Rental Property + Reserve Account: $242,827 (+$867): Here is how the property made us money last month:
$1,975  —  Incoming rent
(-$140)  —  Property mgmt fees
(-$305)  —  Maintenance, repairs, lawn care
(-$663)  —  Mortgage principal+interest
$867  —  Total account gain this month
Another cool thing about this rental is that it cost me ZERO man hours to manage this month. I still have a pending roof replacement, but we're holding off on that for a bit until the roofing companies are less busy.
Real Estate Syndication: $50,000: We got an awesome update this past month… This property is effectively 100% occupied and collecting rents well above initial projections. The partnership will be paying all investors a 7% annualized return for the first quarter of ownership (paid at some point in July) which means $875 for my cut.  ($50,000 x 7% / 4 quarters = $875)
IRA – Rollover: $182,204 (+$3,063): Nothing new added here. This $3k of gains is all due to market growth. This IRA is invested 100% in a total stock market index fund.
IRA – Roths: $95,022 (+$2,238): Same with these Roth accounts. Nothing new was added and growth was due solely to the market. I'd love to figure out a way to contribute more to these Roths throughout the year (in addition to the $6k regular contribution). I've been reading about Solo *Roth* 401k's and this may be an option to eventually moving more money here.
Joint Brokerage Account: $231,319 (+$53,396): I think we'll top our goal of reaching $250k in this account by the end of 2021 (assuming the market doesn't shit the bed). We'll keep adding to this account as we sell the remaining rentals and will push spare cash here too if we can!
HSA: $4,513 (+$109): Small growth here, but tax-efficient nonetheless! I wish there were backdoor ways to get more money into HSA accounts! Anybody know any sneaky methods?
Breakdown of Liabilities
Rental Property Mortgage: -$120,818 (+$246): Last month, my wife and I passed 6 years of ownership on this rental property. Our beginning mortgage balance was $136,500… and by the end of this year we'll be under $120k. Sweet! Slow and steady paydown wins the race.
Credit Card Balances: -$1,838 (-$1,460): Went a little crazy this month on the credit cards with gifts and expenses, etc.  This will be paid off in full shortly, as we do every month.
We have no other consumer debt at this time. 😎
What did you guys get up to last month? Cheers to a great month ahead!
Happy Friday!
– Joel
(Visited 11 times, 1 visits today)
**********
PS:
If you're just getting started in your journey, here are a few good resources to help track your money. Doesn't matter which route you go, just that it ends up sticking!
If you're not a spreadsheet guy like me and prefer something more automated (which is fine, whatever gets you to take action!), you can try your hand with a free Personal Capital account instead.
Personal Capital is a cool tool that connects with your bank & investment accounts to give you an automated way to track your net worth. You'll get a crystal clear picture of how your spending and investments affect your financial goals (early retirement?), and it's super easy to use.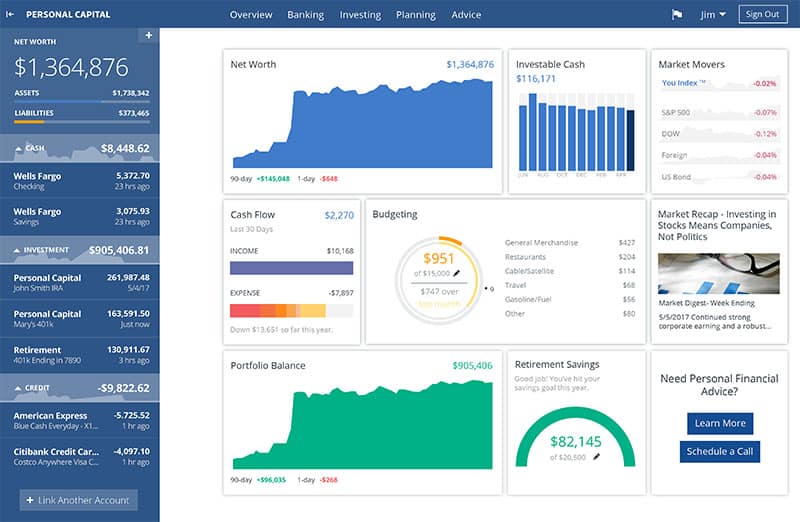 It only takes a couple minutes to set up and you can grab your free account here. They also do a lot of other cool stuff as well which my early retired friend Justin covers in our full review of Personal Capital - check it out here: Why I Use Personal Capital Almost Every Single Day.
(There's also Mint.com too btw which is also free and automated, but its more focused on day-to-day budgeting rather than long-term net worth building)
Get blog posts automatically emailed to you!