What up, what up!
Welcome to another net worth report!
For those new to the site, every month we share our finances with the world here to drum up some good convos around $$$, and to show people what a lot of this stuff looks like in "real life" (since we suck at talking about it in society!!). Some months we're up here, and others we're down, but we paste it all out there in hopes it helps others along their journeys too.
And this month we have everything going on – some goods, some bads, and some in betweens!
The goods: the markets pushed our monies up up up! ↑
The bads: we got hit with some major dental costs this month
The in betweens: I forgot to deposit some checks which totally F'd up our cash flow, woops!
The main takeaway today: having extra padding in your accounts can make all the difference for your sanity! Especially when the world has different plans for your money! :)
Here's how last month broke down in more detail…
Net Worth Update #128: August, 2018
[For a list of all 128 net worth reports over the past 10 years, click here.  It can be a grind, but paying attention to this stuff pays off over time!! And it's never too late to start!]
CASH SAVINGS (-$3,907.07): Womp womp womp… As alluded to above, we had a bit of an issue with cash flow this month due to me sitting on some checks for a while, on top of getting hit with a hefty $999 bill for dental work for my wife (why not just round up to $1,000?? Haha…), but hey – that's exactly why we have emergency funds right?! It's like our past selves watching out for our future selves – true love at its finest! ;)
SPAVINGS FUND! (+$215.16): Now this guy has continued to prove fruitful over the past 10 months for us, however all good things must come to an end and it's time to shut this challenge down to make room for the 1,000 others that I'm much more excited about lately. Like our daily "want" tracking and the 1/day decluttering missions. It's gonna be fun adding this $4,040.50 to our savings pile though to help max out our Roth IRA later in the year if we're allowed! Another successful experiment down on the books for sure…
THRIFT SAVINGS PLAN (TSP) (+$993.47): This one we're definitely not stopping anytime soon, haha… My wife's re-entry into the workforce continues to pay dividends (quite literally!) as she contributes to her retirement fund and the government continues to match… Which is the least they can do for their civil servants after deciding not to approve cost of living raises for everyone, sigh…
BROKERAGE (+$2,117.47): Another nice bump here too as the markets continue its record rise, and one I'm trying my best to savor until it finally starts correcting itself ;) Saw this pic on twitter the other day and thought it summed it up pretty nicely, haha…
ROTH IRAs ($5,681.32): Same story here – markets keep pushing everything up, even without us contributing a penny! The laziest, and my favorite, way to grow wealth! Haha…
SEP IRA ($22,375.55): And then of course it just continues to amplify with this account here – being our much bigger pot of money which corresponds to bigger swings one direction or another. All of my retirement $$$ btw, in either of the brokerage accounts, is in Vanguard's total stock market index fund, VTSAX. Here's why, if you're interested…
And then here's a snapshot of how it's fared since switching over to Vanguard and indexing 4 years ago:
CAR VALUES (-$287.00): Lastly – the cars, which always go down! :) Unless you have a hustler car like I used to before trading it in, haha… Remember Frankencaddy? The car that almost paid itself off by routinely getting hit and receiving auto claim checks?? Man she was good to us…
Here are the two cars we currently have now, along with their KBB values (both paid off):
Lexus RX350: $8,282.00
Toyota Corolla: $2,534.00
Total change in net worth this month: 
(+) $27,188.90
Getting closer to that milly milestone! We'll see if we reach it before the downturn, but either way it really doesn't matter as it's not the *amount* that counts, but the *lifestyle* it gives you.
And I've been beyond blessed to be able to make up my own schedules every day and stay home with my 3 little boys and help raise them – although two of them just started school again, eek!! Now it's just down to my wee one for most of the mornings!
Oh, and of course they all have their own net worths too ;)
[That's Baby Dime up there rockin' his tax shirt, which I'm not gonna lie – is a nice perk!! And probably the only time they save us money instead of spending it! ;)]
Lastly, here's what the past twelve months have looked like with our finances for overall perspective:
You know you're on the right track if it trends upwards over time! But don't think it means you'll never have dips, because you will! Whether through faults of your own or someone/something else's!
Let me know how it's going for you guys in the comments below or via email, especially if you've come across any new tricks or epiphanies! You know we love this stuff! :)

For a full list of ALL the net worth reports we've shared over the 10 years click here, and if you're looking for help getting started tracking your net worth, you can find a few resources pasted below.
You never need to share your numbers with anyone if you don't want to, but I do hope you're at least tracking it for yourself! It's been one of the best things I've done for my money by far, and honestly the only way I've been able to keep myself accountable for so long. Unlike our brains, the numbers never lie! So use them to hold you accountable too :)
XOXO,
(Visited 44 times, 1 visits today)
**********
PS:
If you're just getting started in your journey, here are a few good resources to help track your money. Doesn't matter which route you go, just that it ends up sticking!
If you're not a spreadsheet guy like me and prefer something more automated (which is fine, whatever gets you to take action!), you can try your hand with a free Personal Capital account instead.
Personal Capital is a cool tool that connects with your bank & investment accounts to give you an automated way to track your net worth. You'll get a crystal clear picture of how your spending and investments affect your financial goals (early retirement?), and it's super easy to use.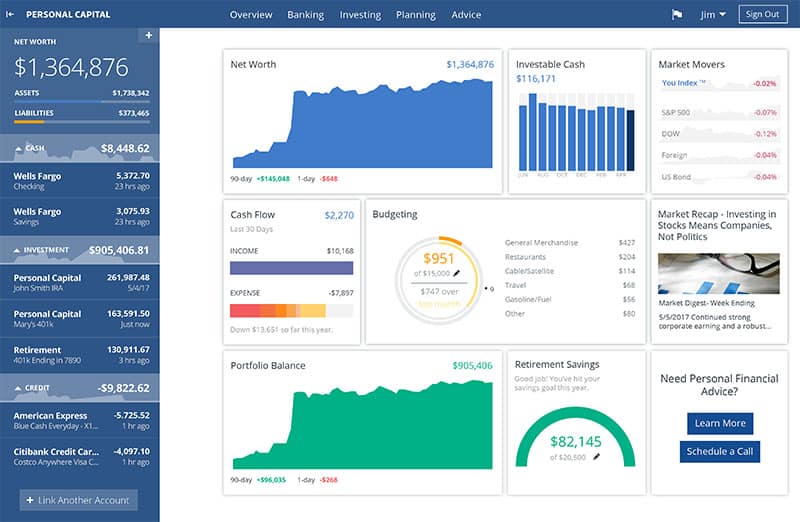 It only takes a couple minutes to set up and you can grab your free account here. They also do a lot of other cool stuff as well which my early retired friend Justin covers in our full review of Personal Capital - check it out here: Why I Use Personal Capital Almost Every Single Day.
(There's also Mint.com too btw which is also free and automated, but its more focused on day-to-day budgeting rather than long-term net worth building)
Get blog posts automatically emailed to you!