A page of alllll my favorite financial resources out there. The best blogs, books, apps, services, and other great sites I've come to be obsessed with over time…
We'll start with my favorite blogs, then work our way down to the best $$$ books and apps and then other financial resources around town. Hope this helps!!
Last updated 7/31/23
Favorite Personal Finance Blogs:
Non-Money Blogs I Follow:
Other Projects by J. Money
Favorite Financial Books:
I Will Teach You To Be Rich by Ramit Sethi — Hands down one of the BEST books out there for the younger gen. It's funny, educational, and just downright FUN to read – though it is a bit "bro" like at times. If I were to write a book, I'd imagine it would look a lot like this so you actually enjoy learning about money and not wanting to throw yourself out the window… Ramit's also got a ridiculously popular money blog too: IWillTeachYouToBeRich.com
The Millionaire Next Door by Thomas J. Stanley and William D. Danko — An OG book in the space and of my all-time favorites!! A bit dry & statistical at times, but it's the first book that really SHOOK ME and made me realize being a millionaire isn't about spending millions, but actually saving it! Imagine that! ;) They deep dive in what the average millionaire is actually all about (and it's quite surprising at times!) and helps you get into the right mindset for your own financial journey. Highly recommend.
The Automatic Millionaire by David Bach — This is my 3rd favorite financial book, and one I refused to read for quite some time. Just seemed too fluffy and "look how easy it is to do!" type deal. But after being bored one day and sucking it up, I was VERY glad I did :) It's kinda basic and on the lighter side, but if you're one who needs someone to tell you exactly what to do in detail – and you're going to listen! – you'd be on the fast track to wealth in no time. Perfect for a  beginner.
The Richest Man in Babylon by George S. Clason — Oh baby, a classic! This thing was written in like the 1920's or so, and have sold in the MILLIONS so far – pretty crazy. Well, not crazy cuz it's a GREAT book, but you get it… This is another quick read and really differentiates itself by teaching financial principals through story telling – aka a fable. Takes place thousands of years ago way before the World Wide Web and/or Mr. Dave Ramsey ;)
The Simple Path to Wealth by JL Collins — A more modern book, this is one of the best out there on FIRE – Financial Independence Retire Early. Perfect for getting your *mind* right about how to think about money and using it to set up your ideal lifestyle. Covering F-U Money, how the stock market works and how to invest in it (index funds playing a huge role here), killing debt, and how to build and preserve wealth over time. Fun easy read, by fellow blogger, and community-anointed Godfather of FIRE,  JL Collins.
The Psychology of Money by Morgan Housel — A fun newer book that dissects just what makes the financial decisions in our lives, and surprisingly it's much more emotional than rational! In his clever, well-written, way, Morgan shares 19 short stories exploring the strange ways people think about money and how to use this to make better decisions of our own. One of my favorite writers I follow on Twitter as well: @MorganHousel
The Power of Less by Leo Babauta — One of my favorite minimalism books! I ready this over 10 years ago and it completely shifted my mindset to be more conscious about what I bring into my home, what I keep, and ultimately what I release back into the world for the best balance of "stuff"/freedom. Lots of practical advice here, as well as the more *mental* aspects of minimalism too since it all resides in our HEADS just as much as the physical world. Gotta clear up all areas of our lives to make room for the stuff we love the most! Leo also runs a fantastic OG blog on the same matter at ZenHabits.net
Essentialism by Greg McKeown— One of my favorite books in the entire world, this was the one that drastically changed my work/life balance and got me towards my dream lifestyle!! While businessy in nature, it focuses more on taking control of your LIFE and what you care about (and don't), and helping you find a much more efficient way to manage everything important to you, like jobs/passions/family/projects/dreams/etc. Keep what is absolutely essential, then eliminate the rest! Highly enjoyable read. You can see my write up on it here.
A Guide Book of US Coins 2023 by R.S. Yeoman— AKA "The Red Book" for coin collectors that's basically our bible for looking up coins and how much they're worth ;) I know this book doesn't fit in here, but maybe it gets ONE of you to take up this beautiful hobby of the kings and join me in the fun!! Or at least consider this as a gift to a young person in your life that expresses an interest in our nation's coinage 👍

(For more coin loving, check out my blog – CoinThrill.com – or hit me up if you ever need help valuing or inventorying or liquidating a coin collection.)
Favorite Financial Apps & Services:
| | |
| --- | --- |
| | USAA Bank — My favorite financial institution ever!! Been a member for close to 20 years now and absolutely love having ALL my banking accounts under one main roof with them. Great products, great customer service, and always ahead of the pack tech-wise too (they were the first bank to come up with depositing checks via phone!). Only downside is that you need a military connection to use their products. |
| | Vanguard — My favorite place to stash all my investments!! My Roth, Traditional, SEP IRA, and brokerage accounts all live here and are 100% invested in their index funds, mainly VTSAX. You can read my story of conversion to Vanguard here and here, but it's a cult favorite of our community and for good reason ;) All my banking is at USAA, and all my investing is done here at Vanguard. |
| | Mint (FREE) —  A great budgeting app for anyone new to tracking their money! Or old too, lots of great features and technology built in over the years (they're one of the ORIGINAL budgeting apps in the world!), and with everything being automated thees days there's really no excuse NOT to keep track of it all. Cheap easy to use app in the space. (Free for basic, fees for more advanced) |
| | Personal Capital (FREE) — If you're looking for a more robust financial tracker, Personal Capital is the way to go. They're like Mint but on steroids, and have much better tools for investment and net worth tracking. Most personal finance bloggers are obsessed with them due to their automatic snapshots which we then like to plaster all over our sites 😂 You can see an in-depth review we did on PC here from a FIREee in the space who checks it every single day. |
| | You Need a Budget (YNAB) (FREE Trial, then $14.99/mo or $98.99/year) — One of the BEST budgeting methods in the space, built by one of the most genuine people in the space (Jesse Mecham). This software is based around 4 key principles: giving every dollar a job, saving for a rainy day, rolling with the punches, and living on last month's income. New YNAB users save $600 their first two months on avg., and more than $6,000 their first year! Great product, with a cult following. Check out my friend Vic's review of YNAB here that went on to completely change his finances 💪 |
| | Digit (FREE 6 mo. Trial, then $5/mo) — This service has exploded on the scene and automatically helps you save money without lifting a finger!! I was hooked from the second I tried them (and even came on board as an advisor I believed in them so much!) and have since saved over $4,000, averaging about $200/mo. Highly recommend if you suck at saving! You can see my full review on Digit here. |
| | Acorns ($3-$5/mo)– Similar to Digit, this app helps you automatically INVEST money vs savings by rounding up all your transactions to the nearest dollar and then dropping it right in for you – don't even have to think about it! You sign up once, connect your accounts, and it takes it from there. It stashed $400 for me while trying it in only a short amount of time – works well. My full review of Acorns can be found here. |
| | Honey (FREE) — By far my favorite coupon service out there!! Any time I'm about to check out and buy something online, I click the Honey button in my browser and it automatically scours the 'net for all coupons and applies the *best* one immediately to save me the most money. It literally takes seconds and I never have to Google for them anymore :) (Though it doesn't always find any coupons). You can see my write up on them here. |
| | Credit Karma (FREE) — An easy way to check and monitor your credit score AND credit report! Super easy to stay on top of it all, and plenty of calculators and simulators to help you get your score higher over time. You can see my full review of this financial resource here. |
| | BigScoots Hosting — The company I use to host this blog! Super fast and reliable, and their customer service/tech support system is insane. They've got 24/7 staff around the clock and will even migrate your blog FOR YOU! I use their VPS package, but I trust all their levels are fantastic. |
Favorite shirts! ;)

Originally debuting in 2012, we brought back the budgeting shirts along with a few new ones in all different shapes and sizes and colors :) And we've kept the prices as low as it can possibly go too, with only making a buck or two profit on each.
You can see the whole line here: https://amzn.to/3mxrYnn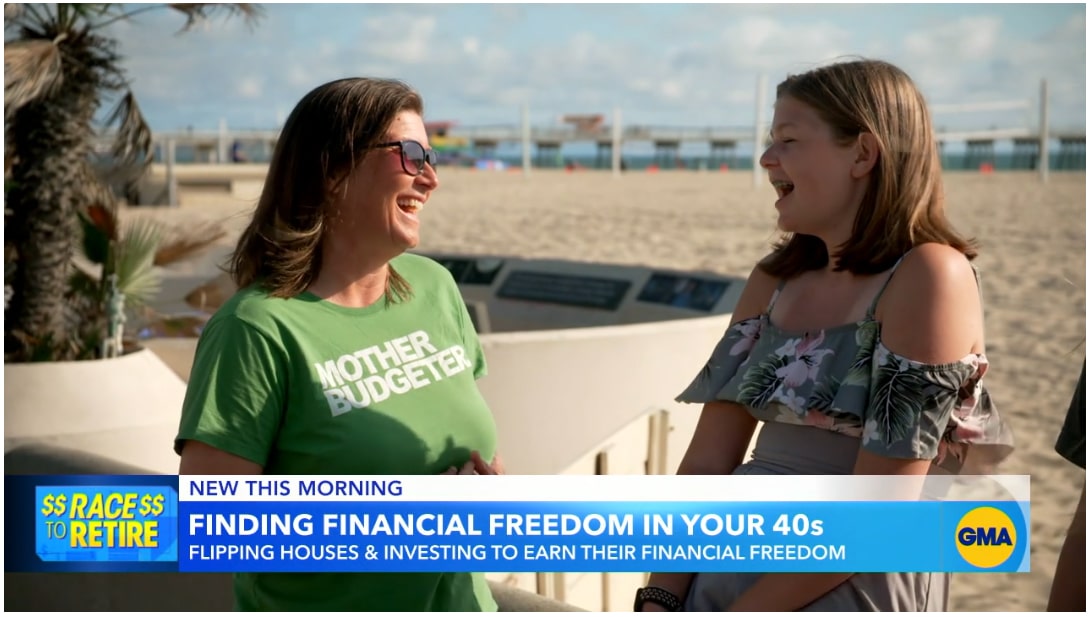 [Mrs. 1500 rocking a shirt on Good Morning America!!]
Hope this was useful!
If there's any products, books, blogs or services you swear by, pass them along and I'll check them out! I'll try and keep this page better updated over the years too 👍
*******
*Some of the resources above are affiliate links and I'll get paid a little if you sign up, and others (a majority) are not. I only ever pimp the stuff I'm obsessed about though or doesn't make the list!
(Visited 9,381 times, 3 visits today)