Aaaaaand just like that we take a tumble, haha…

Our first loss since August of last year, but the first major loss since January of 2016.  In fact, it clocks in at #3 on the Greatest Losses of All Time – a new record! Haha… And probably much needed to put things in better perspective again ;)
Here's a list of the major losses over the 10 years I've been tracking this:
Spot any themes? ;)
Always at the mercy of the markets if stocks are your strategy of choice! But luckily none of these "losses" ever matter until the day you cash out, so if you're in it for the long haul you just keep grin and bearing it and doing your best to stay the course… (while snatching up as much extra as you can too, of course, while everything's on sale!!)
It can be scary at times, but it's much LESS scary than liquidating and coming back in after the rally(s)!! Stay strong and ignore the noise!!
Onto February's Numbers….
[As always, these reports are shared to keep things transparent and start great convos around money. Sometimes we're up, sometimes we're down, and sometimes we're just plain boring – but whatever the case, we disclose it all and hope it helps you in your journey too!]
CASH SAVINGS (-$2,522.66): The one area you DO typically have control over, but wanna guess what happened to cause this last month? I'll give you a clue – my bestie landlords ;) Putting down $5,000 for a deposit and future month's rent never looks pretty on net worth reports, haha… Though thankfully it all gets recouped, and we should be back to "even" within the next month or two.
SPAVINGS FUND! (+$123.77): This side however is looking pretty! And one of my favorite things to update these days, despite such relatively low numbers (strange how that is, right? That you can get more excited finding 10 cents on the floor than seeing your investments soar?). If you haven't caught our article on what "Spavings" means you can do so by clicking that link, but as always it comes down to being more conscious with your spending, and then actively saving your savings. And this month we throw in a couple extra checks we received that wasn't expected too.
THRIFT SAVINGS PLAN (TSP) (+$230.13): Another nice bump here, and basically only because the amounts going in every month are super high relative to the balance. My wife actually put in $500'ish this month, which as you see was enough to cover the losses and still come out ahead :) Still, a win is a win!
ROTH IRAs (-$5,794.55): 20% of the overall losses this month right there! And not much we can do about it except max out this year's accounts again here soon, which we plan on doing… (But even so – $5,500 out of a $5,800 loss would still come out negative, haha… The opposite problem as above ;))
SEP IRA (-$20,529.14): Same with this one too – when the market moves, it either goes way up or way down! And this month it clocks in at 70% of our losses, womp womp…. But similar to our Roths, we'll be filling this bad boy back up next month as well. Just gotta wrap up our taxes and see what we're playing with. Here's a snapshot on how it's progressed over the years:
(Everything's in VTSAX over at Vanguard – a "total market" index fund)
CAR VALUES (-$181.00): Another expected dip here, and always tracked using Kbb (Kelly Blue Book). Here are the present values of our two cars:
Lexus RX350: $9,721.00
Toyota Corolla: $3,029.00
Total change in net worth:
-$28,673.45!
Not the best over the years, but also apparently not the worst either ;) Let's see if it gets knocked off the "top lists" over the next handful of months, haha…
But to put things in even better context, here's a 12 month window on how our finances have fared:
10 months up, 2 months down!
And now our kids' net worths… because of course we track that too ;)
So that's February! How'd you do? Anything juicy happen?
I suspect most of you were in similar boats, but tell us anyways and let's have a party ;)
In life news..
1) Got kicked out of our house! But you already knew that…
2) In the "packing up" stage now and finding even more things to condense/declutter! Which feels great!! I swear, if you ever need to be motivated to do this, just pretend you have to move!
3) Baby Dime coming in t-minus two months :)
("Oh, me? I'm just chillin'… enjoying the peace")
Happiness levels – Pretty good! I have my off days, but hard to complain :) Interestingly, the movements of our finances have little effect on it?
Book news – I've decided to table it for now as just too much stuff going on… Also can't seem to get my heart into it either? You ever experience that? When you know something could be REALLY good for you or your career/money/mission, yet for whatever reason you're just not feeling it? Can't tell if I'm just scared or lazy or truly don't want to do it, but in either case not a good place to be for such an endeavor, haha… So for now – pause button.
Charity idea – Hit a snag here too and need to recalibrate… What I REALLY want to do is just raise a $hit ton of money to form something that will go on to help people forever (maybe like a foundation of sorts?), but still searching for that *one* thing I can really sink my teeth into and make an impact… And if I'm being honest with myself, this stuff is MUCH more exciting to me than coming out with yet another money book! Is that bad? That I'd rather work on ways to give it all away than earn more??
So yeah – this mo's Life Worth: 70% Happy / 20% Busy / 10% still searching for life's meaning :)
You?
(Visited 26 times, 1 visits today)
**********
PS:
If you're just getting started in your journey, here are a few good resources to help track your money. Doesn't matter which route you go, just that it ends up sticking!
If you're not a spreadsheet guy like me and prefer something more automated (which is fine, whatever gets you to take action!), you can try your hand with a free Personal Capital account instead.
Personal Capital is a cool tool that connects with your bank & investment accounts to give you an automated way to track your net worth. You'll get a crystal clear picture of how your spending and investments affect your financial goals (early retirement?), and it's super easy to use.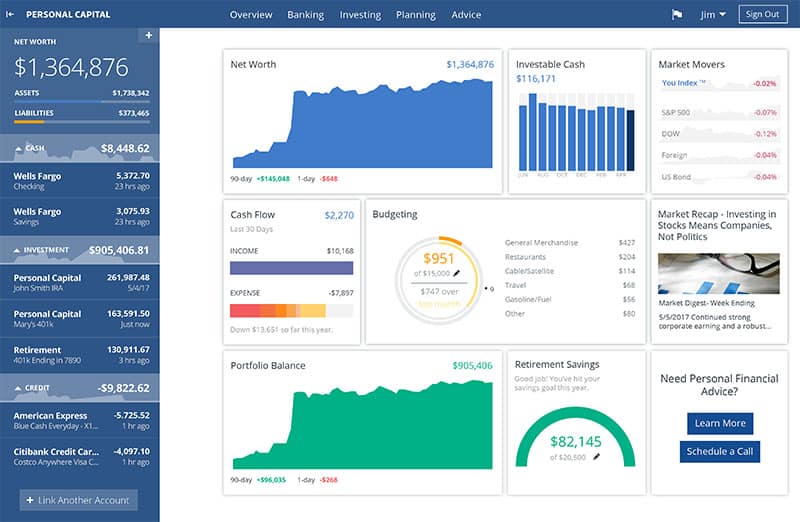 It only takes a couple minutes to set up and you can grab your free account here. They also do a lot of other cool stuff as well which my early retired friend Justin covers in our full review of Personal Capital - check it out here: Why I Use Personal Capital Almost Every Single Day.
(There's also Mint.com too btw which is also free and automated, but its more focused on day-to-day budgeting rather than long-term net worth building)
Get blog posts automatically emailed to you!