That time again! Another month, another net worth report while being another month OLDER as well! Haha… I swear I still feel like the same 28 year old when I first started tracking these, do you??? :)
Three juicy things that went down this month:
The markets continued its crashing (which you already knew)
I had to withdraw our ROTH IRA contributions as it turned out we weren't allowed to contribute (!!!)
I tried bitcoin and hated it!
We'll skip item #1 up there since it's nothing we haven't covered here before (i.e. just avert your eyes and keep going with the plan!), but let's talk a little about events #2 and #3:
#2. Roth IRA boo-boo
You know how I always wait until Tax Time each year to max out our IRAs after meeting with our accountant? Which I've faithfully done for the past decade and it's been working like a charm? Well, for whatever reason I decided to go rogue this time around and max it out three months early, and of course its the ONE TIME I mess it all up, haha…
Turns out we made too much money last year to be able to contribute *anything* to our Roths (due to the Rockstar sale), and so the $5,500 we each put towards maxing it out had to be reversed unless we wanted to do a dance with the devil. A good problem to have, but still a problem no less, and is why you see such a large cash infusion up there in our net worth graph this month :)
It wasn't because we were straight up hustling – it was because we straight up made a mistake!
I eventually got it all cleared up (had to file two "Correction of excess contribution" forms, which then gets it withdrawn + any profits it made), and now we just await to see how much we're gonna get dinged for the honor of making this mistake ;) The good thing is that we caught it *before* the tax year ends which should help, but I'll report back once I know more when I get the details…
If you ever come across more money than you're used to though, don't be like me and excitedly start maxing stuff out! Make sure you're playing inside the rules! :)
#3. Bitcoin Experimenting
This was another one that threw me for a loop this month… For years I just ignored and ignored and ignored the crypto craze and told everyone who asked me, "No! Stay away!" but when a good friend of mine started getting into it I couldn't help but get sucked in… And before I knew it I had my entire spavings fund ($2,300+) dumped in Bitcoin et al seeing what it was all about!
Whelp, it was fun for a little bit, but my pea brain just couldn't get into it *long term* like I had originally planned, and as fast as I had "invested" it I had gone in and cashed it all out, haha… I couldn't stop staring at the screens every day wondering where it would bounce to next!! Even though I kept telling myself it's a long play and to stop doing it!
Interestingly I did end up coming away with an extra $332.61 when it was said and done (and re-invested into that same spavings fund – which is why it's up larger than normal this month), but it was by pure accident and literally the next week it all crashed harder than the stock markets…
I'm glad I gave it a shot though because I hadn't tried any new experiments in a while, and it only reinforced my love for "regular" investments, haha… And I have to give mad respect to all y'all who are invested long term as well, because I really do think it'll be around for a while – even if it looks different – and if you're better than I at averting your eyes and focusing on its strengths, I'm sure you'll be handsomely rewarded later (if you haven't been already). My friend is very much still "in", and I have a feeling he'll be rubbing it in my nose years from now :)
Here are some other quick notes from my experience:
I used Coinbase to do all my buying/selling – it was so easy!! Loved having it all in one "wallet," and seems to be the popular choice for people (though you're limited to what types of digital currency you can buy there). UPDATE: See Jake's note in the comments section on why using places like this could be bad!
I bought three types of cryptocurrency: Bitcoin, Ethereum, and Litecoin. Of which all but Ethereum made money, though I think they'll be the clear winner when all the dust settles…
I spent way too much time reading – and laughing – about Cryptokitties!
And there's about 1,000 new articles on bitcoin and company every day so you'll never get bored :) One of the more feistier ones came from Mr. Money Mustache, though it still didn't stop me from experimenting on my own, haha… "Why Bitcoin is Stupid"
Would love to hear how many of you are invested in it, and what your experience has been so far? Have you been involved for a while, or just recently started out? Any good articles/resources you can share with our community here?
So yeah, a wild month this round! And that's on top of packing up all our stuff, moving to our new house, and then un-packing all our stuff while prepping for a new human in our lives :) But more on that in a bit.
Onto March's Net Worth Breakdown…
[As always, these reports are shared to keep things transparent and start great convos around money. Sometimes we're up, sometimes we're down, and sometimes we're just plain boring – but whatever the case, we disclose it all and hope it helps you in your journey too!]
CASH SAVINGS (+$14,261.41): You already learned the trick to this on (just contribute money to your IRAs when you're not supposed to, and then take it all back! ;)), but there is $3,000 or so that was on top of that which was great… We're definitely out of the cash flow problems we were once in while the wife was finishing up grad school…
SPAVINGS FUND! (+$366.97): Another nice boost here, mainly due to the bitcoin experimenting as noted above, as well as some other little finds scattered around (like saving $20 from tweaking our renter's insurance policy). You can learn more about the "spavings" idea here.
THRIFT SAVINGS PLAN (TSP) (+$421.07): The only shining light in our "investments" section! Haha… Mainly because the pot isn't big enough yet to consume any contributions being made to it on a regular basis ;) At some point they'll just be drops in the overall bucket, but we've still got a ways to go for that to happen as this one's relatively new (two years).
ROTH IRAs (-$14,195.89): A big drop, where $11,000 of it came from withdrawing 2017's maxed out contributions… Though it wouldn't have stopped the funds from being in the red anyways this month!
SEP IRA (-$10,553.80): Same here – when the market moves, the market moves. Although in April we WILL be contributing money to this account after triple checking with our accountant this time ;)
Here's a snapshot of how this account has progressed since switching to Vanguard:
(PS: Everything's in VTSAX over at Vanguard – a "total market" index fund)
CAR VALUES (-$163.00): Nothing too crazy here – just the cars doing what they do… Here are their values per Kelly Blue Book:
Lexus RX350: $9,565.00
Toyota Corolla: $3,022.00
Total change in net worth this month:
–
$
10,195.85
At least we beat last month's $30,000 drop! That's something! :)
And here's a look at how the past 12 months have gone, to put things into even better perspective:
Overall we're definitely up from this time last year!
And now onto our kids' net worths… which hopefully they appreciate one day :)

So that's March! How about you?? Anything good happen?
In "life" news — something we've started adding to these reports — here's what's been going on:
1) We moved!!! All boxes in and about 70% unpacked already – not too bad :) It was the first time I've ever had to move just a mile down the street (here's why), and WOW was it much easier than in the past. Because we were so close and had a two week overlapping of homes, we were able to do the following:
Make daily car trips to move some of the fragile/fluffy/weird-shaped items from one house to the next
Make bigger moves over two weekends using friends' trucks and trailers
And then renting one 16 ft van for a few hours to move over all remaining furniture
It took a lot of *time*, but much easier/smoother doing it over the course of two weeks than all in one main day. And it barely disrupted my kids/pregnant wife's lives too :)
2) THE BABY IS COMING THIS MONTH!!! I don't know when, but I know it's coming and just praying towards the END of the month vs in the beginning/middle, haha… I'm ready, but not that ready.
3) I'm finally fine, and enjoying, my freedom from a billion and one projects :) And I don't even want to start a new one anytime soon – imagine that?? My trick of trying to do the *least* amount of work possible every day, while still doing work and being effective, is starting to pay off, and I only hope I don't lose my hustle bone as the months tick by, haha…
4) Lastly, if you ever come across a box of old coins in your attic or from family members, feel free to mail them over to me and I will value them and liquidate for you! I jokingly said I'd do that for a friend the other day as it's something I really have done over the years, and not only did he take me up on it but it should be arriving to my house any day now!!! I CANNOT WAIT!!!! It doesn't even matter if there's junk inside – it's the thrill of the unknown that gets every collector trembling with joy, haha… So thanks, Anthony! You made this nerd's entire month!
And that's all I got for y'all today :)
This month's Life Meter: 80% Happy / 10% Busy / 10% anxiously awaiting a new human.
How about you? Life/business/love/money?
(Visited 66 times, 1 visits today)
**********
PS:
If you're just getting started in your journey, here are a few good resources to help track your money. Doesn't matter which route you go, just that it ends up sticking!
If you're not a spreadsheet guy like me and prefer something more automated (which is fine, whatever gets you to take action!), you can try your hand with a free Personal Capital account instead.
Personal Capital is a cool tool that connects with your bank & investment accounts to give you an automated way to track your net worth. You'll get a crystal clear picture of how your spending and investments affect your financial goals (early retirement?), and it's super easy to use.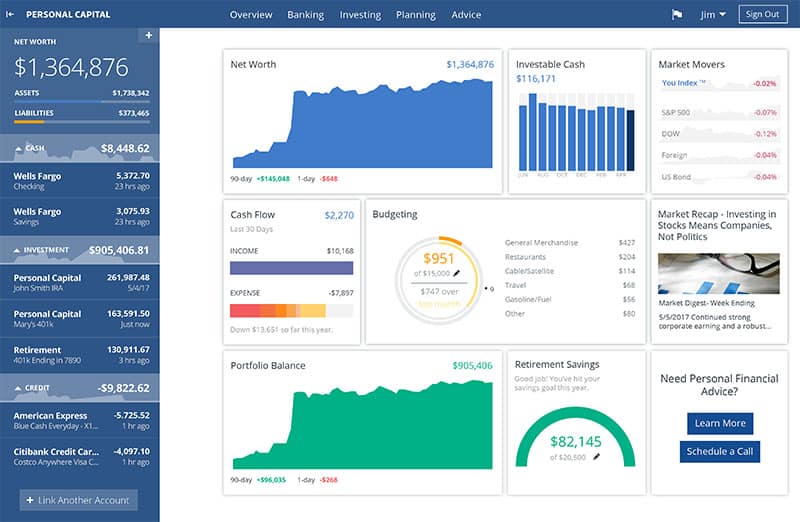 It only takes a couple minutes to set up and you can grab your free account here. They also do a lot of other cool stuff as well which my early retired friend Justin covers in our full review of Personal Capital - check it out here: Why I Use Personal Capital Almost Every Single Day.
(There's also Mint.com too btw which is also free and automated, but its more focused on day-to-day budgeting rather than long-term net worth building)
Get blog posts automatically emailed to you!