Happy Monday, all!
Good day to sit down and update the ol' net worth! (But when is it not, really? ;))

Nothing too crazy went down for us last month, but I did have fun opening up a new 529 account for the youngest and plopping in $5,000 to help him catch up with his brothers… It turns out I picked the wrong day to start and I'm already down by $130 – hah! – but hey, what are you gonna do? It's the time IN the market that counts – not TIMING the market! Heyo!
Here's how the rest of our finances played out last month:
June's Net Worth Breakdown:
[This is Net Worth Report #126 where we share the ins and outs of our money – regardless of how well or not we're doing… But here's the trick: the longer you pay attention to this stuff, the better your money tends to get! ;) And I hope you're tracking this all at home as well as it really is one of the best things you can do for yourself.]

CASH SAVINGS (-$2,885.63): Almost down as much as we were up last month, but not sweating it as this was the bucket we pulled from to get that $5k for the new 529 investment… So looks like we actually brought home an extra $2,100 or so before it all got siphoned away! (Though the 529s don't get tracked in our personal wealth, womp womp)
SPAVINGS FUND! (+$116.22): Got some good cash back rebates this month, as well as a SUPER sweet $20 gift card to Panera Bread this month from a regular I usually see there who wanted to wish me a happy father's day :) But get this – she gave it to me on her birthday!!! How beautiful is that?? (If you're new to the site, you can learn more about what this "spavings" fund is here.)
THRIFT SAVINGS PLAN (TSP) (+$500.01): Another nice increase here as the wife continues to automatically invest without thinking about it… Looks like we're getting close to her 2 year anniversary already, so you can see how fast it accumulates in a relatively small amount of time! Now over $12,000!
BROKERAGE (-$45.57): I'm not sure how this went down when it holds the *exact* same fund as our retirement accounts (which went up?), but regardless, nothing too interesting to dwell on anyways. Overall we're up around $2,000 from our initial $50,000 deposit the other month, so as long as it continues trending that way daddy will be happy :)
ROTH IRAs (+$809.16): Nothing too crazy going on over here either, but better seeing green than red no matter what the amount :) Similar to the brokerage account above, as well as my SEP account – all $$$ here is invested in VTSAX w/ the exception of my wife's IRA which is in a Target Date fund at USAA (for now).
SEP IRA (+$3,271.64): Same going on here as above, only higher % gain since there's more money sitting in this account… Cool to see the overall performance over the years since switching to Vanguard though!
CAR VALUES (-$102): Lastly – the cars, which will always go down over time, unless you're into restoring classics! :) Here are their values according to Kelly Blue Book – all fully paid off:
Lexus RX350: $8,828.00
Toyota Corolla: $2,718.00
Total change in net worth this month:
+$1,663.83
Here's our monthly snapshot of how the trailing 12 months have gone as well. Relatively stagnant the past 6 months:
And then lastly, BABY NET WORTHS!!!
Along with a pic, to put the #'s in better perspective ;) It doesn't hurt as bad throwing money into accounts when you know who they're benefiting in the end! Haha… Maybe we should slap pics of our kids on all our *credit cards* too to make us double think future purchases?!
And that's June! How'd you guys do? Anyone hit any good milestones?
In non-money life, everything is still revolving around baby, but we're starting to ease back into "normalcy" again and adapting as we go… 3 kids isn't nearly as drastic as it was going from zero to one, or even one to two – the worst! So knock on wood, I think all will be well here, and Baby Dime continues to grow and be healthy which is really all you can ask for :)
What's new in your worlds?? Money/life/love good? Anyone doing something wild this Summer? Anyone want to COME BABYSIT??? 🤞
XOXO,
(Visited 19 times, 1 visits today)
**********
PS:
If you're just getting started in your journey, here are a few good resources to help track your money. Doesn't matter which route you go, just that it ends up sticking!
If you're not a spreadsheet guy like me and prefer something more automated (which is fine, whatever gets you to take action!), you can try your hand with a free Personal Capital account instead.
Personal Capital is a cool tool that connects with your bank & investment accounts to give you an automated way to track your net worth. You'll get a crystal clear picture of how your spending and investments affect your financial goals (early retirement?), and it's super easy to use.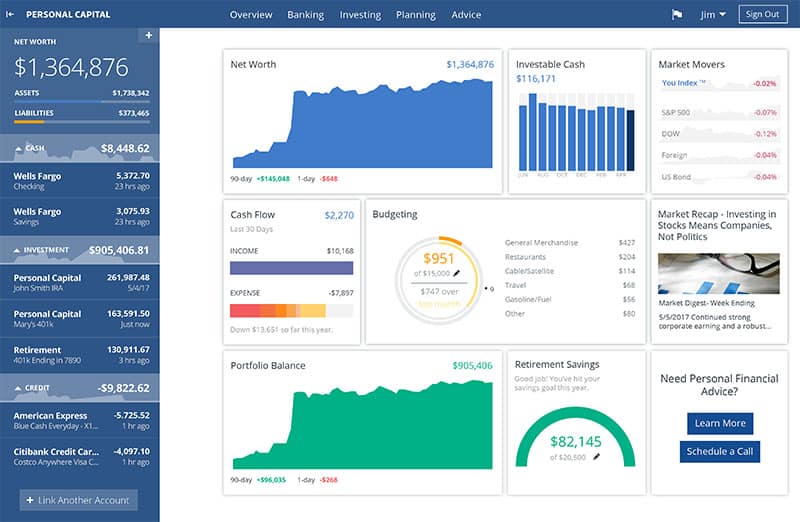 It only takes a couple minutes to set up and you can grab your free account here. They also do a lot of other cool stuff as well which my early retired friend Justin covers in our full review of Personal Capital - check it out here: Why I Use Personal Capital Almost Every Single Day.
(There's also Mint.com too btw which is also free and automated, but its more focused on day-to-day budgeting rather than long-term net worth building)
Get blog posts automatically emailed to you!