Hey guys! I am SO excited to share this article with y'all today because I haven't done a good job writing about YNAB myself (You Need A Budget) and that's just crazy cuz this is a budgeting site!! And I love what they're doing over there! So please welcome my boy Vic from DadIsCheap.com today who shares his story on how it's completely changed his finances and gotten his family to save and plan better for the future. Hope you his YNAB review helpful!
**********************
For years my wife and I tried to budget.
Spreadsheets didn't work because we couldn't consistently input our transactions. We tried Mint but found that it was reactive rather than proactive. It showed us what we spent our money on, but it didn't really change our behavior.
Yet no matter how motivated we were, nothing ever stuck.
It wasn't until we started using YNAB (You Need a Budget) when everything finally clicked. While other budgeting programs simply give you a tool to budget, YNAB is based on a philosophy and method that shows you – teaches you – how to actually stick to a budget.
It All Starts With The Four Rules of YNAB:
1. Give Every Dollar a Job
At the beginning of every month, you allocate every single dollar for your budget. This includes EVERYTHING, from monthly expenses such as water and electricity to more fun spending such as restaurants and going out. When you give every dollar a job, you can save more, invest more, and better plan for your future. You are prioritizing your money according to what's important to you – which in our case are retirement, vacations, and funding our daughter's college.
2. Save for a Rainy Day
How many times have you been "surprised" with big expenses that happen once or twice a year like taxes or car insurance? How about Christmas shopping? What about things like car repairs that you know you're going to pay for eventually?
YNAB makes this easy by training you to treat these payments as monthly expenses. In March we have a $2,400 tax payment due that we've been saving $200 a month for since April. At the end of every month the $200 gets rolled into the next month until it is fully funded next March. This is far less stressful than scrambling to come up with the money whenever the bill arrives in the mail :)
3. Roll with the Punches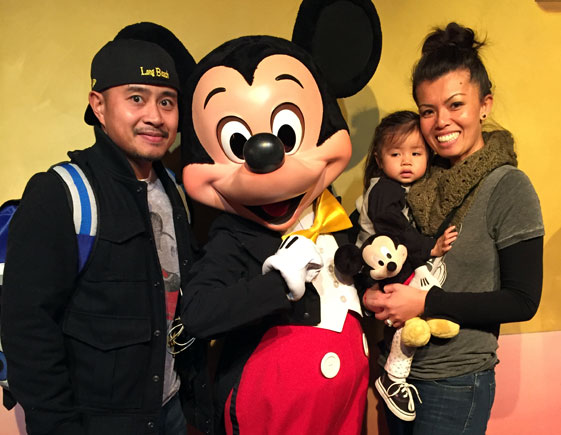 Sometimes your budget doesn't go according to plan. There will be times in which you spend more than you anticipate or an unexpected expense comes up, and that's ok. Budgets don't have to be restrictive. With Rule #3, you roll with it.
We just had an unplanned trip to Disneyland recently (our daughter's first), which cost us an arm and a leg. Rather than let it send our budget into a tailspin, we simply adjust. We're just going to pull money from other categories to cover or we'll subtract the spend from next month's budget to compensate. Done and done. :)
4. Live on Last Month's Income
With Rule #4, any income you receive in the current month gets applied to next month's spending. You only budget with money that you already have. This (along with the money saved from Rule #2) creates a buffer within your checking account to help prevent you from getting hit with overdraft fees.
Before, my wife and I always had to double check if we had enough money in our accounts before we paid a bill. By living on last month's income, we don't do this anymore. Any bill that comes up gets paid right away. It's completely liberating.
What Makes YNAB Different?
While people love Mint or Personal Capital because everything is automated, it's the same exact reason why those programs didn't work for me. YNAB forces you to be an active participant in your budget on a daily basis by manually entering each transaction. Mint also isn't great at keeping track of cash purchases, which was a problem for me as there are still businesses that I frequent that only accept cash (yes, they still exist :( )
While people think that entering every transaction might be cumbersome, it really isn't that bad. It takes SECONDS to input a transaction into your mobile app. YNAB also has an awesome feature where the app remembers your location, which encourages you to input the transaction on the spot. So anytime I'm at the grocery store, all I have to do is enter the amount. Everything else (account, store, memo) is already populated.
(One time when I was ordering food I was entering the transaction and the person next to me was doing the same. We gave each other a nod of approval and reveled in our awesomeness.)
Entering transactions as they happen creates hyper awareness as we're always mindful how much is in our budget categories at all times. We are now more conscious of our spending and make sure that our purchases fall in line with our values. This also makes me look forward to the end of the month as any unspent money in our budget categories turns into an additional opportunity to save and invest. Kinda turns budgeting into a game. :)
Focus on Your *Category* Balances, Not Your *Account* Balances
I currently have fifteen (15!) different "on budget" accounts between cash, checking, and credit cards. YNAB easily organizes this by consolidating every account to add up to one "On Budget Number".
Since YNAB doesn't care which account you spend from, this allows you to focus your spending on your category balances and not your account balances. This lets me maximize my credit card rewards by alternating cards depending on the purchase. I also got into the habit of treating gift cards as cash accounts in the budget so I don't end up spending a Target gift card gift frivolously. :)
As a fan of opening up various checking/savings/credit account for the sign up bonuses, YNAB helps manage this since we always have an extra account or two that we have open until we are able to fulfill the requirements for the bonus. Since last year we've made over $1,200 in sign up bonuses! How's that for a side hustle, J$? (EDITOR'S NOTE – Hah! Not my style, but more power to ya'll ;))
Don't worry; opening multiple accounts over the past year hasn't affected my credit. Last I checked, my FICO score is still sitting pretty at 800.
YNAB Costs $98.99/year?
Why would you pay $14.99/mo (or $98.99/year) for YNAB when you can use Mint or create your own spreadsheet for free? As a self professed cheapskate I admit that YNAB does cost a pretty penny, but it's worth every cent. YNAB has paid for itself many times over. If you follow The Four Rules, you'll easily "find" $99 in your budget. According to their website, the average YNABer saves $600 in their first two months and more than $6,000 their first year!
The staff at YNAB also does a great job of training users on their program and methodology with video tutorials, online courses, user forums, and customer support. They believe in their product so much that they offer a generous 34 day free trial so that you can see for yourself if YNAB works for you. They're worth the investment.
It Changed Our Financial Future
Since we started using YNAB, my family's finances have completely changed. While we lived a comfortable life in the past, there was never a sense that we were working towards any kind of future. YNAB has allowed us to save more, invest more, and plan for the future. We have even been able to weather my current lay off with little problems.
My wife and I now discuss money openly and talk about longer term goals such as retirement, paying off our mortgage early, and funding our daughter's education. Our marriage has never been better.
When you follow The Four Rules of YNAB, not only are you prioritizing your spending, but you are prioritizing your life. I've never been more optimistic about my family's future.
Check out YNAB here: YouNeedaBudget.com
(Free for the first 34 days)
***********
**UPDATE** This post was written based on my experiences with YNAB4. As of December 30, 2015, the new version of YNAB was released. After working on the new YNAB for about a week I wanted to mention a few of the changes.
The app is web based – you no longer need to download a separate program or use DropBox
Allows Mint-like direct import of transactions – making reconciliation even faster
You can attach goals to categories – YNAB will tell you how much to save each month to achieve those goals.
Rule #2 has been renamed to "Embrace Your True Expenses" – to clarify that you're not just saving for emergencies, but less frequent expenses like insurance and car registrations
Rule #4 has been revised as "Age Your Money" – rather than simply living on last month's income, YNAB calculates  how old your money is before you spend it to show how much of a financial cushion you actually have.
A few features have been removed (red arrow to carry a negative category balance) and have yet to be implemented (reporting, search)
As always, YNAB has a pretty generous 34 day trial so that you can see for yourself if the new YNAB is for you. For those who are perfectly happy with YNAB4, it will be supported officially throughout 2016 and unofficially as long as possible.
Overall I am a fan of the new version. While there have been some issues with the launch of the new YNAB, I am optimistic that the YNAB team will address them soon enough :)
************
Guest post by Victor Lim, who was inspired to become financially responsible after becoming a father. You can read more about his journey into fatherhood and finances at his blog: Dad is Cheap.
(Thanks Vic!! And fyi – links to YNAB here are affiliate links meaning we get a few dollars anytime someone signs up through them. But as always, we're extremely picky with who we partner up with and only share the companies and services we love and/or find helpful. So hopefully this helps!)

Already use or know about YNAB? Check out our review on Personal Capital – another great way to manage your money, specifically with investments and tracking your net worth.
(Visited 566 times, 1 visits today)
Get blog posts automatically emailed to you!