Happy Net Worth Day!
As I was updating our numbers this month, it dawned on me that I have now tracked my net worth every single month for 10 years straight now. TEN YEARS!!! That's 120 net worth reports in a row – crazy!
And in fact, a week from today is actually this blog's 10 year anniversary too, which is a whole other win for someone who could barely hold down a job for 10 months no less 10 years, haha…
We'll get to all that next week, but today we celebrate our *Net Worth Anniversary* by going back in time and pulling out the very first report we ever published!
Back when I was a nubile 28 year old with no kids, no wife (I was engaged), no responsibilities outside of our too-big-for-us mortgage, and when I was pretty much doing the bare minimum at my 9-5 while doing the absolute maximum out at the bar scene ;)
Here's what past J$'s finances looked like a decade ago:
Not too bad, all things considering? Some hefty debts there with the car loan and credit card, but at least there's some investments that help make up for it! Haha… And I see some pretty creative tracking there as well with the "condo investment" listing (i.e. a loan I gave my brother where I apparently tracked the payments back to me vs just putting them back into savings?) as well as the calculating of "home equity" instead of just listing out the home's value in one section and the mortgages in the other. (Which I later corrected to better give me a fuller picture of things)
Here's a clip from that first report too… When my mission was to hit that elusive $100,000 – the hardest milestone of all!
401k: My favorite category of all time :) What's not to love about company matches, direct deposits, and tax benefits? If all goes as planned, this will be my 3rd year of maxing out my 401k! I have been more than blessed w/ generous company matches, so it would be absolutely asinine not to participate. I expect this category to go up at least $2,375 each month, markets willing.
And it would have been ass-inine of me to not participate in that retirement plan as they were matching 100% of contributions up to the legal limit of $15,500 – all fully vested from day 1! Which meant putting in $15,500 myself, and getting a free $15,500 in return – just like that (!!!). You'll notice the cash losses at the top of that chart there which were due to me jacking up my contributions to like 90% and living off of less than $100 a pay period until I fully capped out, haha… Who in their right mind *wouldn't* go after all that free money??
(Answer: 95% of my colleagues, womp womp… No one understood just how insane it was, and by the time they did our company was on the path to imploding and people were scrambling to find new jobs…  (Long-time readers might remember the ordeals back then, from paychecks not clearing to some of us eventually taking our employer to court – all of which I do not miss one bit, ugh… (though I do miss those sweet matches which are non-existent in self-employment! ;) ))
Ten years later we're still maxing out our retirement accounts too! It's been the backbone of our entire net worth all these years, and even if that was ALL we ever did we'd still be sitting pretty… That compounding adds up!
But alright, out from the past now and back into reality… Time flies when you're nerding out!
January's Net Worth Breakdown:
[As always, these reports are shared to better start discussions around money, and to showcase a *real life* financial snapshot which is so often hidden in this world of ours. It's the #1 thing that drew ME to money blogs all those years ago, so it's something I've committed to doing myself to further keep the motivation and love of tracking going… So without further adieu, welcome to net worth report #121!]
CASH SAVINGS (+$810.63): Woo – it's up and not down! Which is a big win, considering it's one of the only areas you actually have control over when you're so invested in the stock market, haha… And thank goodness this report only covers January, as Friday was a WHOPPER of a market crash – wow! I haven't seen numbers like that since the 2008 era – remember pages like these??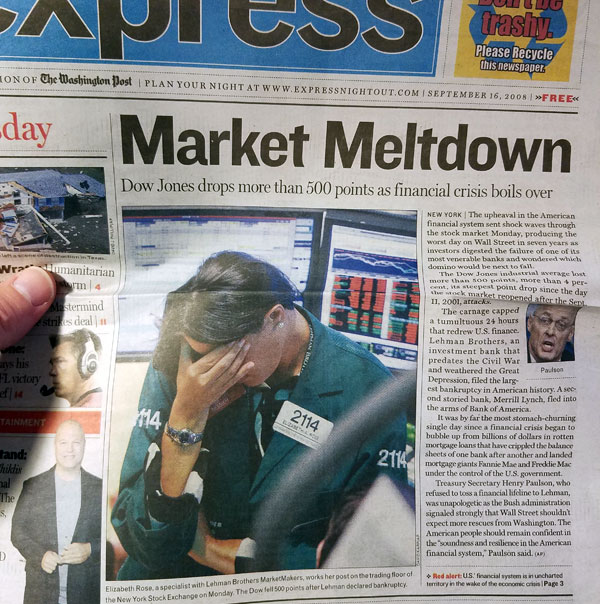 SPAVINGS FUND! (+$61.85): Another month, another socking away of spavings! I.e.  "spending savings" where you have to actually spend money in order to save money, haha… Here's a list of some of my spavings from throughout the month, plus some random money I threw in like found change on the ground or gift cards that I used, thereby saving me from having to spend the money:
$1.00 Panera rewards
$30.15 USAA dividends
$3.00 Starbucks free coffee (a perk of being a regular!)
$1.00 Panera rewards (a regular, who cheats on 'em w/ Panera ;))
$1.70 – bagel made at home instead of usual purchase @ Panera
(The rest of the list literally involves nothing but coffee or bagel-related items, so I'll spare you from the boredom, haha… And while I initially thought I'd be applying all this money towards an IRA, I'm actually considering using it for something more fun/experimenty like with bitcoin or something? Since it's all "free" money and I wouldn't feel as bad losing if it came to that??)
THRIFT SAVINGS PLAN (TSP) (+$1,098.33): Another great bump here, this time courtesy of Mrs. BudgetsAreSexy! Her ol' retirement contributions and matches are piling up, and though her job is not nearly as secure as it once was w/ all the administration changes, we've made it another month and will continue being thankful for each future one granted to us as well… She loves her job, but it's getting shakier by the day.
ROTH IRAs (+$8,046.57): A nice bump here too, all due to the markets… And again before the major crash on Friday. Thankfully none of it really matters if you're not touching the money for decades, but for those soon retiring or cashing out it can most definitely sting :( We'll have to see if this is finally the start of a downturn, or if it's yet another finicky one-off that we're so accustomed to seeing.
SEP IRA (+$27,922.77): Same goes with this bad boy too – nothing new added, and is fully dependent on the market! It'll soon be time for our yearly maxing out though, which will help us reallocate some of those cash reserves we've piled up from the sale…
Here's how our investments have fared since moving everything over to Vanguard (we're fully in VTSAX – my favorite "lazy" portfolio of choice!):
CAR VALUES (-$646.00): Another usual dip, as tracked through Kelly Blue Book (Kbb.com). Here are the present values of our two cars, which may or may not change come baby #3 ;)
Lexus RX350: $9,801.00
Toyota Corolla: $3,130.00
CAR LOAN: (+$0.00): I know this doesn't belong here anymore now that we fully paid it off (woo!) but I can't help staring at it so I'm leaving it in for one last month before taking it down, haha… It's the little things in life!
And that's January!
Here's how the past 12 months have gone for a more broader picture:
And here's how our kids' net worths are faring… Mainly just some changes in market prices:
Now a *LIFE* update!
A lot of you liked this part from last month where we balance out all the $$$ talk with more of the stuff that actually matters (i.e. living!), so we'll go another round here and see how it goes :)
Baby news: Super healthy and growing!! We had a scare last week and had to head over to the hospital for 24 hours to be monitored, but fortunately the problem was mommy-related and not baby-related, although of course it still sucked for the mommy, haha…. (she's all better now though!)
More baby news: it comes out in THREE MONTHS – ACK!!!! I'm ready but also NOT ready at all, haha… it's always been so far away and now he/she is almost here!
Speaking of he/she news: I finally caved and found out what "it" is :) My wife did not enjoy the fact she had to keep hiding it anymore, so in an attempt to be a good husband I welcomed the news and now the cat is out of the bag… Though I'm thinking I may just put it *back into the bag* as far as this blog here goes, and try to milk the fun secret even longer, haha… You guys wouldn't hate me too much for not spilling the beans, right?
In Time/Work news: I'm officially used to my new schedule now since selling Rockstar, and it's loaded with about 80% of awesomeness and 20% of unease, wondering how best to use my free time :) I thought I'd be able to just "be" and relax for a third of the work day, but I keep catching myself getting antsy whenever I'm not doing something productive, so it seems I still have a ways to go on that whole work/life balance front (probably due to years of over-hustling!). Of course, the whole problem goes away in three months when the baby boy girl (ack – almost slipped on that one) comes out, so for now I should probably just keep my mouth shut and try to appreciate it as much as I can… I will say I'm loving hitting inbox zero every day now instead of every year, so that's something! I also created an "art center" for my kids in the middle of the work day when I was tired of seeing their supplies scattered in 13 different places, so I am finding ways to cope :)
Book deal – I've also been contacted a couple of times this month for a book deal! I'm not quite sure I'm ready to take on *that* level of project as yet, but it is always fun to think about… I might be reaching out to some of y'all later if I decide to move forward in hopes of getting connected to a good agent out there, but for now it's sitting on the "make sure you REALLY want to do this!" pile before taking any next moves, haha… I want to stay productive, but that's a whole other beast!
The updating of jmoney.biz… I've also been spending more time updating and creating some new pages on my resume site to finally get everything into one main spot, not unlike my kids' art supplies. I now have an updated press page, a projects page, a failures page which y'all are already familiar with, and then lastly an updated consulting page as I'm starting to pick up more of that stuff too. It's amazing how you can condense a decade worth of work into just a handful of bullet points! It's a fun exercise to try if you've never done it before :)
A charity idea? Lastly, I'm batting around a pretty wild philanthropy idea that I think can be SUPER helpful for a best friend of mine, but I'm anxious to put it into action because it's a much longer (and crazier) play than I'm used to… But it IS fun and CAN do some loads of good for him, so maybe I just pull the trigger and put it out there to the world? Where I'll either be laughed out of the room, or called a super genius? Haha…
And that's a wrap! Money + LIFE… Two of the best things!
Let us know what's good in your life lately, and of course if you have any questions whatsoever with these updates, just pass them on over as you know I'm an open book.
I don't have the answers to everything, but I DO know that tracking your money is one of the best things you can ever do for yourself, and I'm so glad I started those fateful years ago…  If you're new to the site or $$$ management in general, I've listed a few of my favorite tools for tracking net worth below.
Here's to a great new month, and making each day count!

(Visited 22 times, 1 visits today)
**********
PS:
If you're just getting started in your journey, here are a few good resources to help track your money. Doesn't matter which route you go, just that it ends up sticking!
If you're not a spreadsheet guy like me and prefer something more automated (which is fine, whatever gets you to take action!), you can try your hand with a free Personal Capital account instead.
Personal Capital is a cool tool that connects with your bank & investment accounts to give you an automated way to track your net worth. You'll get a crystal clear picture of how your spending and investments affect your financial goals (early retirement?), and it's super easy to use.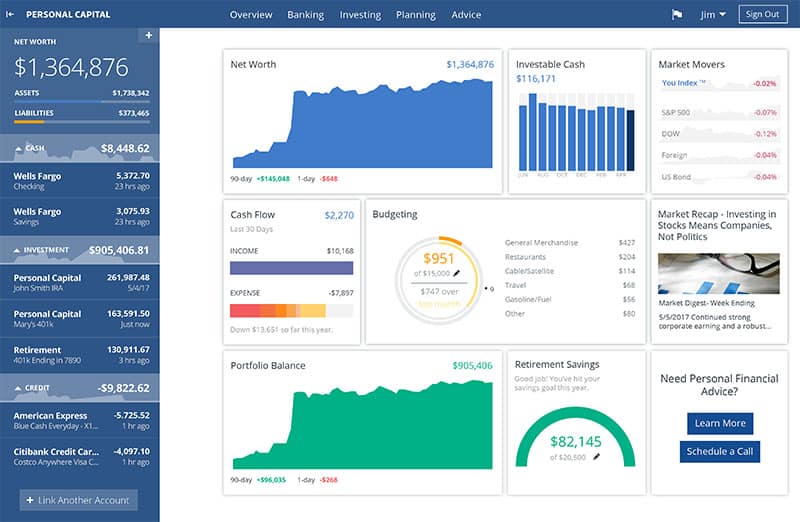 It only takes a couple minutes to set up and you can grab your free account here. They also do a lot of other cool stuff as well which my early retired friend Justin covers in our full review of Personal Capital - check it out here: Why I Use Personal Capital Almost Every Single Day.
(There's also Mint.com too btw which is also free and automated, but its more focused on day-to-day budgeting rather than long-term net worth building)
Get blog posts automatically emailed to you!