Here's something crazy – as of today, I've been blogging for over 25% of my life!
10 years of blogging, building, experimenting, community, friends, exploration, growth, loss, and just general happiness that we're all still together here doing our thing and having fun :)
How lucky are we?? And how awesome that someone invented the internet for us?! Haha…
I couldn't have guessed this a decade ago, but boy am I thankful for this crazy twist of fate and I'm so curious to see what'll happen next.
Here are the Cliffs Notes version of how we got to this place so far:

In 2007 went looking for a 2 bedroom apartment to rent
Got lost and ended up buying a $350,000 house on a whim, 48 hours later, and with no money down or any idea what the heck I was doing
Went online searching for a budget as I didn't have one (*blasphemy!*)
Came across the blogging world and fell in love with the transparency of everyone
Started my own personal finance blog to have fun and be held more accountable!
It unexpectedly took off, reaching 25 Million views in total over the years
Went on to become a full-time, self-employed blogger/entrepreneur
Increased personal net worth from $50,000 to $800,000+
Won 12 industry awards, including Blog of The Year and Lifetime Achievement
Became a Blogging Coach, Money Coach, Podcaster, FinTech advisor, FinTech Judge, Builder, Seller, Shutting Down'er, Husband, Father of 2, and most recently, a Curator
Launched two philanthopy projects that raised over $110,000 for people all over the country
Launched the industry's first searchable financial blog directory now tracking over 1,500 blogs
Whittled everything back down to the one true love that started it all – Budgets Are Sexy :)
No way I coulda guessed all that, right? Haha…
And if you think it happened "overnight", think again… It took 28 years and 35 jobs to even get to the START of this journey! Along with a lot of soul searching and stumbling around too…

Before I became a blogger, I became many other things:
Babysitter
Lawn Cutter
Pet Watcher/Walker
Camp Counselor
Grocery Store Stocker
Day Care Worker
Bagel Maker
Bowling Alley Attendant
Prep Cook
Book Store Associate
Gadzooks Worker (remember that store?)
Sandwich Maker
Construction Site Trash Hauler
Timeshare Representative (<– The worst)
Stamp Factory Assembly Line Worker
Photographer
Kid Shelter Volunteer
Assistant Photo Editor
Photo Editor
Assistant Photo Editor Intern
Boat Rental Worker
Totaled Car Washer
Dish Washer
Old Navy Associate
TV Show PA (Production Assistant)
Travel Agent
Airline Ticket Agent
Customer Service Rep
Customer Service Assistant Manager
Realtor
Customer Service Manager
Product Manager
Customer Service Director
Project Manager
Graphic Designer
And then finally… Blogger/Hustler/Accidental Entrepreneur :)

(You can see the full list, along with pay and brief descriptions here –> My Entire Work History)
But the journey doesn't end here either, oh no!
Even when you do finally figure out where you're supposed to be in life, there's still the narrowing it down even further within your field of focus! It's like dipping your toes into a puddle, only realizing it's actually an ocean – full of even more possibilities! haha…
And we've got a list that showcases what that's looked like so far over the decade too ;)
Here is the total # of projects I've worked on in each of the past 10 years, with emoji's and all:

1 laptop = 1 project (blog, website, charity, etc)
2008: 💻
2009: 💻 💻 💻💻
2010: 💻 💻 💻 💻 💻 💻💻
2011: 💻 💻 💻 💻 💻 💻 💻 💻 💻 💻 💻💻
2012: 💻 💻 💻 💻 💻 💻 💻 💻 💻
2013: 💻 💻 💻 💻
2014: 💻 💻💻
2015: 💻 💻
2016: 💻 💻💻
2017: 💻 💻💻💻
2018: 💻
And then here it is again, but this time with more context around it:
2008: 💻 <– started a blog, wee!
2009: 💻 💻 💻💻 <– oh, you can make money with this? Let me start more!
2010: 💻 💻 💻 💻 💻 💻💻 <– what, you can also BUY blogs?? I'll take 3!
2011: 💻 💻 💻 💻 💻 💻 💻 💻 💻 💻 💻💻 <– and 4,5,6,7 – I want an empire, please!
2012: 💻 💻 💻 💻 💻 💻 💻 💻 💻 <– oh wait, life isn't fun working 20 hours/day…
2013: 💻 💻 💻 💻 <– let's start shutting some down and selling the rest
2014: 💻 💻💻  <– getting closer, but you're a daddy of two now – keep going!
2015: 💻 💻 <– ahh that's the spirit…. nice and relaxing…
2016: 💻 💻💻 <– but you know what, something is off… Maybe adding a podcast will help?
2017: 💻 💻💻💻 <– hmm… how about building out all your other ideas you've always wanted?
2018: 💻 <– you know what, I think you had it right all along in 2008
And so, after 10 years of building and blogging and experimenting, I finally figured out where my heart belonged in the first place: BudgetsAreSexy.com :)
And Lord knows this probably isn't the end of the line either, haha…
(Shout out to Ty for this one, haha… well played, sir ;))
But here's the biggest thing I've learned throughout all this: the more time you spend doing stuff you LOVE, the more opportunities that come your way.

Maybe not at first, and maybe not so drastically as we often see in the movies or in the media, but by pouring your heart into something that TRULY MATTERS TO YOU, you are asking the world for more of it, and it will provide so long as you're adding value to the world.
The only difference between how I'm working now vs how I was working the first 28 years of my life is that everything I now do revolves around my "calling." The money and success are all afterthoughts, but ironically flow in even more because (surprise surprise) you work better when you're excited!
Not everyone gets to live out their passions, and of course sometimes a job really is just a job, but I truly hope that by virtue of being on this blog you realize just how OPEN this world is for potential out there. And not only that, but how much all of us NEED YOU in this world creating things and making our lives better too!
All the Facebooks and Amazons, iPhones, Teslas – they all come from people's minds who really believed in what they were working on and would have done it with or without the money that came. And in the blogging world, it was people like Jonathan from My Money Blog and Trent from The Simple Dollar who first opened up my eyes to talking about money and sharing finances online. Without them shining the light, who knows what job # I'd be on these days… Probably #67! ;)
All this to say that life is full of opportunities, and almost every single one of us has the ability to go after something we enjoy, whether we only have one hour to apply to it or a hundred hours.

How far you go is dependent on a bunch of other variables, along with how lucky you get, but if this random mohawked guy can turn his life around like this, I believe anyone can. I didn't have a lick of experience in either finance or writing (and my past archives clearly show this!) but again, it's amazing what happens when you just go for something because you're genuinely interested in it and care.
I'll stop here before this turns into even more of a novel, but please know I am BEYOND thankful for each and every one of you letting me into your lives over the years, and please also know that I've appreciated every last comment and email/tweet/facebook message/skype call/meetup/forum post and any other ways we've communicated with each other in the past.
It's been an honor getting to know you guys, and I very much look forward to doing more of it :)
We'll see what the next 10 years bring, but if God forbid something happens to me today (hopefully after this blog post goes out!) please know I am one happy guy and only wish the best for all of you too.
If I can ever help with anything, I hope you'll let me know.
To another 10 years of adventure and happiness!
************
PS: For a look at other things I've learned over the years blogging, click on any of the past blogiversary posts (but probably stick with the ones up top, unless you like reading about blog stats ;))
UPDATE: Check out this cool gift brightpeak financial sent me!! How thoughtful is that???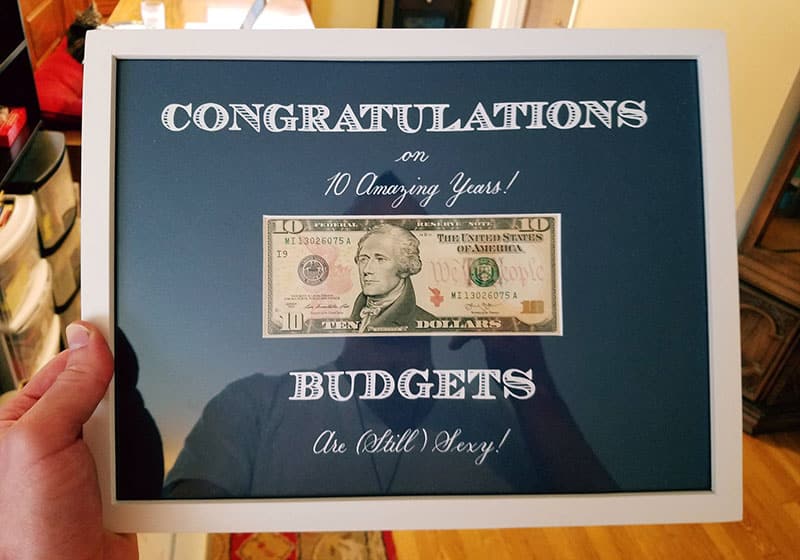 (Visited 12 times, 1 visits today)
Get blog posts automatically emailed to you!