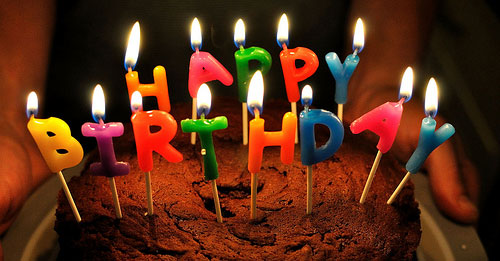 HOLY. CRAP. It seems like yesterday the then-gf and I were coming up with names for the site.  "Saving is Sexy", "I heart money", "I can't believe I just bought a house.com!" Haha…
Were any of you around back in February '08?  When I used to go as "J. Savings" like a big dork?! If you were, you get the fan of the decade award :)  Which means you get free electronic beer until I see you in person one day. Or, you can print out a copy of this old school certificate I made years ago too and plaster it on your fridge.  I think you've earned it by now.
But boy, who knew this would consume my life like it did. My world now revolves around the internet and 98% of my close friends come from Twitter.  Pretty unbelievable for someone who actually hates writing! Haha… no joke, it takes me forever to get my thoughts out – and even then I can stare at the screen for hours wondering what the heck I'm blabbering about.  But at the end of the day I wouldn't change it for anything.  You guys keep me on my toes and inspire the pants off me! I love y'all more than you can know, and I truly mean that.  Obviously I wouldn't be here without ya :)  There's only so far you can go until you get bored of talking to yourself.  So THANK YOU!
Here are some cool overall stats:
Total posts: 1,102
Current RSS subscribers: 4,139
Twitter subscribers: 7,727
AVERAGE monthly visits: 50,000
AVERAGE monthly page views: 70,000
Total EVER page views: 1,605,215 <– Over a million!
Total EVER visitors: 1,098,884 <– Weeee!
Top 5 countries: United States, Canada, United Kingdom, Australia, and India
The top 5 most popular posts:

And some pretty cool media mentions too: MSN, Kiplinger, L.A. Times, Family Circle Magazine (hah!), Lifehacker, Consumerist, Scholastic Parent & Child Magazine (double hah!), and more.
Man, what a ride…  all from sharing some thoughts on money!  Who knew :)  It would be interesting to see where I'd be without all of this – I can't even imagine it. Just 'cuz I googled "Money Merge Account" – a program my old friend was trying to get me to sign up to (which cost $3,500 and allegedly tells you how to save thousands of dollars over time).  Needless to say I didn't need that to figure it out ;)
But what I DID find was the world of blogs! I landed on The Simple Dollar first, then Get Rich Slowly, and then the one that prompted me to give it a shot myself:  My Money Blog. I figured all people like me wanted – and searched for – was 100% genuine opinions on this stuff.  I needn't need the smartest person, or the best writer out there on the subject, I just wanted REAL un-filtered commentary. And that's what I get every day from all these guys (and some of you too!).  I love it.  And even more so, I love being a PART of it.
Thank you for welcoming me into your lives every morning.  I promise to keep giving it to you straight, and being the best damn opinion sharer I can be. Now time for cake!


———
(Photo by Will Clayton)
(Visited 5 times, 1 visits today)
Get blog posts automatically emailed to you!