Alriiight, back to the cold hard numbers!

Net worth report #138 in a row here without missing a beat – even while on sabbatical :)
I took these snapshots at the first of the month before the chaos ensued so the numbers would prob. be lower today, but as we do every month we ignore all that happens in the middle there and focus only on our monthly check-ins. A looooot can happen in between the weeks, so we just keep steady and do our best to stay away from the distractions! It's not a daily play we're after here, it's a long-term one!
So with that, here is the breakdown of July's numbers as part of our Net Worth Series…
Net Worth Report #138: July, 2019
CASH SAVINGS: $49,128.20 (+$1,978.17) — A nice bump after a few months of losses througout all the house stuff! Most of this comes from a check that's been owed for months, but I'll take a win wherever I can get one :)
BROKERAGE: $0.00 (n/a) — Still staying quite on this end for now… Want to get our savings up over $50,000 first and will then think about where to shoot the extra savings into. Though knowing me it'll all get plowed into the newly attained mortgage as the idea of being debt-free again tends to trounce everything!
THRIFT SAVINGS PLAN (TSP): $22,202.93 (+$1,207.64) — Three years now with the wife back into the workforce and the benefits are piling up! It's so much nicer being DIKs vs SIKs ;)
ROTH IRAs: $168,884.44 (+$3,478.18) — A nice little bump here, though of course hard to really get too excited since I already know they've been wiped out by now, haha…
SEP IRA: $621,244.50 (+$12,996.75) — Same with this guy here – though it sure was nice to see back on August 1st when I ran the numbers! Here's the screenshot I took on the same day too:
Almost $300,000 growth since 2015! Wild! And all our money here btw is in VTSAX, for those new to the site… You can read more about why here if you haven't come across it yet.
HOME VALUE: $337,000.00 (n/a) — A stable boring number here as we leave it be for the next 6 months until we get our realtor to update it for us! I find this a much more pleasurable – and accurate – strategy than tracking the yo-yo fluctuations of Zillow et al… And plus since we literally just bought it it's as close to true market value as you can get ;)
CAR VALUES: $8,977.00 (+$38.00) — There they go increasing in value again! Haha… But similar to our monthly net worth tracking here, I continue to track it the same way every month in order to stay consistent. Which is basically just clicking over to KBB.com and copying over the updated numbers.
Here's what they say both cars are currently worth:
2008 Lexus RX350: $6,768.00

(-$9.00)

2005 Toyota Corolla: $2,209.00

(+$47.00)
MORTGAGE: $267,025.01 (-$1,174.99) — We finally have accurate numbers to report now, woo! After all the switching around our servicers were doing, we now have access to a portal we can log into and see up to date numbers which is great. Especially when you can see the totals go DOWN every month vs UP! Which means all our extra payments are working their magic! :)
And that's the end of our net worth breakdown!
Total change in net worth this month: +$20,873.72

And then which is always more interesting to see – the last twelve months of reports to better put things in perspective:
Check out that delta from December to today – an almost $150k change! And then if you compare from this time last year to today, it's about a $50,000 change. Which is a lot less exciting, but exactly how the game goes (at least if you're heavily invested into the markets).
Here's the breakdown of those past 12 months just for fun:
Jul: $940,412.06

(+$20,873)

Jun: $919,538.34

(+$35,000 – Market rebound)

May: $883,910.63

(-$40,000 – Markets crash…)

Apr: $923,966.07

(+$37,000 – Markets continued climb)

Mar: $886,776.74

(+$9,000)

Feb: $877,998.20

(+$29,000 – Markets up)

Jan: $848,665.47

(+$57,000 – Surprise Increase?!)

Dec: $791,150.37

(-$61,000 – MARKET MELTDOWN)

Nov: $851,800.32

(+$9,000)

Oct: $842,180.92

(-$60,000 – MARKET SPIRAL!!!)

Sep: $902,133.51

(+$8,000)

Aug: $894,310.86

(+$27,000 – Markets up)
And then lastly, here's how our kids' net worths are looking:
That's Baby Dime up there exploring some nature, who also got a $5.00 bill randomly from Grandma this month giving his savings a 20% bump, haha… He and his brothers are all enjoying their new home, and even more so playing with each other :) Which makes it a lot easier on their parents!
And that's July! Overall a solid month without much drama as it waits for August to more than make up for it ;)
How did you guys do??? Anything exciting happen?!

Will be back in just a couple more weeks to update everything for August, but in the meantime – keep your heads down and your savings up! You can't control everything out there, but you sure can the way you manage that wallet!
XOXO,

(Visited 89 times, 1 visits today)
**********
PS:
If you're just getting started in your journey, here are a few good resources to help track your money. Doesn't matter which route you go, just that it ends up sticking!
If you're not a spreadsheet guy like me and prefer something more automated (which is fine, whatever gets you to take action!), you can try your hand with a free Personal Capital account instead.
Personal Capital is a cool tool that connects with your bank & investment accounts to give you an automated way to track your net worth. You'll get a crystal clear picture of how your spending and investments affect your financial goals (early retirement?), and it's super easy to use.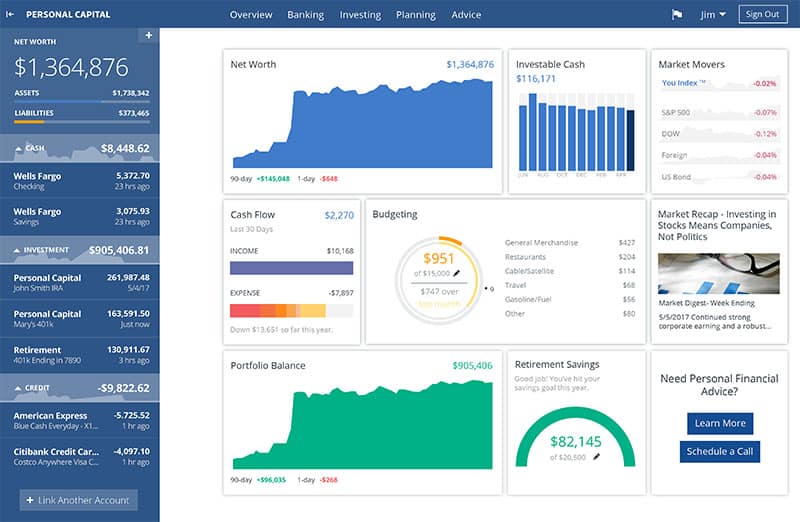 It only takes a couple minutes to set up and you can grab your free account here. They also do a lot of other cool stuff as well which my early retired friend Justin covers in our full review of Personal Capital - check it out here: Why I Use Personal Capital Almost Every Single Day.
(There's also Mint.com too btw which is also free and automated, but its more focused on day-to-day budgeting rather than long-term net worth building)
Get blog posts automatically emailed to you!