Whelp – another month, another financial temper tantrum! Haha…
Between the markets and our recent home buying expedition, our spreadsheets don't know what to do with themselves ;)
Look at this thing:
A delta over $130,000 so far! Only to be off by $40,000 in the end! Although at least it's off in the *positive* territory and not the opposite… for now ;)
Still – they can try all they want, but they're not about to scare me off yet! 'Tis only a blip on the path towards freedom, and I have a whole new mission to set my sights on now!
To pay off all this new $269,600 of death debt!!
That dang house ruined my 17 month reign of being debt-free – dag nabbit! Now it's going to take me forever to get back there again, haha…
But I accept you, Challenge ;) Big risks for big rewards and all that, right??
A few juicy nuggets about this mortgage stuff before we get to the net worth break down…
We took out a 30 year fixed loan after debating on whether a 15 was better or not for us (my gut really wanted the 15, but after a healthy discussion with the wife, and factoring in my tendency to change things up every 6-12 months, we opted for the more "responsible" route in order to give us maximum flexibility and peace of mind… Though we still very much plan on paying it off in 15 years, and probably even less.)
It came out to $269,600 with an interest rate of 4.25% (not the best in recent months, but more respectable than our 6.75% back in 2007!)
The mortgage servicer has already changed hands! (I.e. packaged it up and sold it to another mortgage servicer probably for a tidy profit, haha…)
We haven't gotten any statements or payment requests yet – that starts July 1st (which is actually nice, since we're still paying rent until the end of June)
And for the time being, we'll be keeping the *value* of our house the same as our purchase price in our net worth reports since that's literally the market value of it right now ;)
Also – we'll be keeping both the *house* and the *mortgage* in our reports since we like to have an overall snapshot of our finances, especially regarding such large items… So you'll see the house listed in the asset section, while the mortgage is in the liability one – effectively accounting for our "equity".
Here's how the month of May broke down…
[This is part #136 of our Net Worth Series, where we share our real life #'s every month in hopes it motivates YOU to track yours as well – no matter how scary or awesome it gets ;) And hint: the more you pay attention, the more awesome it gets!!]
CASH SAVINGS: $49,988.43 (-$13,715.03) — A punch to the gut there as we give up some funds to help pay for closing! On top of liquidating our brokerage account as you'll see below as well… Which at least is all going towards equity, but still not nearly as sexy as cash ;) But that's how the game goes!
BROKERAGE: $0.00 (-$56,437.83) — Bye bye brokerage account – it was nice having you around for a little while, haha… But love that we started with a one-lump sum of $50,000 and got back an additional $6k! For doing absolutely nothing at all! Of course it could have gone the other way too with this market, but hey – we'll quickly take the win and count our blessings :)
THRIFT SAVINGS PLAN (TSP): $19,545.02 (+$220.61) — A nice gleam of light amidst the sea of destruction! Haha… And only because the account's too low still for the swings to overcome my wife's bi-monthly contributions :) But again – you take all the wins you can get! And the dollar cost averaging doesn't hurt either – for ANYONE who remains calm and collected throughout!
ROTH IRAs: $157,618.29 (-$5,879.14) — A fairly big chunk taken out here, but apparently my wife's funds over at USAA are performing better than our Vanguard indexes during this current period which is interesting. That's why you see the difference in % losses here – we still haven't moved her IRA over, although for some reason we're also not in a rush? I think it's literally just because I keep forgetting haha… And it's also a smaller portion of our funds so haven't really prioritized it. Not that either of those are good excuses :)
SEP IRA: $579,774.89 (-$31,662.05) — Now this one's the whammy! Ouch! You could pick up a brand new minivan for that! ;) Though of course none of it truly matters until you cash out, which we don't have any plans on doing anytime soon…(although I *have* promised my wife that that van is coming her way, which I still need to make good on!)
Here's how our investments have fared over the years since moving over to Vanguard:… All the money here is in their VTSAX fund as I haven't cheated on them and moved 'em to Fidelity ;)
HOME VALUE: $337,000.00 (+$337,000.00) — BOOM! Instant diversification! Haha… Though would have been much more fun if it didn't come along with some debt ;) Still, we're finally out of pure stocks as investments, and now have a little equity under our belt to help balance stuff out a little more…
Should be an interesting journey as we go along here as it's been a number of years since we last tracked this stuff. And as I mentioned above, we're going to leave the value here the same at least for a while (the end of the year?) and then re-asses from there… Last time around we hit up our realtor every 6 months which we found to be more accurate than Zillow, so we'll probably do the same thing this time as well. Either way, it's nice to know at least for *right now* what the house's true market value is! I.e. whatever the amount someone is willing to pay for it! Which was apparently $337,000 for us! Haha…
CAR VALUES: $9,584.00 (+$18.00) — The second month in a row our cars have gone up, but I don't challenge KBB's algorithms! Haha… Toyota must be brewing something up over there! :)
The values of both our (paid off) cars:
2008 Lexus RX350: $7,018.00

(+$13.00)

2005 Toyota Corolla: $2,566.00

(+$5.00)
MORTGAGE: $269,600.00 (-$269,600.00) — And lastly, the DEBT, Womp womp womp… On the plus side, we're already 20% paid off now! WOO! More than even our first house when all was said and done after 10 years! So we're making progress, haha… Now to just get my mind right all the way… :)
Total change in net worth this month:
(-) $40,055.44
And as always, here's a snapshot of how our kiddos are doing too…
I still can't believe the markets treat babies like this ;) Is nothing sacred anymore?!
[Some babies aren't babies anymore!]
How'd you guys do this month?
Anyone cross a milestone or become a millionaire for the first time?! Anyone become a millionaire and then quickly have your millionaire status revoked? ;)
Every time I get close we get a huge push backwards, so I'm not even thinking about it anymore, haha…
I feel like a million bucks anyways, and that's all that really counts! ;)
See ya down in the comments,
(Visited 34 times, 1 visits today)
**********
PS:
If you're just getting started in your journey, here are a few good resources to help track your money. Doesn't matter which route you go, just that it ends up sticking!
If you're not a spreadsheet guy like me and prefer something more automated (which is fine, whatever gets you to take action!), you can try your hand with a free Personal Capital account instead.
Personal Capital is a cool tool that connects with your bank & investment accounts to give you an automated way to track your net worth. You'll get a crystal clear picture of how your spending and investments affect your financial goals (early retirement?), and it's super easy to use.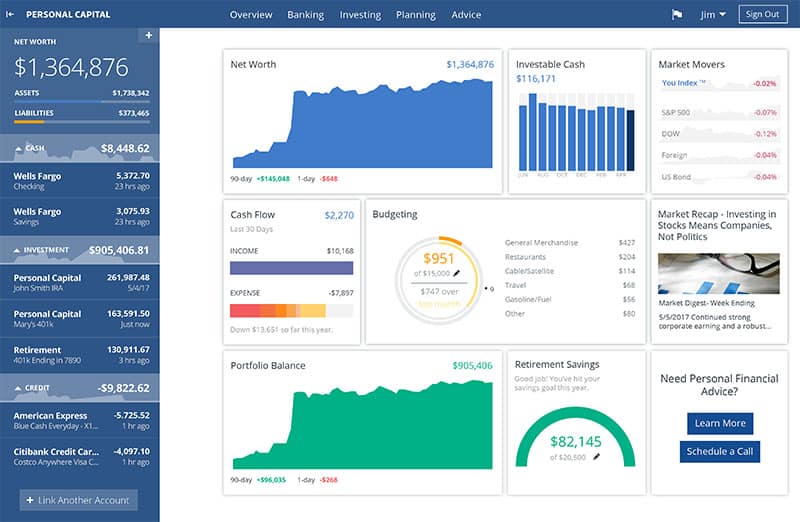 It only takes a couple minutes to set up and you can grab your free account here. They also do a lot of other cool stuff as well which my early retired friend Justin covers in our full review of Personal Capital - check it out here: Why I Use Personal Capital Almost Every Single Day.
(There's also Mint.com too btw which is also free and automated, but its more focused on day-to-day budgeting rather than long-term net worth building)
Get blog posts automatically emailed to you!