Happy July!!!

Ready for a new month and new goals??! Got your net worth all tracked up and ready to motivate the pants off you??
If you're still invested in the market it should help after last month's blood bath :) Down $40,000 for us, and now back up $35,000 just weeks later! Thank goodness we ignore the hype!
Outside of that, nothing too exciting going on over here… Although there was that one time when I realized I'd been forgetting to set aside tax money for the past three months and had a nice surprise when I went to go pay our quarterly taxes, haha…. Nothing like logging into your account expecting to see thousands and instead find cobwebs up in there! ;)
We also started making extra payments on our mortgage, but not sure if I'd exactly categorize that as "exciting," haha… More on that below…
June's Net Worth Breakdown:
[This is part #137 of our Net Worth Series, where we share our real life #'s every month in hopes it motivates YOU to track yours as well – no matter how scary or awesome it gets. And in case this is the first time you're seeing these – it definitely gets scary up in here ;)]
CASH SAVINGS: $47,150.04 (-$2,838.39) — Another month of losses for us here! Though technically we actually *earned more* than we spent, but then of course had to rectify that tax deal which certainly didn't help any… As well as the extra payments towards the mortgage. Still, at the end of the day the net effect was a loss, womp womp…
BROKERAGE: $0.00 (n/a) — Nothing new here, I just like seeing the stark difference compared to yesteryear's $50,000 before picking up the house ;) You have to force yourself to feel the sting sometimes so it sinks in more!
THRIFT SAVINGS PLAN (TSP): $20,995.29 (+$1,450.27) — BOOM! A nice increase on top of an nice automated contribution from my wife each and every paycheck… It was just a few years ago when it was at $0.00!
ROTH IRAs: $165,406.26 (+$7,787.97) — Double BOOM! And without lifting a finger, at that :) The power of compound investing at its finest…
SEP IRA: $608,247.75 (+$28,472.86) — Quadruple BOOM! (It gets to skip Triple BOOM since it's such a leap in growth ;)) And again, nothing new added here while the market just does its thing… (though of course it's been on a helluva temper tantrum these past few months!)
Here's an updated snapshot of our investments over at Vanguard:
(All our money here is in VTSAX after realizing it was the perfect strategy for us some 5 years ago…)
HOME VALUE: $337,000.00 (n/a) — This will remain flat for the next half a year or so until we re-evaluate it with our realtor which we find to be a more pleasant (and accurate) experience than tracking the Zillows et al ;) We did this with our first house we owned, and the valuation at the end came within a thousand dollars, I want to say, of the final sales price. So I highly recommend this route!
CAR VALUES: $8,939.00 (-$645.00) — Finally making up for all those *increases* the past two months! Haha… Either that or I clicked the wrong button this time, but my money is on the updated algorithm (or I should say, my money is LOST on the updated algorithm!)
Here's what both are worth according to KBB.com:
2008 Lexus RX350: $6,777.00

(-$241.00)

2005 Toyota Corolla: $2,162.00

(-$404.00)
MORTGAGE: $268,200.00 (-$1,400.00) — There we go!!! Daddy's not playing around! Haha… It still kills me a little that we're paying the higher interest at the 30 year level vs the 15, but as you can see we're still set on paying it off as early as possible ;) And just an FYI that these #'s here are estimated as I'm still waiting for online access to our account since having our loan servicer changed out (they already "sold" our loan within days of closing!! We're a hot ticket! Haha…)
Total change in net worth this month: 
(+) $35,627.71
And then for better perspective:
So basically, about $50,000 more since this time last year :)
And then lastly, here's how our kids' money is looking these days:
[Ain't nothing getting in the way of Baby Dime's money! Haha…]
And that's June!

Hard to believe we've already done over 130 of these reports over the years, but then I realize I'm almost 40 now and it's spanned a good 11 years ;) So please don't think this stuff happens overnight!! It rarely does! And anything you do for that long should see good results in the end…
So keep on tracking and stacking, my friends!! This is YOUR LIFE and you deserve to have a good one!
Some excellent resources are shared below for any new people to the site…
How did your money behave last month?!
(Visited 29 times, 1 visits today)
**********
PS:
If you're just getting started in your journey, here are a few good resources to help track your money. Doesn't matter which route you go, just that it ends up sticking!
If you're not a spreadsheet guy like me and prefer something more automated (which is fine, whatever gets you to take action!), you can try your hand with a free Personal Capital account instead.
Personal Capital is a cool tool that connects with your bank & investment accounts to give you an automated way to track your net worth. You'll get a crystal clear picture of how your spending and investments affect your financial goals (early retirement?), and it's super easy to use.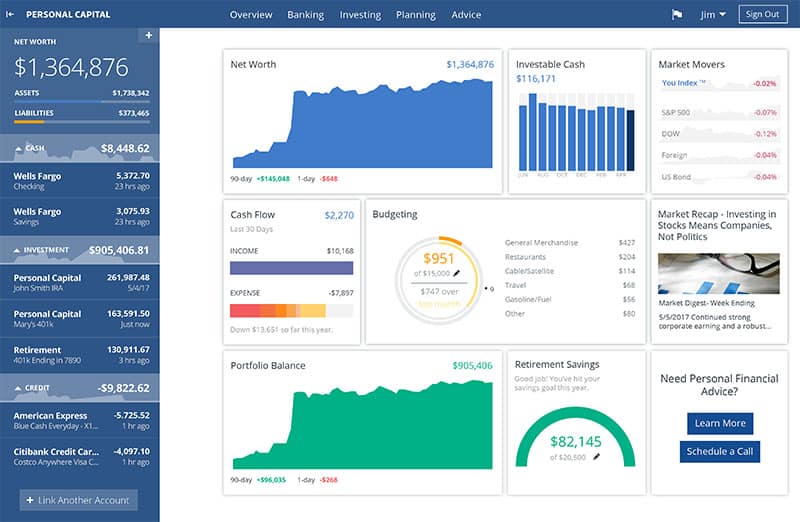 It only takes a couple minutes to set up and you can grab your free account here. They also do a lot of other cool stuff as well which my early retired friend Justin covers in our full review of Personal Capital - check it out here: Why I Use Personal Capital Almost Every Single Day.
(There's also Mint.com too btw which is also free and automated, but its more focused on day-to-day budgeting rather than long-term net worth building)
Get blog posts automatically emailed to you!