Morning, net worth lovers!!

Did you open up your accounts this morning and see a nice surprise too? ;)
I literally log in only once a month for these reports, so I never know what I'm going to get until I'm in there, haha… Maybe that makes me a bad personal finance blogger, I don't know, but for sanity reasons I just can't take the daily look-ins like I used to!
Though it was great when I was still wrapping my head around things… And something smart to do with ALL your accounts, really, until you get a good grasp of where your money's coming and going. Once you get into a rhythm you can relax more knowing the ship's steering in the right direction!
At any rate, it's a good month to be invested in the markets! We hit a new high this month eclipsing the previous $902,133.51 mark from back in September, and now we're that much closer to that ever elusive double comma club… 11 years in the making already with I'm sure more to go ;)
Whoever says this stuff is fast is a cold blooded liar! But you do get there eventually so keep on truckin'! And enjoy the journey along the way!
Here's what April looked like for us…
[This is part #135 of our Net Worth Series, where we share our real life #'s every month no matter how good or bad or downright ugly they are, haha… This was by far the most powerful thing I saw when I stumbled across the PF world myself years ago, and have since made a commitment to do the same when starting my own bog over 11 years ago now too… I hope it motivates you just the same!]
CASH SAVINGS: $63,703.46 (+$1,469.92): Just an average month going on here without any major surprises one way or the other… which I'll take any month when it comes to cash flow! :)
THRIFT SAVINGS PLAN (TSP): $19,324.41 (+$1,202.81): A nice normal bump here as well, as the wife continues to regularly contribute to her retirement account at work and snagging all those (FREE!) matches… One of the easiest ways to double your money right on the spot!
BROKERAGE: $56,437.83 (+$2,475.28): Great little bump here too, as the markets continue to do their thing even when you're not contributing a penny to it :) (The beauty of passive income!)
ROTH IRAs: $163,497.43 ($5,191.65): Same dealio here – only the #'s start to rise even more the bigger amounts you've got stashed away! Which again is crazy since you're literally not doing a thing to grow it. (Though the reverse is very much true also, haha, and it can just as easily sting as much as reward when the markets throw their hissy fits ;))
SEP IRA: $611,436.94 (+$26,816.67): The biggest bulk of profit this month! Though it's not true "profit" until you actually cash out of it, which we have no plans on doing anytime soon, so… Still a nice thing to see though than the opposite ;)
Here's a snapshot of how our investments have fared in recent years:
(Everything is in Vanguard's VTSAX index fund)
CAR VALUES: $9,566.00 (+$33.00) — Finally, the cars! Who didn't want to be the only ding in this month's report apparently, haha… But it's what KBB is reporting, so we do too as we always do!
Here's what they say our current two rides are worth, both completely paid off:
2008 Lexus RX350: $7,005.00

(up $31.00)

2005 Toyota Corolla: $2,561.00

(up $2.00, haha…)
(Our minivan search has been put on pause since house hunting, but my wife assures me it's only temporary and we'll be getting right back to it as soon as we sign on the dotted line, haha… But I'll be enjoying every last day of delay in the meantime! ;))
And that's April!
Total change in net worth this month:

(+) $37,189.33



Can't complain about that one bit…
But again, what a wild ride it's been these past handful of months!
That's a $110,000 rally since The Red Wedding of last year! Insane!
Lastly, here's the KIDS' net worths as we like to post up here monthly too:
A nice little bump for all, to match my wee one's nice little 'hawk daddy recently gave him ;) Who is the only boy in my household who will let me do that to them!! Don't they know it's all the rage?!
(I do get a kick out of what some of their classmates call me though – "Dinosaur Dad," haha… There could be worse things! ;))
How'd you guys end up faring this month?! You enjoying the current ride of investments too? Anyone a freshly minted Millionaire now?! :)
As always, feel free to share or ask anything down in the comment section and we'll discuss! It's a 100% free zone here to talk turkey without anyone glaring at you! Unlike the "real" (boring) world! ;)
Your friend in finance,
(Visited 73 times, 1 visits today)
**********
PS:
If you're just getting started in your journey, here are a few good resources to help track your money. Doesn't matter which route you go, just that it ends up sticking!
If you're not a spreadsheet guy like me and prefer something more automated (which is fine, whatever gets you to take action!), you can try your hand with a free Personal Capital account instead.
Personal Capital is a cool tool that connects with your bank & investment accounts to give you an automated way to track your net worth. You'll get a crystal clear picture of how your spending and investments affect your financial goals (early retirement?), and it's super easy to use.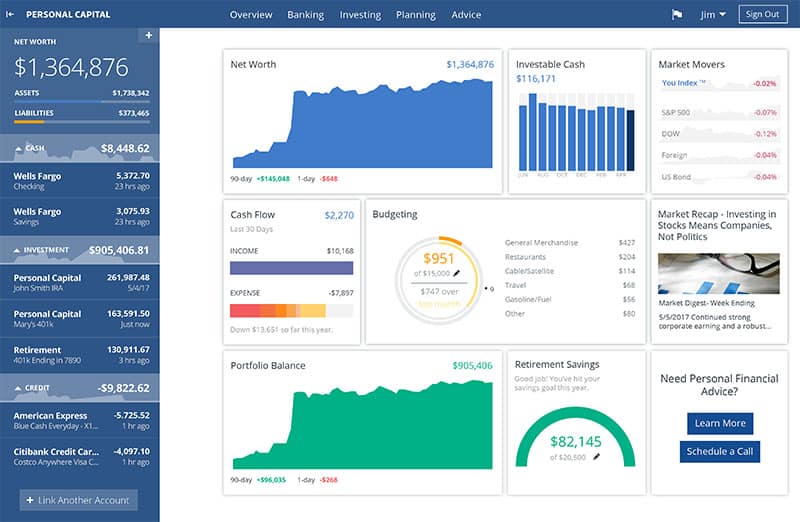 It only takes a couple minutes to set up and you can grab your free account here. They also do a lot of other cool stuff as well which my early retired friend Justin covers in our full review of Personal Capital - check it out here: Why I Use Personal Capital Almost Every Single Day.
(There's also Mint.com too btw which is also free and automated, but its more focused on day-to-day budgeting rather than long-term net worth building)
Get blog posts automatically emailed to you!