Well hello October!
What did you do with September, and can I have her back?
(I feel like September is a girl, yeah? And October a guy? Ever wonder such things? Or why a blog about money would even bring up such a thing when it clearly has nothing to do with finances? (Ever wonder why you continue to read this blog??))
So yeah – a new month, yay! Never will there be another October of 2016, nor will you be any younger :) On the plus side, all that hard work you've been doing should be paying off like gangbusters! Compounding is a mother, and in a perfect world each month should be trending up…
Unless you're name is J. Money, who's managed to still lose cash even though his wife got a new full-time job. I can assure you I have plenty of good excuses for this, but knowing 78% of you will just call me out on it, I'll save us the trouble and admit I suck. Though trust me, if you thought my jokes about giving each month a sex were bad, you'd really have a field day with some of these ad deals I turned down! So really, I do it all for you… (you're welcome).
On the positive side, we did activate a pretty cool new feature that the gov't offers! It's called Dependent Care FSA, part of the Federal Flexible Spending Account Program (FSAFEDS), and it allows you to siphon out money for daycare PRE-TAX, saving you a solid 30% or so depending on your tax situation. The max you can put in is only $5,000 per calendar year, but that alone saves you a couple of G's so we jacked it up as high as we could and will then max it out at the beginning of 2017 as well… It's a little disconcerting seeing your paycheck at only $650 when you make $53,000/year, but hey – it's the mental price tag you pay to save thousands of dollars :)
If you're a federal employee – and have daycare bills the size of your mortgage – look into it! (UPDATE: As many commenters have mentioned below, this dependent care FSA is actually open to others outside of the gov't too! I'm not sure if all employers offer it or only some, but check with your HR and see if you're interested :) Here's a great article on it by Investopedia: The Benefits Of A Dependent Care Flexible Spending Account)

And now to the breakdown of how the entire month of September went down…
It's pretty exciting. #NoItsNot
September's Net Worth Changes:
CASH SAVINGS (-$1,393.76): Turned down business, didn't find new business, took 2 year old to emergency room (he's fine! just a lot of blood from an epic fall/lip biting!), and pretty much miscalculated quarterly taxes… See – no excuses :)
BROKERAGE (+$18.58): SWEET!! Time to retire y'all! (Or just keep doing a whole lot of nothing and letting Acorns round up all my purchases to invest in a separate investment portfolio for me… Up to $515 now in a year and a half.)
THRIFT SAVINGS PLAN (TSP) (+$414.30): This one actually IS exciting! More than double the amount in there from last month, and the wife keeps funneling it in! Sure it was only opened up last month, but hey – doubling your investments is doubling your investments :)
(She's 100% in Lifecycle 2040 which aims to "achieve a high level of growth with a low emphasis on preservation of assets." Not as aggressive as I personally like (the C and S stock indexes are my faves), but hey – it's her money. And all the funds TSP offers are pretty damn good w/ low fees.)
ROTH IRAs (+$114.79): Over $100,000 invested and pretty much broke even! That's hard to do!
SEP IRA (+$621.36): But do you know what's even harder? Having $400,000 invested and breaking even :) Although not if all the $$ is pretty much in the exact same fund (VTSAX), haha…  (the wife's IRA money – $25k – is invested a bit differently, but still spread out enough that the flat markets kept it relatively flat as well).
Here's how these investments have fared over the past couple of years since moving to Vanguard:
(These are *returns* btw, not total amounts invested)
CAR VALUES (-$179.00): Nothing too amazing here! Cars doing what they're supposed to do over the years… Even luxury cars :) Here are the KBB values on both of ours:
Lexus: $13,985.00
Toyota: $4,122.00
(Been four months now without FrankenCaddy, can you believe it??)
CAR LOAN: (-$207.47): I stopped rounding up the payments to $500 each month until I get my cash flow back under control… I tend to get stubborn with changing gears once I set my mind to things, but I'm trying to get smarter in my old age and understand that you have to change your strategy as life itself changes. Even if it feels weird!
Here's a look at how the entire last year has gone:
A pretty precipitous dip earlier in the year (we offloaded our house), but outside of that just gradually humming along… And same goes with our kids' net worths too (you know we have to track that :)):
And that's Miss September! (She's totally single)

How did your month go? Are you ready for the pumpkins and leaves and cool crisp air? Are you ready to disclose your sexy numbers for all the world to see too?
Shaun from Road To A Tesla put out a call for everyone to do it on Facebook last month, and although I love the idea of complete transparency among communities, something tells me it's much easier to do so around a group of like-minded people than your ex-lovers and classmates.
Though happy to watch you experiment? :)
As always, you can gawk at over 200 other bloggers' net worths we feature on the Rockstar Finance Net Worth Tracker, or even take a trip back through time and scan 100 of my own previous reports listed here over the years…
No shortage of numbers around these parts!
(Visited 11 times, 1 visits today)
**********
PS:
If you're just getting started in your journey, here are a few good resources to help track your money. Doesn't matter which route you go, just that it ends up sticking!
If you're not a spreadsheet guy like me and prefer something more automated (which is fine, whatever gets you to take action!), you can try your hand with a free Personal Capital account instead.
Personal Capital is a cool tool that connects with your bank & investment accounts to give you an automated way to track your net worth. You'll get a crystal clear picture of how your spending and investments affect your financial goals (early retirement?), and it's super easy to use.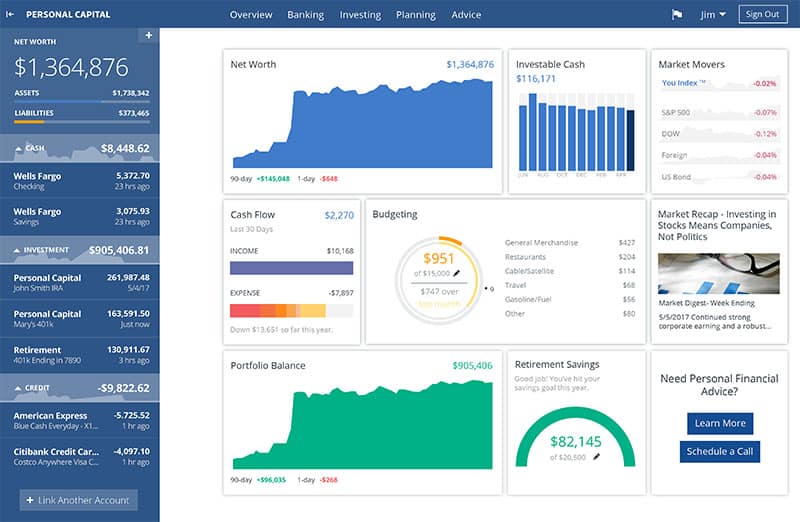 It only takes a couple minutes to set up and you can grab your free account here. They also do a lot of other cool stuff as well which my early retired friend Justin covers in our full review of Personal Capital - check it out here: Why I Use Personal Capital Almost Every Single Day.
(There's also Mint.com too btw which is also free and automated, but its more focused on day-to-day budgeting rather than long-term net worth building)
Get blog posts automatically emailed to you!