Came across this clipping during this current week's decluttering… Check out the date!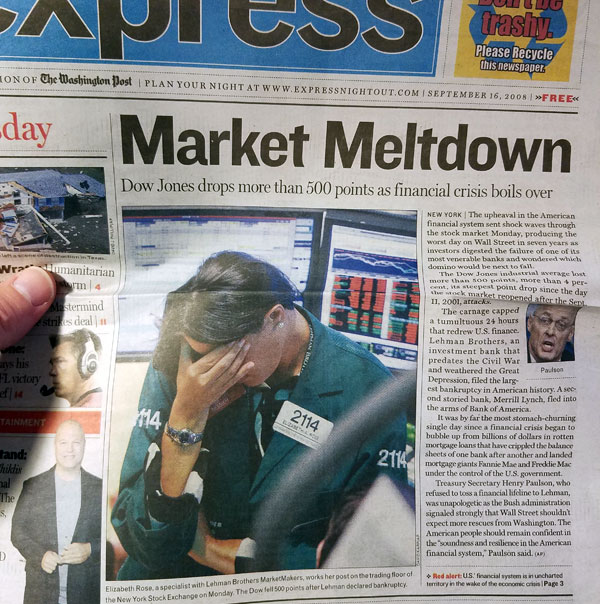 That's right, this occurred exactly 8 years ago, today! Crazy, right?? Do you remember when all this was going on?? How do you feel about it all now, and how has it affected your money?
Actually, hold onto those answers… Do you know what we haven't done here in quite some time? Our 5 for Friday series!! Where I used to ask you 5 questions about your life/money, and then you answer them below for everyone to gawk at :) We used to have some fun ones back in the day, didn't we?
So in honor of this fateful day in 2008, let's do a 5 For Friday and see how far we've come… As always, any questions I ask of you I'll answer myself, so I'll go first and then it'll be your turn. And feel free to go anonymously too if you prefer!
Here we go… Back to the future:
Where were you/what were you doing around September 16th, 2008?
Did the market crash scare you, motivate you, or were you too young to even care back then? (Don't you dare say yes ;))
How's your money doing now compared to then?
How do you feel about the stock market today?
What's your stock/fund of choice? (If you don't invest, where do you put your $$ instead?)
*BONUS* What's been your biggest accomplishment in 8 years? In money or life in general?
My answers:
September 16th 2008 — I was a freshly married 28 year old, running a customer service department at a DC area start-up. I had just started paying attention to my money more, and had launched this blog just 7 months earlier!
Scare me? — According to my blog post about that day, it did not: "i guess we're not at rock bottom yet…but at least stocks are cheap!" (I also apparently didn't believe in grammar ;)). Two weeks later it seemed my tune had changed though, when I freely admitted to "peeing in my pants," and then needing to "get back to my book of accomplishments," haha… Nowadays I love when the market goes under 'cuz everything's on sale, but I know if I was older (and already pulling from it) the story would be much different :(  It's good to know ahead of time though how you'd react, so do think about it if you haven't already. It's not a matter of if it'll crash again it's when.
Money now vs then — Still on the up and up! One of the first things I decided to do as soon as it all "clicked" was to get going maxing out my 401(k) up to the legal limit each  year (around $15,000 back then). And this was in no small part due to my company offering 100% matching on 100% of whatever I put in – even the $15,000!!! And when stocks were on fire sale those next few years, it all just started compounding… we went from $60k in Sep of '08 to over $500k now in investments. And I still make it my #1 priority to max out my retirement accounts every year, even though the matching has been long gone :)
How do I feel about the stock market today? — You already know the answer to this – I think it's the easiest way to grow your wealth without lifting a finger! Especially when you harness *time* and retirement accounts… I used to not like it at all because it was confusing as $hit and I thought investing = picking the hottest stocks, but once I spent some time learning it became much, much easier. Now if only I could bring myself to get back to real estate or other ways to diversify more!
Fund of choice — VTSAX, Vanguard's "Total Stock Market Index Fund" (Admiral Shares). A few years ago however it would have been "Whatever Warren Buffett is investing in," haha… I figured why go through the hassle of researching it all when it's been working so well for him? :) But really every other year I was changing my mind and switching strategies up… So glad I've stopped all of that nonsense, thanks to the FIRE community.
*BONUS* — My biggest accomplishment is probably becoming self-employed and lasting as long as I have so far :) I'd totally go back to a 9-5 if it made sense (I'm over my "screw the man!" mentality, haha…) – but being able to survive while also starting a family has been pretty fulfilling. Stressful at times, but fulfilling. Been trying to figure out my next Big Move ever since, however, and haven't been as successful… Maybe reading some of your accomplishments will inspire me :)
Your turn! Spill your guts below and let's see how far everyone's come!
If this bog is still around in another 8 years, we'll have to come back and re-check-in again :) Though no rush with that… As much as I enjoy building up some wealth, I prefer my youth even more! No one's figured out how to buy back our time yet, right?
(Visited 13 times, 1 visits today)
Get blog posts automatically emailed to you!