According to my 5 y/o, the last two weeks have been the best of his life :)
First, he learns of the epic phrase, "Liar liar pants on fire" and cannot get over at how hilarious it is (if only it were true too! The entire DC area here would be a huge ball of flames!), and then this week he loses his very first tooth which of course meant, THE TOOTH FAIRY IS COMING!!!! OMG!!!!!!!! Make way, make way!!
Never in my life have I ever seen someone so excited to lose a tooth, haha… And it was a front one too! Biggest smile in the world on that guy's face, wow… the little things.
And of course within seconds he was rattling off all the things he might be getting from Miss TF (Is the Tooth Fairy married or single? She does travel the world every night and never in one place for very long… I bet it would take someone like Peter Pan to put a ring on that finger, haha…)
"Chocolate bars! I want chocolate bars like Joseph got!"

"Chocolate Bars? The Tooth Fairy does NOT give out chocolate bars – they are so bad for your teeth!" – my wife quips back.

"Okay, maybe $10.00 like Sarah got!"

"$10.00??? What do you think we are – made of money??" – I blurt out, turning into an old man right there on the spot.

"I'm not talking about you dad, I'm talking about the Tooth Fairy!"

"oh yes yes, of course.. *ahem*"

"Okay, then how about $100?!!!!!"

#FAIL
It dawned on me that half the fun was just guessing for hours what the Tooth Fairy would bring ;) I could have brought him a bag of peanuts that night and he probably would have been happy, haha…
But sadly we didn't have any bags of peanuts laying around, and I started to freak out a little because not only was it his FIRST tooth experience – setting the stage for all subsequent visits – but I was also completely oblivious as to what the going rate even IS these days with kids? Surely inflation hasn't moved the bar from $1.00 a tooth when I was growing up to $10.00 like little Sarah gets, right? And even so, I didn't have anything more than a $5 bill in my pockets anyways… TF snuck up super fast and you only have a very tiny window to fulfill her obligations when those teeth come out! That very night!
And then it dawned on me – $2.00 bills!!! YES!!!!
You used to stash hundreds of those away back in the day when you were trying to bring Tommys back, J$, now's your time to shine, baby!!! He will love it!! But oh $hit – you gave them all away trying to be Mr. Tip Man this year, and it's too late now to hit up the bank, womp womp…
Ooh how about a half dollar?
Super big and cool unlike normal coins, and this one here is MADE WITH SILVER so it's actually worth $6.00 in melt, and maybe $10.00-$12.00 on the collector's market! Would he appreciate that??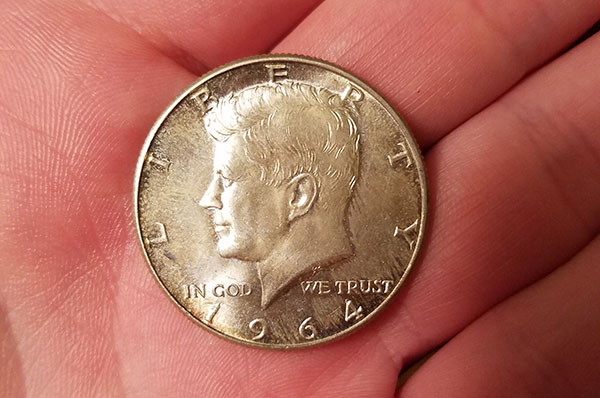 Or how about a $1.00 Silver Certificate?
You used to be able to take these to the bank and get silver for them back in the day! And look how close to a normal dollar bill it looks? If you're not paying attention it may even be confused for one… oh wait.
Okay, I got it! My dollar bill ring circa 1997!!
Ain't NO kid is getting one of these puppies from the Tooth Fairy, haha… But would it be too creative?
After hours and hours of agonizing, (okay, really only minutes), the wife and I finally came up with the answer. We'd combine a couple of these for this first tooth only, but then make sure he knows he'll only be getting one thing going forward so it doesn't spiral out of control here…
What we ended up giving him was a 1-2 punch of the big huge half dollar since we know how much he loves coins, and then the fun dollar bill ring too, because he fancies himself jewelry more than any other kid I know. Especially boys.
But the kicker was the note that my wife was creative enough to think up last minute:
Dear J. Jr,

Congratulations on losing your first tooth!

I heard you like jewelry… here is a special ring :)

And a little something extra, too! Keep brushing the rest of your teeth!

Love,

The Tooth Fairy
Want to take a guess what he liked the most out of everything? The handwritten note :) He carried it around all morning and it was the first thing he showed the entire family as we awoke from his loud shrieks, haha…
Just another lesson that all kids want at the end of the day is to be paid attention to!
As for what the going rate IS these days? Well, I wasn't quick enough to poll my Twitter audience on this fateful night here, but I was able to hit them up yesterday in preparation of this post, and their answers were as varied as they were creative :)
So it seems $5.00/tooth is now the industry average, up from $1.00 a tooth when I was growing up, and $0.25 for those slightly older than I ;) And just goes to show that ain't nothing is immune to inflation – not even the (single) Tooth Fairy!
But at least this isn't the case… yet:
******
PS: How cute is that little tin featured in some of the pics above?? My son made it during summer camp last year – such a good idea!!
(Visited 65 times, 1 visits today)
Get blog posts automatically emailed to you!