Last week, 3 different people emailed me asking for advice because they keep getting pressured by friends and family (especially family) *to buy a home* when neither one of them wants to.
I got so riled up after the last message that I shot the following tweet out which caused quite the hubbub for a hot minute or so: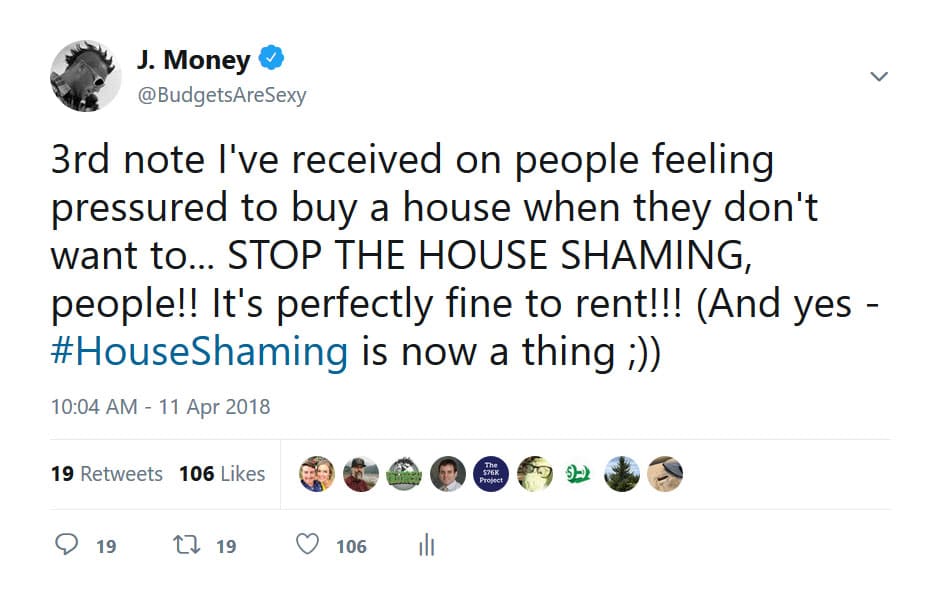 As it turns out, I wasn't alone in this thinking.
Here were some of the messages and stories I got throughout the day:
********
"Being already buried in ton of debt didn't even shield me from the house shaming. It doesn't stop. The stress of getting out of my existing debt has soured me on taking out a mortgage so I've developed Teflon skin about it now." – @DoubleDebtWoman
********
"This is so true. Everyone wants you to buy a house. But guess what? Only YOU are paying for it. Your rent is the most you'll pay per month for shelter while your mortgage payment is the least! Taxes, reno's, repairs, taxes — homeowners have costs beyond a simple rent payment." – @SquawkFox
********
"Please keep preaching this message. A house does not make you wealthy. Money and net worth makes you wealthy. Can a house purchase be a part of a good financial plan? Yes. Is it essential? No. You need a roof over your head. I know lots of winners who rent. Lifestyle choice!" – @BuildFMuscle
********
"We get so much about this from family and we own a large two bedroom condo in an expensive city! It's not just rent shaming – it's non-house shaming too." – @LeighPerFin 
********
"We pay a shit ton for a furnished rental and we're happy as larks. Amazing neighborhood, awesome landlord, amenities we'd never pay for on our own (saltwater pool, hot tub, prof home gym, chickens), and ZERO RESPONSIBILITY. Freeeeeeeeeedom!!!" – @HardlyWarckens
********
"I was totally #houseshamed into buying my house way back when…. now we live in an Airstream. Apparently we have thicker skin now ;)" – @AStreaminLife
********
I get people wanting to help those they love, but after the first or second mention it's time to back off and let them live their own lives! (Unless specifically asked!)
We all know what YOU would do in our shoes – but you're not in our shoes, and you don't fully know our situation/dreams/desires either. You see a sliver of it, but fortunately there are many different routes to happiness.
And for what it's worth, I'm not even *against* home ownership at all! I actually think it's an enormous benefit to people, and I give everyone mad respect for going after it if it's what they truly want in their lives. And even more so, for paying it off early! The takeaway there though is "what you truly want in your life" – and spoiler alert, not everyone wants to own a house. Or have a car, bicycle, iPhone, video game, kids, wife, dog, TV.
There's plenty of stuff to occupy and improve our lives, and thank GOD we live in a country that affords us such freedoms without fear or worry of incarceration! We should be so lucky!
So please, for the love all things holy, stop the shaming.
Stop shaming people into buying homes when they're not ready
Stop shaming people into buying new cars if they don't want them
Stop shaming people into going to college (or not going to college!)
Stop shaming people into saving instead of going out partying/traveling with you
Stop shaming people into early retirement if they've been smart enough to figure out how
And just overall stop shaming people into anything else they've consciously chosen to do in their lives, regardless of whether you approve of it or not
If you see someone making a mistake, say your piece and then let your loved ones figure it out on their own. If they choose wrong, you'll be there for them when they come back asking for help, and if they choose right – then maybe consider re-assessing your own views and see it as an opportunity to grow yourself! We're not always as smart as we like to think we are! ;))
A 4th message came in as I sat down to finish this post, and the last few lines of it just filled me with so much pride and lightened up my entire day:
At Easter my boyfriend's aunt was asking me why we hadn't yet moved in together yet, to which I responded "I want to pay off my loans first." To my surprise, I found myself defending my decision to a table full of 50+ year olds about the possibility of financial independence. They responded with things like "there will always be something that comes up," or "you'll always be paying off something" – to which I confidently said "But why should that be the norm?" That made me feel so strong. It made me feel confident, like I had all the answers, which for once I'm okay accepting that stereotype of millennials – because in this instance I think it was warranted :)"
She went on to say that she's never been so happy and confident with her decisions and conversations around money since finding $$$ blogs, and is now finally able to "really understand the meaning of financial stability" and the role it plays in both her life and relationships. And she's certainly walking the talk too, just about killing $60,000 of student loans which will be cleared away completely next month – exactly 3 years after her graduation.
You do your thing, girl! Own that life of yours!!
And I hope all you reading this will also embrace your beliefs and strive for everything you want deep down inside. Only YOU know what you want most out of life (sorry, moms!), so stick with your heart, do your best, and then brush those shoulders off whenever you fall. Which you will, but better to fail doing something you want vs failing doing something others want.
This is your life!! Stay true to yourselves!!
(Visited 195 times, 1 visits today)
Get blog posts automatically emailed to you!