What up, what up! Another month, another net worth update! You tracking it diligently yourself over there? Even if you're keeping it to yourself like a normal person?
I hope so.
I honestly can't even put into words how impactful it's been in my own journey over here, so I won't… Instead, I'll show you a picture :)
Of course, tracking itself doesn't grow your money, but what it DOES do is get you thinking and paying attention to it more which is the key to everything.
You have to have your mind right first before you can start taking action! Then once your dreams and values and overall "why" is locked in, you can hit turbocharge on the game plan and ride high on all that motivation…
I thank my lucky stars every day I started paying attention to this stuff over 10 years ago… Which I owe completely to this same financial blogging community here from people sharing their net worth reports too! It all just clicked, and the second I decided to start my own blog I knew that the one thing I'd make sure to do is share my numbers as well no matter how ugly or awesome they were.
And now, 100+ months and net worth reports later, here we are :) So hopefully it sparks something in at least one of you guys as well!
If you ever start doubting, just remember this:
Haha… It's not always easy or fun – as you can see in my own dips up there, as well as the red marks in today's update – but so long as you can look at your #'s and see them trending upwards over time you know you're at least on the right path :)
And then we get to go back to what we truly care about in our worlds – our lives! Money is only a tool, never forget! The real goal here is to not have to think about it one day!
Here's How September Broke Down…
These updates would probably be pretty boring if I didn't mess up from time to time, eh? ;)
CASH SAVINGS (-$2,706.98): I made a big goof this month – I forgot about quarterly tax payments! I've been so loosey goosey with my cash flow ever since watching my kids part-time that I completely forgot about that whole "tax thing" (as well as other errands that've been building up – yikes). I don't know if you're allowed to blame your kids for your own stuff, but I'm going to do it anyways since they're not old enough to call me out on it yet ;) Still, time to get my ass in gear!
THRIFT SAVINGS PLAN (TSP) (+$662.12): Another hefty increase here courtesy of Mrs. BudgetsAreSexy who continues to diligently (and automatically) contribute to her retirement account since taking her gov't job last year. It's the best when you do it from Day 1 so you don't even feel the difference in your pay check each time! Highly recommend!
ROTH IRAs (+$3,751.08): Another plump increase here as well, courtesy of the market… We've been hinting for months that it's all going to come crashing down at some point, but somehow it still has room to grow it looks like… But don't be fooled, it will happen! So get those game plans and emotions in check! The doomsayers will be flooding the streets!
SEP IRA (+$14,977.09): Same with this area too – nothing new added, just the markets doing their thing. We still have most of our money in Vanguard's VTSAX fund and plan to for years and years to come. Here's what that performance has looked like since we moved our money over a few years back:
CAR VALUES (-$1,258.00): A bigger hit than normal because I dropped my car's "condition" down a notch due to that fire hydrant fight it just had to get into ;) We'll bump it up again later if we end up getting it fixed and looking shiny again, but for now it is what it is and we keep on moving forward…
Here are the values of both our rides per Kelly Blue Book:
Lexus RX350: $11,539.00
Toyota Corolla: $3,707.00
CAR LOAN: (-$469.52): Slowly going down each month! And a big change from last year's $19,000 or so it was at when we first picked up the car (Lexus). The goal is to have it paid off within the next year, if not sooner if we come across a nice chunk of change… We just love having the cash padding since most of our income is still tied to my fluctuating blog income here.
And that's September!
Here's a zoomed out snapshot of how the past 12 months have gone in our household:
And then, as always, the kids' net worths… because that's fun to track too :)
Hope your journey is going well also! And you're doing a much better job than I am in the cash-flow department! You can find all 100+ of our net worth reports here if you want to drill down into certain months, or click here if you want to see how other bloggers are doing in our industry.
For perspective, I rank #102 out of the 420 net worths we're currently tracking :) Use it to connect to other bloggers around your same range!
Upward and onward,
FYI: If you're wondering where Mr 1500's post is today, we're actually hitting pause on his column for a bit while he catches up with a few things and re-assesses all his hopes and dreams ;) Apparently early retirement can get even busier than having a 9-5, who knew? We love all his stuff though, so hopefully he'll be back soon and in the meantime you can catch him over on his own blog at 1500Days.com. Go get' em, bud!
(Visited 19 times, 1 visits today)
**********
PS:
If you're just getting started in your journey, here are a few good resources to help track your money. Doesn't matter which route you go, just that it ends up sticking!
If you're not a spreadsheet guy like me and prefer something more automated (which is fine, whatever gets you to take action!), you can try your hand with a free Personal Capital account instead.
Personal Capital is a cool tool that connects with your bank & investment accounts to give you an automated way to track your net worth. You'll get a crystal clear picture of how your spending and investments affect your financial goals (early retirement?), and it's super easy to use.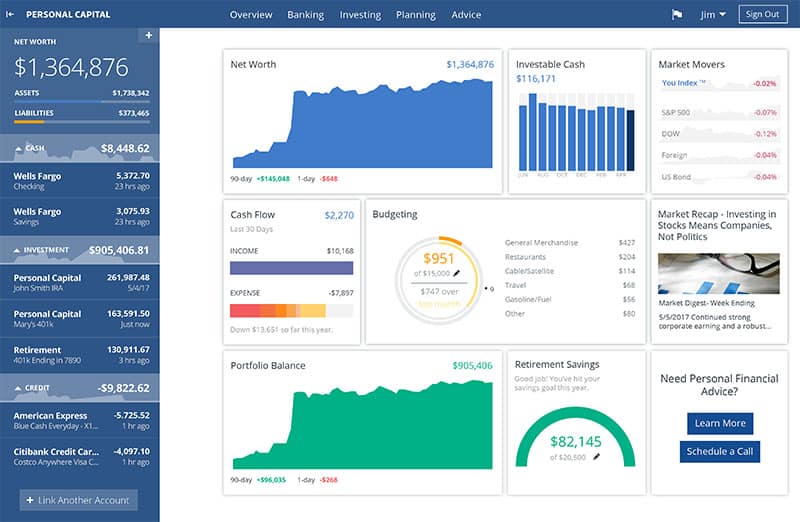 It only takes a couple minutes to set up and you can grab your free account here. They also do a lot of other cool stuff as well which my early retired friend Justin covers in our full review of Personal Capital - check it out here: Why I Use Personal Capital Almost Every Single Day.
(There's also Mint.com too btw which is also free and automated, but its more focused on day-to-day budgeting rather than long-term net worth building)
Get blog posts automatically emailed to you!