Here's a handful of financial observations I've had lately :)
#1. I lie to myself whenever I say I'm going to sign up to the HBO free trial and then cancel it before it renews

Do you do this too? Sign up to binge on Game of Thrones or Ballers, and then stick around for another 3-4 months more "by accident?" ;) This was us last year, so this time around I'm just not kidding myself and expect to pay for another two full months or so – AND ENJOY IT. We've been cable-free for over a year now (woo!), so I'm pulling the "I deserve it" card and ponying up the $14.99/mo to treat myself.
(If you're wondering how to get the free 30 day trial twice, btw, it's signing up under new emails and accounts from other members of your family :))
#2. Whenever I buy my morning coffee with a credit or gift card, I never remember to tip
I know I know, Starbucks is the devil and I'm throwing my money down the drain and all that, but seeing how it's my 2nd office (I'm literally typing all this there right now), it's a cheap price to pay for a change of scenery. And because I'm here for hours a day, I feel like it's my duty to pony up a few extra bucks to tip the kind baristas – and now my friends – each time I partake.
The problem, however, is that I never remember to do this when I don't use cash! Most of my transactions are through their mobile phone app, and so once I scan my phone I'm off with my coffee and never even think twice. However, when I pay with a $5 or a $10 bill and get change back, I instinctively throw a couple bucks right into the tip jar.
I imagine I act the same way at other places too, unless they have a tip line on the receipt when I go to pay (so basically, if you're reading this Starbucks, add a line in the app and see what happens! Just make sure to attribute the extra cash to the same store's employees!).
#3. Backing your car into a fire hydrant is both costly and embarrassing
It could have been worse with the fire hydrant immediately exploding and geysering all over my car, haha, but I still left the scene with a handful of scuffs and paint chips and it definitely stung a little.
Much more than had it been Frankencaddy where you wouldn't have even noticed the difference :)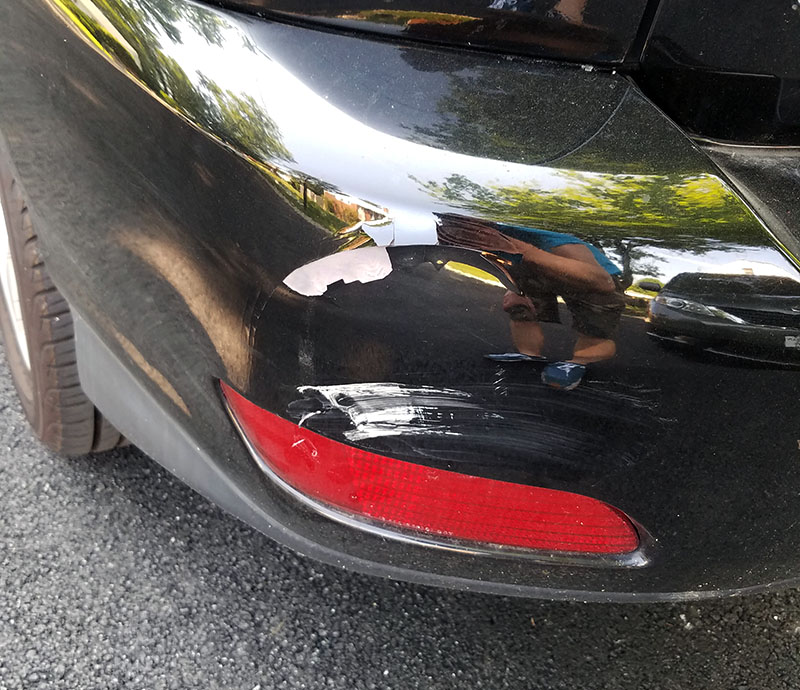 Still, that's the price you pay (quite literally) for rolling around in a nicer car, and now it's time to pay the piper either going through insurance, or out of pocket, or – dare I say it – whipping out a roll of tape and ghetto'ing it ;) Does it really matter if we plan on keeping the car forever and just running it into the ground? Will the Lexus police come after me??
#4. Buying coins for your collection sometimes feels like cheating.
This is a random one, but it actually applies to a number of things in life. Like when all you have to do to solve a problem or reach a goal is to throw money at it.
In this case, I started a new coin collection of trying to get one coin from every country in the world, mainly just to see if I can do it. I've been having fun picking off a coin or two from friends here and there through trades, but then the other week I saw a box of *thousands* of foreign coins for sale and labeled which is half the battle right there putting it all together :)
"Awesome!" I thought to myself. "I'll just sit here for a few hours picking out every last country I need and then pony up the money and be done! Wouldn't that be swell!"
But after 5 minutes of sorting I immediately regretted my decision. I don't know if it was my A.D.D., or if it was because it felt like more of a chore now or what, but my suspicion is that it kinda just felt like *cheating* in the end. Up until that point I had acquired most of the coins from family and friends over the years (for free) and was just going with the flow, and then to know all I had to do was throw some money at it and voila – mission complete! – just kinda lost the appeal.
Reminds me of whenever I hear bragging about new home remodels or kitchen upgrades or mansions being bought, etc. etc. Unless you're DIY'ing it, all you did was open up your wallet! Which is fine – we're all allowed to spend our money however we wish, but "goals" wise anyone can do it.
And speaking of doing it yourself… (that's what she said!)
#5. I'm constantly surprised by how CHEAP it is to entertain kids with DIY projects…

Remember how we had to fire our old babysitter over the summer for leaving our kids unattended near water? Who even brought her charger with her because she was SO OBSESSED with her phone?
Well, needless to say our replacement sitter was light years better and my children adored her :) Not only was her attention completely focused on our kids the entire time (I don't think I ever even saw a phone?), but she literally brought them new craft projects to work on every day based on what she learned that they liked.
Here's what they did when she found out they liked dinosaurs :)
Specimen #1: Dinosaur Head
(hat + felt + glue!)
Specimen #2: Dinosaur Feet
(kleenex box + construction paper + paint + glue)
How awesome is that??? She turned my kids into dinosaurs for literally dollars! And gave them something fun to do as well!

If you ever have a chance to hire school teachers, do it. They understand kids more than anybody, and many of them are looking for gigs during the summer and other breaks too :) Best move we made all summer… (And best money move we made as well – it was hundreds of dollars cheaper having her come to our house every day vs daycare!)
So yeah, just some random thoughts for the day :)
Anything interesting pop up on your end lately? Anyone stumble across any new $$$ hacks?
(Visited 10 times, 1 visits today)
Get blog posts automatically emailed to you!