In a nutshell: I spent a lot of money on coffee and bagels, haha…

But also books and history* stuff!
Here's a list of everything I spent on "wants" for the past 30 days. I decided to keep it to only the stuff I spend on *myself* vs others (kids, charities, etc) since that's what I was most wondering about, and since I'm not looking to change the others.
Here we go!
*******
Day #1: $0

Day #2: $35.00 — membership to a local historical organization
Day #3: $3.27 — coffee & bagel
Day #4: $5.27 — coffee & bagel, two $1.00 raffle tickets at coin club
Day #5: $3.27 — coffee & bagel
Day #6: $0
Day #7: $49.27 — coffee & bagel + an old currency note for my collection
Day #8: $0
Day #9: $2.21 — coffee & bagel
Day #10: $53.27 — coffee & bagel + membership to local historical club
Day #11: $3.27 — coffee & bagel
Day #12: $38.01 — coffee & bagel + 3 history journals + banana + apple juice + dinner
Day #13: $44.56 — coffee & bagel + lunch out + soda + dinner date night
Day #14: $12.10 — coffee & bagel & craft beers
Day #15: $4.42 — coffee & bagel & donut
Day #16: $3.27 — coffee & bagel
Day #17: $14.99 — coin book
Day #18: $3.27 — coffee & bagel
Day #19: $2.21 — coffee & bagel (had Panera rewards :))
Day #20: $0
Day #21: $8.18 — old book & postcard
Day #22: $9.89 — dinner @ Chipotle
Day #23: $4.30 — coffee & bagel @ Starbucks
Day #24: $26.26 — coffee & bagel + hard drive adapter to download old files
Day #25: $4.33 — coffee & muffin
Day #26: $0
Day #27: $0
Day #28: $192.29 — Bachelor party: hotel, food, beer, food, beer, beer ;) // also – another book
Day #29: $12.48 — lunch @ Subway
Day #30: $0
Total: $535.39
Average: $17.85/day
I was doing pretty good up to that bachelor party! Haha… I debated even including it since it was pretty much mandatory as the organizer of it all (I'm the best man) but since I'm not one to pass up experiences anyways, I knew I would have still attended ;) Would have dropped the daily average down to $11.74 though!
Here were the interesting takeaways from doing this:
#1. I didn't realize I ate out as much? I always thought I did it maybe once or twice a month, but oops. It was triple that, at least for this month (and even without the bachelor party it's still double what I assumed!).
#2. I didn't think I was picking up so many books! My unofficial rule is "1 a month" as I have trouble consuming more than that, but looks like I don't listen to myself in that department either as I picked up 6, haha… Though similar to experiences, I'm not one to feel that guilty picking up books which I'll actually read :)
#3. I thought I'd have more than 7 no-spend days :( But I guess that's hard to pull off when you BUY COFFEE AND BAGELS EVERY SINGLE WORK DAY!!
#4. I buy/drink much less beer than I used to :) There's literally only two times I bought it last month, and 99% of it was consumed in just one of those nights, haha…
#5. And lastly, I definitely spend more than the $200/mo I was originally guessing on. Not *too* much more if you exclude the B Party, but still more than I would have guessed. Which is exactly why you track and budget this stuff – your mind likes to play tricks on you! But so long as I don't keep doing $200 days I'm not going to sweat it too much… Every single thing up there brought me "joy" as they say, and I don't regret spending on any of them. A huge difference from 20 year-old J$!
So a pretty insightful experiment, I'd say! Any of you guys still tracking this stuff? Learning anything good as well, or already gave up? ;)

Just for fun, here's a breakdown of the # of things I bought during this:
17 coffees
16 bagels
7 no spend days :)
6 books on history/coins
4 dinners eaten out
3 lunches eaten out
2 memberships to local historical organizations
2 raffle tickets
1 old currency note
1 old postcard
1 apple juice
1 banana
1 hard drive adapter (more on this next week….)
1 soda
1 muffin
1 donut
1 date night <– super important to slip in where you can! (TWSS!)
*******
And then because it's actually been 41 days since I started tracking this (I began before the announcement of this exercise), here's a look at how month #2 is going so far…
Let me know if you notice anything different ;)
Day #31: $0
Day #32: $0
Day #33: $0
Day #34: $0
Day #35: $14.96 — lunch + dinner out (traveling)
Day #36: $0
Day #37: $0
Day #38: $0
Day #39: $0
Day #40: $26.72 — apple juice + banana + dinner out + geography book
Day #41: $0
Total month #2 so far: $41.68
Average so far: $3.79
Much better! Haha…
What changed? I officially became a stay-at-home-daddy blogger :)
Two weeks ago my wife went back to work, and now it's just me and my three boys all day long – woot woot! And ain't nobody's got the time to go shopping or visit coffee shops when you're wrangling them all, haha… Although I do cheat a little and send the older boys to camp for a few hours in the morning :)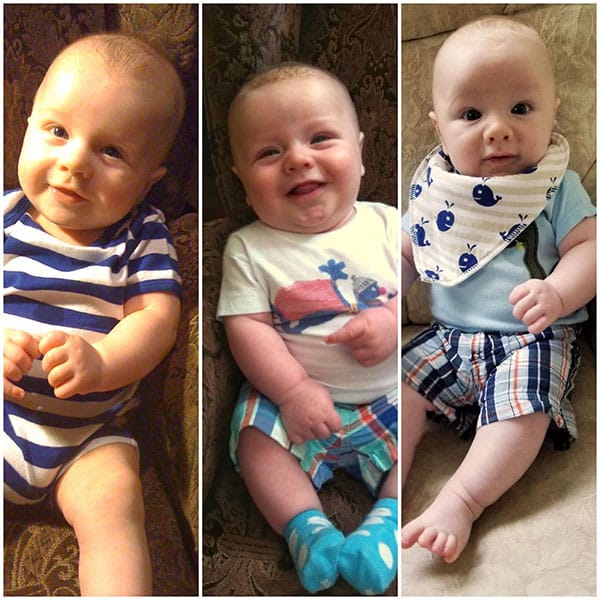 [Can you tell who is who? ;) ]
Been a pretty amazing experience so far too. And really just PROUD of myself for actually giving it a shot and setting things into motion to begin with! I like to talk the talk a lot, but not always walk the walk, haha… Not this time though. And bonus points: everyone's still alive!! 👶🎉
So yeah, if you ever want to NOT spend money on yourself, just have lots of babies, haha… But fair warning, they'll still take plenty of it for themselves ;)
I'm going to keep tracking this stuff for another few weeks or so and see what else I can dig up, but I'd say it's been a pretty good success so far.
A) For actually following through with it (where's my participation trophy??)
and B) for being more *aware* now of where my extra money is going. I wouldn't say my habits have changed per se, but I know now the areas I need to watch out for at least!
So one more point on the ol' experimental board! Highly recommend trying it out if you haven't yet. Just track it for a month and see what you find! Worst case you go back to oblivious spending! :)
——–
*I was never a history buff until I started collecting coins… Opened up my whole world, and now can't get enough! Amazing how far we've come as a nation, and really the entire world. Lots of sadness too, but man we're an incredible race.

(Visited 33 times, 1 visits today)
Get blog posts automatically emailed to you!