INSIDE: We finally made millionaire status!!! Here's how the last month went and what the future holds for these Net Worth Reports.
And there it is!

11 years and 139 reports later, we're officially members of the Double Comma Club! We have made millionaire status. Wow!
It's pretty hard to believe since I'm still that same 25 year old party boy in my mind scraping by for beer money, haha, but I guess it just goes to show that when you put your energy towards something, good things happen :) Even when you can't connect the dots at the time.
But check out these dots!! They tell a good story when you take a step back and look:
Lots of ups and downs there, along with some leveling off in the middle which wasn't the most exciting, but as you can see the longer we kept with it the higher it eventually grew. And of course it's not stopping there!
I don't know what we're doing with this influx of $200,000 cash yet (what was left of the sale more or less after paying out taxes and my silent partners), but it'll probably be invested somewhere once I'm done staring at it ;)
Which is rule #1 when you come into a ton of money – JUST LET IT BE AND ENJOY!!!! No need to rush and put it right to use, just soak it in and appreciate it for a bit!
What Does Millionaire Status Mean in the Future?
So that's all I'm doing at the present moment – really stepping back to enjoy the WHOLE journey up to this point, and what it means to both me and my family and the future goals we have. It'll be interesting to see how it speeds things up over time, but for now we hit pause and just *appreciate*!
[Here's a deeper dive into *how* exactly we got to this spot over the years FYI,
for those newer to the site: 7 things we did to grow our money]
But while all this is so incredible and I'm beyond proud to hit such the millionaire status milestone, it's also a very sad day for me today – and the future of this blog, really – because it comes with a caveat that's been brewing for quite a while…
And that's the fact that these net worth reports have increasingly made my loved ones nervous with each passing month it grows :( Who now request I respect their wishes and finally stop making them public – something I've pushed back on for years since it's the whole foundation of our site here (transparency and numbers!!!) but which I can't selfishly continue any longer, now that these numbers have grown to what they are.
So as much as it PAINS me to say this right now, and it really does pain me, this will be our last official net worth report shared on this site :(

139 months in a row and now that I've made millionaire status, it comes to an end, ugh…
I'm trying to console myself in that this is yet another step towards being a Better Human Being, but so far it hasn't helped much… And only adds to the big moves this year that I wouldn't have done otherwise.
Oh well. More money more problems, right? And it's not like I can't find a *different* way to share our progress here every month, though I'm still at a loss as to how since I'm not one for subtlety ;) Any ideas you might have for me?!
It really IS a good day here though so I won't stew on it too much, just wanted to keep you in the know as I always have and we'll figure it out as we go…
In the meantime, we did it!! Now to party like true millionaires however true millionaires party! Haha…
I literally haven't done a thing yet to commemorate it, so I'll take all ideas you might have for that too ;)
Here's the breakdown of how August's money went:
[As part of our Net Worth Series, where we share our real life #'s in hopes it motivates YOU to track yours as well – no matter how awesome or scary it is! What counts most is consistency and letting *time* do its thing. As evidence of this exact report today :) Hope it helps!]
CASH SAVINGS: $254,516.97 (+$205,388.77) — BOOM! You don't see that every day! Or at least I don't! And is the result of getting acquired last month after accounting for taxes (an insane amount) as well as paying out my silent partners from a few years back who owned a minority share of the blog. It doesn't look nearly as exciting as the actual *sales price* I got, haha… but $200,000 is still $200,000, and the plan is to put it to work of course so it feels like I got multiples more for the blog ;) So time to scout for opportunities!! Especially as the recession hits!
BROKERAGE: $0.00 (n/a) — A fat goose egg for now, but may just be where those opportunities lie in the coming years…  And you can guess what fund it'll probably go into, unless the Mrs. convinces me paying down the mortgage is a smarter play – what would you do?!
THRIFT SAVINGS PLAN (TSP): $22,652.97 (+$450.04) — Keeps going up when things are automated!! (And when you don't have too much in there yet to be trounced by market swings! ;)). This year marks the 3rd year the Mrs. has been fully employed after getting her PHD, which has contributed significantly to our finances as well as the lifestyle we've crafted for ourselves. So as much as I/we may forget, there's really TWO OF US here in these net worth reports vs just me! Something to keep in mind when you're comparing your own journeys!
ROTH IRAs: $165,677.51 (-$3,206.93) — Nothing too exciting with this guy – just the markets doing their thing last month without any contributions on our end (yet). If we're allowed to contribute to it this year (i.e. don't go over the income limits) we certainly will! One of the best things we've continued to do with our money!!
SEP IRA: $608,750.85 (-$12,493.65) — Same with this area too… No new changes, but will be filling 'er on up at the end of the year once we get our taxes straight (and know exactly *how much* we're allowed to contribute too, since it fluctuates with my self-employment income).
Here's a quick look in the meantime of how our investments have gone since moving over to Vanguard a few years back… All in VTSAX still:
HOME VALUE: $337,000.00 (n/a) — Keeping it as-is until 6 months have gone by, and will then hit my realtor for a good estimation as I like to do. Which always comes out a lot more reliable than following the Zillows and what not! Though of course you only TRULY know what a house is worth on the day it goes to sell ;) I.E. the amount someone is willing to pay you for it at the time!
CAR VALUES: $9,035.00 (+$58.00) — Month two of our cars gaining value as if they're side hustlers, lol… Though at one point we DID actually have a good car hustler!!! Remember my dearest, Frankencaddy?? How I miss that girl, *tear*… Would love to be rollin' around in her again :(
Here are the values per KBB of our two current cars… Still haven't gotten that minivan I promised my wife yet, but it's on the radar.
2008 Lexus RX350: $6,783.00 (+$15.00)
2005 Toyota Corolla: $2,252.00 (+$43.00)
MORTGAGE: $266,032.27 (-$992.74) — Another cool $1,000 right off the debt! We continue to pad each month's payment as if we were still paying our old rent money, so we really don't notice much difference at all… And reminded every month just how much a difference it is moving to a lower cost of living area too! Which proved to be both a financial and a lifestyle upgrade! Something I don't recommend without the latter, btw… Saving money is fun, but not at the expense of your happiness. If you love where you live then stay put!! ;) You can find ways to cut back in other areas.
And that's our last detailed net worth report, wahhh…..
Total change in net worth this month:
+$191,188.97
Gonna have to screen shot this one as it'll probably be the most I'll ever see in my lifetime ;) But still a great accomplishment! Even though it felt excruciatingly slow at times!
Here's a look at the last 12 months as well, which by and large held steady outside of the latest boost:
Pretty wild delta though! A difference of $350,000 from top to bottom over the year! And hopefully stays that way for a while ;)
And then lastly, our latest kids' net worth reports...
That maybe I can keep sharing instead since they're not old enough to tell me no? ;) That'll be a challenge going for a million again! Haha…
And there it is folks…
From $58,769.65 in January, 2008 to $1,131,601.03 in August, 2019. It's been a helluva adventure, and I'm so glad to have shared it with you!!!
Thank you for always supporting this series and not throwing shade when others have misconstrued the intention (I swear I only share them to inspire others, not feed my ego!! Haha…), and I truly do hope they've helped you in some small way over the years.
This stuff doesn't happen overnight, but it DOES happen when you constantly make moves every day! You just have to stand back and see what a beautiful picture you've been painting! :) And hopefully I'll be back to painting with you some more as soon as I can figure out a better way to do so…
In the meantime, keep on going and tracking that money so that you can also see your millionaire status!!
One of the best things I've ever done for mine, and I'll continue to do so until the day my fingers fall off…
Thank you for all your support over the years, and we'll be back tomorrow for another – much less dramatic! – blog post, haha… I swear I'm clean out of these now! ;)
Yours in money,

(Visited 1,453 times, 1 visits today)
**********
PS:
If you're just getting started in your journey, here are a few good resources to help track your money. Doesn't matter which route you go, just that it ends up sticking!
If you're not a spreadsheet guy like me and prefer something more automated (which is fine, whatever gets you to take action!), you can try your hand with a free Personal Capital account instead.
Personal Capital is a cool tool that connects with your bank & investment accounts to give you an automated way to track your net worth. You'll get a crystal clear picture of how your spending and investments affect your financial goals (early retirement?), and it's super easy to use.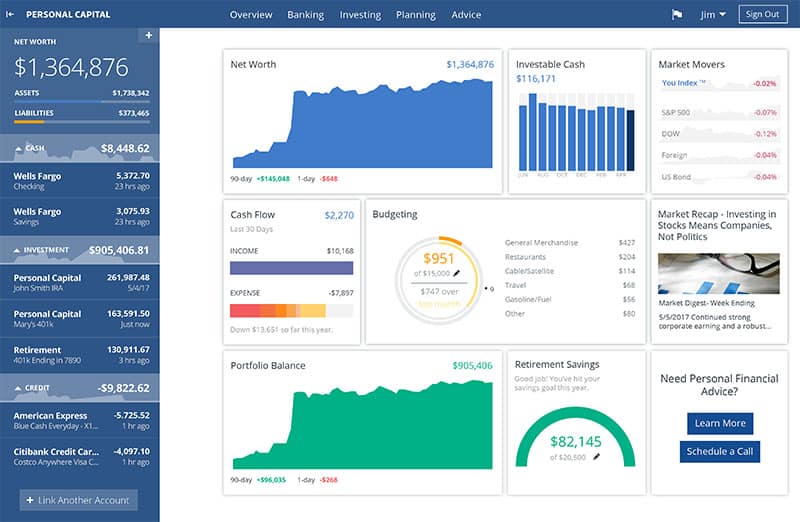 It only takes a couple minutes to set up and you can grab your free account here. They also do a lot of other cool stuff as well which my early retired friend Justin covers in our full review of Personal Capital - check it out here: Why I Use Personal Capital Almost Every Single Day.
(There's also Mint.com too btw which is also free and automated, but its more focused on day-to-day budgeting rather than long-term net worth building)
Get blog posts automatically emailed to you!