Well, paint me green and call me a pickle! Last month the Dow Jones industrial average experienced its biggest monthly gain in more than 33 years!! The last time this happened was the month of January1987!
But then, just 9 months later in October 1987, the Dow recorded the biggest single *daily* LOSS ever. "Black Monday" they call it (or in Australia they called it Black Tuesday, because of the time difference 🙃). The Dow lost more money in that 1 day than the biggest gain over a 30-day period. Ouch!
Let's hope history doesn't repeat itself 9 months from now!
(On a lighter note, also in 1987…  Bon Jovi released "Livin' on a Prayer," the movie Dirty Dancing came out, Stephen Hawking published "A Brief History of Time" and one of the biggest miracles in the history of mankind happened also in 1987… My wife was born into the world!)
Net Worth Update: $532,483 (+$42,527)
Woohoo! We crossed the $500k mark – AND THEN SOME!  The last time I made $42k in a single month was… well, never!
Here's the account summary, as well as growth shown in dollars and percentages for each asset we're tracking:
Here's What Happened in November…
Before getting to the asset details, here are a few cool money wins for us this month…
First, my wife and I were walking the dog in our neighborhood when we spotted this little bench set on the side of the road. Someone was throwing it out with the trash…
So, I came back 10 minutes later with the Prius and took it home. After setting it up and taking a photo, I sold it online for $40. Not bad for 20 mins of work! :)
Then a few weeks ago, I went to an estate sale and found these 2 surfboards…
I bought them for $20, and sold them for $160 online! 🏄‍♂️🏄‍♀️  Once the online ads were posted, both boards sold in less than 2 hours. I LOVE estate sale deals like this because they are FAST.
Lastly, I signed up for eJury.com – a website that lets you participate in mock trials for real life lawsuits. They assigned me a case which took 20 minutes to read and submit an opinion on, and paid me $10.
I realize these earnings are small potatoes… making us only a few hundred bucks. But, all these small dollars add up over the months and years. The same goes with most side hustles. Small earnings do make a difference!
And, I find it fun :)  You might too if you want to give stuff like this a try! I'd love to hear your stories!
November Abnormal Expenses…
Our dog Cooper had some weird growth on his leg, which warranted a trip to the vet. It cost $101 for the vet to take a quick look and tell us to "monitor it for a few weeks, and come back if things change."  Luckily, the thing went away shortly afterwards! $101 down the drain but still we're beating the cost if we would have gotten pet insurance when he was a puppy!
Cyber Monday got the best of me this year… I dropped $147 on a new surfing wetsuit. In my defense, my old one is literally falling apart after four years of use – and I'm freeeeezing on my morning surfs now that winter is here! I got a great deal though, $420 discounted to $147!
Our only other larger expenses this month were from buying various Christmas gifts. But I can't share those juicy details or I'll blow the surprise for my family members who read this blog!
Asset Growth (and Shrinkage) for November
Checking & Savings Accounts: $39,219 (-$675): A little decrease here – and this will probably continue as we're spending more than we're making the next few months. (My wife is a teacher and doesn't get paid over the holidays. So our income dips during holidays like Thanksgiving, Christmas, and for 3 months in the summer!)  It's all good though, the goal is to lower this emergency fund a bit as we siphon off some of my income into my 401(k) plan while we can.
Rental Property and Reserve Account: $237,616 (+$666): This past month we collected $1975 in total rent, and had -$1309 in expenses. While $666 seems like great profit for the month, keep in mind my ridiculous taxes and insurance are paid annually, so this pretty much wipes out ALL profit for this month. Here's the breakdown of expenses this month:
$662 mortgage payment

$141 fridge needed fixing

$165 stove needed fixing

$121 leaky toilet needed fixing

$145 property management

$75 landscaping/yard maintenance
Owning a rental property can be like death by a thousand papercuts. In another blog post I'll show you how I go through these monthly reports to keep an eye on which units have "common" repairs. Small maintenance adds up over time so sometimes it's worth making larger capital improvements to minimize ongoing maintenance costs.
IRA – Rollover: $131,323 (+$14,313): Back in July I pegged this IRA against the rental property to track which one will grow faster if left alone for many years (they were both worth each $109k at the time). I haven't touched either of them and this IRA account is crushing the rental asset in value! We'll see what happens over the loooong run.
IRA – Roths: $67,766 (+7,625): As much as I love getting over 10% growth in a single month, I kind of wish this growth spurt waited until January when I fund these Roth accounts each year! I would have preferred more tax-free gains in this account.
Joint Brokerage Account: $173,439 (+$17,022): This is our largest account, growing mostly at the rate of the overall stock market. One day I'll do a deep-dive into which stocks/bonds are actually in here. But I'll be doing some rebalancing and capital gains harvesting in December which will switch things up a bit. Growth this month came from gains only, no personal contributions.
HSA: $1,856 (+$202): Hooray for tax-free growth!… As long as I spend this money on medical expenses if/when we have them. The growth in this account just came from market gains. In December I'll be making a contribution, just gotta figure out my prorated amount to contribute because I've only had healthcare for a few months this year. 😳
New 401(k) at work: $4,261 (+$2,304): Sweet! This account is the only retirement account we are actually contributing to! I'm prioritizing it as much as I can through the end of the year. Sadly, I don't have the income to max out the 401(k) contributions this year – something I hope all you guys are doing!!??
Breakdown of Liabilities
Rental Property Mortgage: -$122,518 (+$240): I always forget about this tiny little amount we make each month. Having tenants slowly pay down your property loan is a beautiful thing. This loan balance will keep reducing over time – until we refinance and pull it all out again :)
Credit Card Balances: -$479 (+$830): This is the outstanding balance of our credit cards at the time I make this net worth snapshot. We rack up charges all throughout the month and then pay it off in full at random times. :)
My wife and I have no other consumer debt at this time!
All said and done, what a kickass November! All assets green and growing, and we surpassed the $500k mark! 
How were your updates the past month? Share your milestones and juicy details in the comments — which as a reminder, is a judgment-free zone!
Have a great weekend my friends!
– Joel
(Visited 23 times, 1 visits today)
**********
PS:
If you're just getting started in your journey, here are a few good resources to help track your money. Doesn't matter which route you go, just that it ends up sticking!
If you're not a spreadsheet guy like me and prefer something more automated (which is fine, whatever gets you to take action!), you can try your hand with a free Personal Capital account instead.
Personal Capital is a cool tool that connects with your bank & investment accounts to give you an automated way to track your net worth. You'll get a crystal clear picture of how your spending and investments affect your financial goals (early retirement?), and it's super easy to use.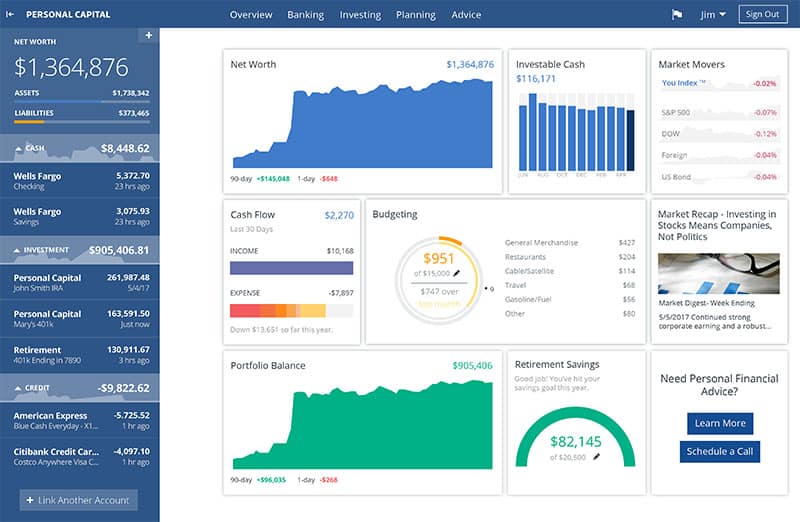 It only takes a couple minutes to set up and you can grab your free account here. They also do a lot of other cool stuff as well which my early retired friend Justin covers in our full review of Personal Capital - check it out here: Why I Use Personal Capital Almost Every Single Day.
(There's also Mint.com too btw which is also free and automated, but its more focused on day-to-day budgeting rather than long-term net worth building)
Get blog posts automatically emailed to you!