Buenos dias, amigos! 
This week I'm in Oaxaca, Mexico, hanging out with some new friends and eating the world's best mole! It's my first international trip since COVID, and although it's a little scary being around so many people, it's great to be traveling and exploring again.
We had another killer month of investment growth in April — adding $22,972 to our investment portfolio. Hot dang! But before we get into the details of my accounts, I wanted to share a snapshot of my four little nephews' gift accounts.
Here's the summary and balances of the gift accounts:
About four years ago we opened our first UGMA (Unified Gift to Minors Account) with a starting balance of $2,500 as a gift to our first baby nephew. Since opening the account, it has doubled in size to $5,400!! So cool!
We also gifted $2,500 each to our three nephews who have been born since the first one, but these accounts have had less time to grow. All in all, my wife and I have given $10k, and it's grown to over $15k.
Many people say to invest early and often… I say it's also important to give early and give often! I'm excited to see how much money these little dudes have when they turn 18!
OK, let's get on with the net worth updates for the past month…
Net Worth as of May 1, 2021: $643,119 (+$22,972)
Account summary with percentage increases/decreases:
Our stuff grew almost $23k this past month. When will this ridiculous market growth stop!!!?? I have no idea.
Here are the details and major changes for April 2021:
Irregular earnings, expenses, and fun stuff:
The biggest change this month was just an asset shift, moving funds from my

old 401k to the Rollover IRA

.

In April my wife and I earned $1,475 cash back via credit card hacking and

bank account churning

. We do this every few months to earn points and cash for regular spending activity. Woohoo!

We came back from Hawaii in early April, and the trip set us back about ~$4k. This is the reason our cash balance is a little low. Full

trip expenses (and travel hacks) here

if you wanna check them out. :)

Cooper had a weird rash on his belly this past month.😢 The vet charged $150 which included a bordetella shot and regular check-up.

My wife and I signed up for a Beach Volleyball league this summer which set us back $120 in membership fees. So glad that COVID is under control in LA so we can participate in outside group sports again!!
Detailed Asset Breakdown
Cash Accounts: $26,302 (-$1,358): We spent a little more than projected on our HI trip but have some pending work payments that are covering the costs. All in all, we expect to have $30k in our checking accounts before summer vacation starts.
Rental Property + Reserve Account: $239,327 (+$3,612): In April we had a large hail storm hit our rental property, which resulted in an insurance claim. The insurance company issued a check to us, but we have not made any repairs yet — this is why there is a large credit in our emergency account. I've written a more detailed post about this process, stay tuned.
Real Estate Syndication: $50,000: I just received the first official investor update on this project and the results couldn't be better… The apartment complex is at 98% occupancy and pre-leased at 99% for next month (effectively full). Rent increases have been put in place with zero resistance from the tenants, and also without renovations needed to the units. We're still less than 2 months into this real estate syndication so I don't want to get too excited. The first inverter distributions (dividend paid to me) will be in late June and this will be the first telltale of whether it's a solid investment.
IRA – Rollover: $176,989 (+$24,774): You might have caught my post earlier this week about migrating a 401k into an IRA… Well, this IRA had about $18k added to it which was rolled over from my cancelled 401k account.
IRA – Roths: $92,366 (+4,460): Woohoo! Killer growth here as these Roth accounts are invested in the total stock market index, which rose about 5% in April. We've maxed out our contributions for 2021 so from here to the end of the year we're relying on market growth. If all goes well we might hit $100k for these accounts.
Joint Brokerage Account: $175,964 (+$5,638): Thank you Mr. Total Stock Market Index for the $5k growth this month! I am extremely grateful. Please keep doing what you're doing. :)
HSA: $4,089 (+155): Technically my health benefits expired 4/30 so I can contribute another $300 to this account for 2021. My wife and I have yet to decide what health insurance plan we want for the remainder of the year, but it's looking like we'll continue to be uninsured for a little bit.
New 401(k) at work: $0 (-$16,908): Bye bye 401k plan.This account has been terminated and all monies rolled over to my IRA account. My employer found out it's cheaper to pay me as an independent contractor :( so they removed my benefits as of 4/30. All excess savings going forward here will just be invested in our after-tax brokerage account.
Breakdown of Liabilities
Rental Property Mortgage: -$121,308 (+$244): Slow and steady wins the race. In addition to the excess cashflow that my rental property provides, my mortgage is slowly being paid down over time. If my calculations are correct, we'll owe less than $120k at the end of 2021.
Credit Card Balances: -$610 (-$2,355): My wife and I pay off our credit cards in full each month. This $610 is what we owe currently.
We have no other consumer debt at this time. 😎
Cheers to an awesome May! How were your updates last month?
Hasta luego mis amigos!
– Joel
(Visited 17 times, 1 visits today)
**********
PS:
If you're just getting started in your journey, here are a few good resources to help track your money. Doesn't matter which route you go, just that it ends up sticking!
If you're not a spreadsheet guy like me and prefer something more automated (which is fine, whatever gets you to take action!), you can try your hand with a free Personal Capital account instead.
Personal Capital is a cool tool that connects with your bank & investment accounts to give you an automated way to track your net worth. You'll get a crystal clear picture of how your spending and investments affect your financial goals (early retirement?), and it's super easy to use.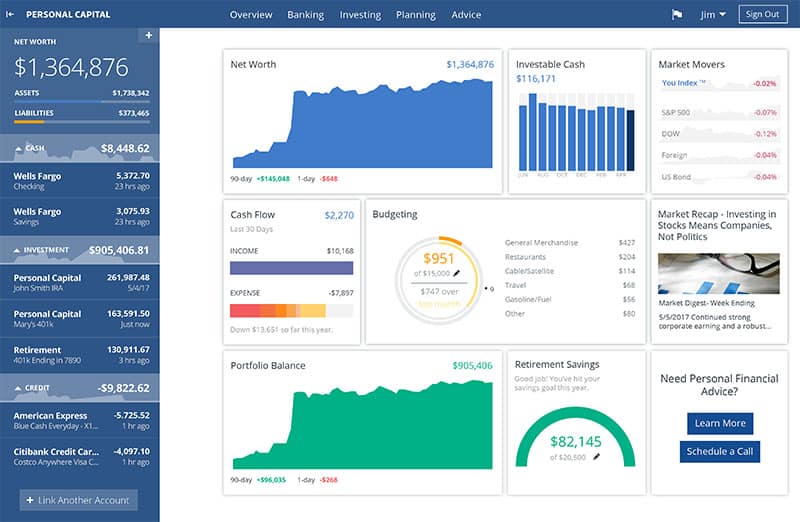 It only takes a couple minutes to set up and you can grab your free account here. They also do a lot of other cool stuff as well which my early retired friend Justin covers in our full review of Personal Capital - check it out here: Why I Use Personal Capital Almost Every Single Day.
(There's also Mint.com too btw which is also free and automated, but its more focused on day-to-day budgeting rather than long-term net worth building)
Get blog posts automatically emailed to you!