I am an idiot… 🤦‍♂️ I just realized I broke one of the cardinal rules of investing…
Earlier this year I transferred $900 into my HSA account. But, I just logged in and realized I never *invested* the money. It's just been sitting in a cash position. Grrrr.
I'm not so much annoyed about the money (missed out on about 5.3% of market growth, which is only ~$48), I'm more annoyed that I made the mistake in the first place! Just the other day I was yelling at my friend for having her Roth funds sitting in cash for the past 6 months… and here I am making the exact same mistake! I'm an accidental hypocrite. And I'm $48 poorer than I could be today. 😭
All you readers out there: Please learn from my dumbass mistake. When you transfer money to your investment account, make sure to INVEST it after the money lands. If you have any "cash," "core position" or "money market" funds, this means your money is just like sitting in regular checking account. It's not invested or working for you until you BUY a stock or fund. Double check your stuff — don't be an idiot like me!
OK, let's get on with the net worth updates for the past month…
Net Worth as of June 1, 2021: $658,288 (+$15,169)
Account summary with percentage increases/decreases:
Sweet! Our stuff grew more than $15,000 the past month! This isn't the biggest increase we've had, but it's the first time everything is in green!!! This means we had positive growth in every asset category the past month. Woohoo!
Big earnings, travel expenses, and doggy x-rays!
We had some irregular earnings and expenses in May…
I worked some extra hours this month for my employer, plus got some back-pay from April. That's why our checking accounts are stocked up! I'm really enjoying the additional contract work they are giving me, so I hope to keep working extra through the summer, while my wife is off school!

Sadly, I haven't come across any garage sales or

estate sale deals

the past few months. I'm itching to buy/sell some junk! Just have to patiently wait until a good deal comes along.

My 1-week trip to Oaxaca set us back about $700. Flights and accommodation were the bulk of this. Food and regular living costs were very cheap!

Sadly, Cooper has been to the vet a few times this past month. We pay for everything out of pocket as we don't have pet insurance. Medication and X-rays have cost us $471 this past month. 
BTW have you ever seen a dog x-ray??? Check this out…
The vet said there is inflammation in his spine, and some arthritis. We haven't had an MRI yet to check out his soft tissue. The vet is holding off to see how he reacts to the meds he's on currently.
P.S. Thank you to everyone who reached out and sent well wishes. Cooper is on the mend!
Detailed Account Breakdown
Cash Accounts: $33,518 (+$7,216): Feels great to be above the $30k mark. My wife is about to go on school holidays for the summer, which means no income for June/July. We will probably dip into our savings a little during the next couple months – unless I can cover our expenses with extra work opportunities.
Rental Property + Reserve Account: $241,960 (+$2,633): In May I received a letter from the Texas Tax Assessor's Office… The value of my duplex increased $1,636! Although I will probably still appeal my property taxes, I kind of feel this valuation is appropriate. So I've updated the value in our net worth tracking to match the tax evaluation. As for cashflow in May, we received $1,975 in rental income, had $978 in expenses (mortgage, property management, maintenance) for an overall positive cashflow of $997!
Real Estate Syndication: $50,000: In late February, we invested in a real estate syndication — which is basically a group of investors who all pool their money together to buy a big property. Typically it takes a little while for the property to "stabilize" and be in a position to provide investors with dividends. For this deal, we are anticipating some profits to be paid out in June – stay tuned.
IRA – Rollover: $179,141 (+$2,152): Thank you, Mr. Total Stock Market Index Fund, for continuing to grow this tax-deferred account! 
IRA – Roths: $92,784 (+$418): Not sure why these Roth accounts grew at a slower pace than my other accounts invested in the total stock market. (Yes, I did check if the money was *all invested* and not in cash positions. 🤣) Maybe I recorded the amount wrong last month? Oh well, it's growing nonetheless!
Joint Brokerage Account: $177,923 (+$1,959): Our goal is to grow this account over time using proceeds from the sale of our joint rental properties (not tracked here publicly). By the end of this year hopefully we can top $250k in this account! 💪💪💪
HSA: $4,404 (+$315): I contributed another $300 for April in this HSA account. And also invested the $900 I had sitting in cash. I'm no longer on a HDHP plan so no more contributions to this account 🙁
401(k) at work: (Bye bye): I no longer have access to a 401k. Neither does my wife. (My old 401k was rolled over to my IRA account). Going forward, all excess savings will accumulate in my checking account and we'll invest what we can into our after-tax brokerage account.
Breakdown of Liabilities
Rental Property Mortgage: -$121,064 (+$244): Mortgages are a blessing and a curse. Being in debt — any debt — isn't a good feeling. But, I know mathematically it's best for me to keep this mortgage in place as leverage. It is slowly being paid down month over month by our tenants.
Credit Card Balances: -$378 (+$232): My wife and I pay off our credit cards in full each month. Sometimes on the due date, or sometimes beforehand just to keep a low balance!
We have no other consumer debt at this time. 😎
Cheers to a kickass June! What did you guys get up to last month?
Happy Friday!
– Joel
(Visited 8 times, 1 visits today)
**********
PS:
If you're just getting started in your journey, here are a few good resources to help track your money. Doesn't matter which route you go, just that it ends up sticking!
If you're not a spreadsheet guy like me and prefer something more automated (which is fine, whatever gets you to take action!), you can try your hand with a free Personal Capital account instead.
Personal Capital is a cool tool that connects with your bank & investment accounts to give you an automated way to track your net worth. You'll get a crystal clear picture of how your spending and investments affect your financial goals (early retirement?), and it's super easy to use.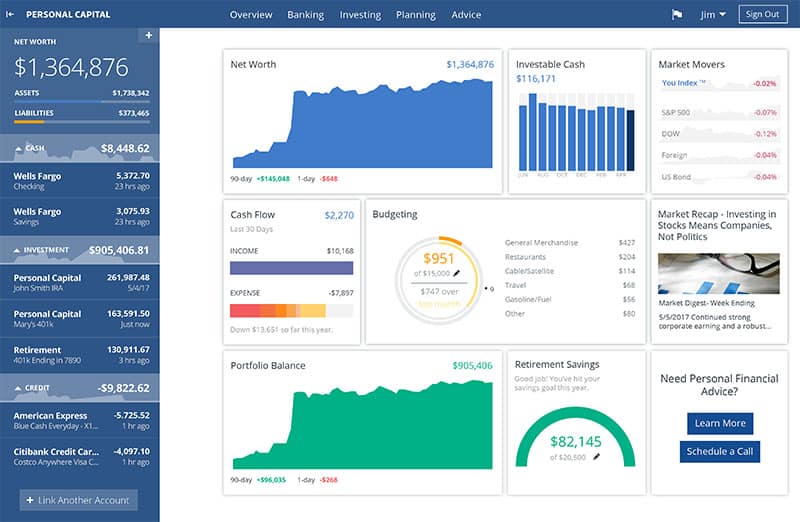 It only takes a couple minutes to set up and you can grab your free account here. They also do a lot of other cool stuff as well which my early retired friend Justin covers in our full review of Personal Capital - check it out here: Why I Use Personal Capital Almost Every Single Day.
(There's also Mint.com too btw which is also free and automated, but its more focused on day-to-day budgeting rather than long-term net worth building)
Get blog posts automatically emailed to you!