See what I did there? My net worth after LABORING for 37 years? Because it's LABOR DAY? And I'm updating my NET WORTH??
Gah, nevermind…
If there was ever a day people were forced to calculate their numbers though, today would be it :) What better way to reflect on all those years of working than looking at what you have to show for it? After all, isn't that the point of working so hard? To be able to keep whatever you've earned at the end of it all?
Let that simmer on your brain plate for a while… And if you really want to put things in perspective, grab your Lifetime Wealth Ratio by logging into your social security account online and tallying up the reported income over your lifetime, and then comparing it to this same net worth number of yours. How does THAT make you feel? Want to vomit? Love it? Confused as to where it all went??
Only you hold the answers to that, but before you can get there you need to actually know where you stand. So let this be reminder #1,038 to START TRACKING THAT MONEY OF YOURS if you haven't done so already. And if you're only going to do it once a year, let it be on Labor Day where you're hopefully patting yourself on the back for good reason!
Speaking of patting yourself on the back, I'm going to give myself a hearty one right now for not shedding a tear (yet) knowing that my 5 year old is shipping off to Kindergarten tomorrow, eek… The principal joked during orientation that there will be plenty of tissue boxes handy, but that they aren't for the kids at all – they're for us parents, haha…
I WILL TAKE 20 PLEASE!! Today it's Kindergarten, and tomorrow it's college and girls and stealing our cars to drive hundreds of miles away where there's no family or parents in sight and forgetting all about us – AGHH!!!  Don't leave me, Baby Penny! I need you!!
*Goes to call his own mom and mercilessly apologize for his own wrongdoings to her growing up…*
Now On To August's numbers…
This is the first time we've actually had a loss in over 10 months! It was only $600'ish, but could this be a little foreshadowing of what's to come on the horizon? Is the market finally ready to crash and burn after years of skyrocketing?
Time will tell, but it doesn't change any of the game plan regardless… It almost always comes down to hustling, hustling, hustling, and then stacking, stacking, stacking!
(PS: we post up these updates every month to show a real-life snapshot of what someone's money looks like as we never get to see this stuff in the real world…. Tracking this has been one of the best things I've ever done with my money, so we share it every month here – warts and all – in hopes it helps you on your journey too. You can find all 116 of our net worth updates anytime you'd like here.)
Alright here we go…
CASH SAVINGS (+$707.50): The one department we almost always have full control over! As long as this number is green more often than it's red, you're trending in the right direction :) You can't build wealth if you don't have any extra money leftover by the end of the month.
THRIFT SAVINGS PLAN (TSP) (+$702.10): You know how I always say my wife never knows what's going on with our money, even though I BLOG ABOUT IT FOR A LIVING AND TELL HER EVERY SINGLE MONTH WHERE WE'RE AT??
Here's a perfect example of what this looks like :)
Me: "Honey, guess how much is in your retirement account now?"

Wife: "$1,000!"

Me: "No."

Wife: "$1,200!"

Me: "No…"

Wife: $1,500!"

Me: "Higher please."

Wife: "Higher? $2,000!"

Me: "No."

Wife: "$3,000!

Me: "No – geez, higher"

Wife: $5,000!"

Me: "I give up…"
Haha… okay, I didn't say that last part, but my Lord woman! I tell you what it is every month! At least get in the ballpark with your first 5 guesses, haha… On the flip side, she IS always happy and surprised whenever we get to the final answer, so there is that ;) The power of automatic investing!
ROTH IRAs (-$543.24): Nothing too sexy going on in this department, just a snapshot of how the market's going at this particular time. We haven't added anything new here for a handful of months as we usually wait until the end of the year to max it out once we know my business financials more (it's always fluctuating).
SEP IRA (-$2,338.08): Same with this guy too – nothing new added and prob won't be for awhile as well. Never gets old looking at the returns though, especially without lifting a finger :) If you ever wondered how the rich keep getting richer, btw, it's because they just keep throwing more and more money into investment opportunities like this. The 10% return works the exact same way whether you have $6.00 or $6,000,000 in there. One just spits out a $hit ton more cash on the other end!
Here's a screenshot of our Vanguard account for August (we're fully invested into VTSAX):
CAR VALUES (+$346.00): This should typically be red of course, as no cars really appreciate in value except for maybe rare/collectible ones, but it's what KBB showed for the month so I just copy/paste the numbers in to stay consistent. The only time we'll really tell whether they're accurate or not is when you go to sell 'em :) (And same goes for your house or any other assets too)
Here's what Kelly Blue Book is showing for each of them:
Lexus RX350: $12,419.00
Toyota Corolla: $4,085.00
CAR LOAN: (-$469.37): Alright guys, y'all were right last month when you said I'm scheduling my payments wrong and should be hitting the "principal only" payment button! I logged in this morning to see when the next payment date was, and it was literally NEXT YEAR! Haha… Cuz I've just been pre-paying ahead wayyyyy to many times, d'oh.
So per your recommendations, I'm now applying my $500 allotted budget fully to principal only and will continue doing so until we're finally caught up to normal payment land again… Thanks for setting me straight :)
And that's August's update!
Here's an overall snapshot on how the past 12 months have gone:
And once again, my kids' net worths too… One day they'll be sharing all this on their own blogs!
I hope you're doing well in your journey over there :) As always, I've listed a number of ways you can track your net worth below if you're new to the scene, and you can find all 100+ of these net worth updates here, as well as 300+ reports by other bloggers here too: The Blogger Net Worth Tracker.
Enjoy your day off from laboring today!! But just because you're not doing any work physically, doesn't mean you can't do any work mentally. Fire up that Lifetime Wealth Ratio of yours and start making plans NOW to improve it!
I'm gonna quiz you in a year from now on the next Labor Day :)
…that is if I survive bringing my kid to school tomorrow :(
(Visited 17 times, 1 visits today)
**********
PS:
If you're just getting started in your journey, here are a few good resources to help track your money. Doesn't matter which route you go, just that it ends up sticking!
If you're not a spreadsheet guy like me and prefer something more automated (which is fine, whatever gets you to take action!), you can try your hand with a free Personal Capital account instead.
Personal Capital is a cool tool that connects with your bank & investment accounts to give you an automated way to track your net worth. You'll get a crystal clear picture of how your spending and investments affect your financial goals (early retirement?), and it's super easy to use.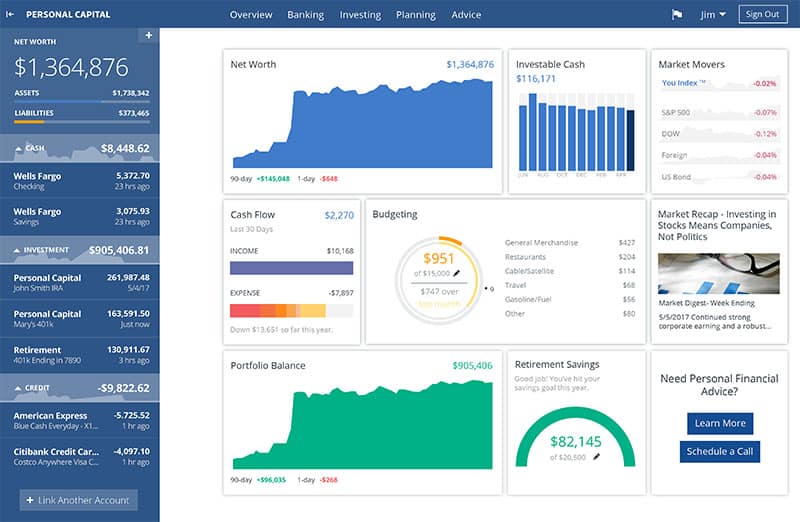 It only takes a couple minutes to set up and you can grab your free account here. They also do a lot of other cool stuff as well which my early retired friend Justin covers in our full review of Personal Capital - check it out here: Why I Use Personal Capital Almost Every Single Day.
(There's also Mint.com too btw which is also free and automated, but its more focused on day-to-day budgeting rather than long-term net worth building)
Get blog posts automatically emailed to you!