Another new month so you know what that means – time to update the ol' net worth! We're onto month #118 in a row here for us, and still one of the best moves we've ever made for our money.
Nothing keeps you more accountable than knowing where all your $$$ is (or isn't!) at any given month. So please please PLEASE start tracking this stuff if you're new here or haven't taken the time yet. Your wallet will thank you later for it, I promise!
(And if you need help figuring out what, or what doesn't, go into your net worth, here's an in-depth post I recently wrote that might help point you in the right direction (though of course go with what makes the most sense to you): Gray areas of net worth tracking)
Alright, here's how last month went down for us… pretty much summed up in one gif:
(That's me just going with the flow, haha… and probably exactly how I look on the dance floor :))
How October's $$$ Went Down:
CASH SAVINGS (-$2,108.17): Had a helluva good time this month, however unfortunately I kinda forgot about the whole "working for money" part again, oops… I still struggle with it after all these years because I treat these projects way more *passionately* than I do *businessy,* and honestly I have no idea how I've managed to support my family for so long on these websites, haha… I'm just waiting for the internet police to show up one day and tell me the party is over!
THRIFT SAVINGS PLAN (TSP) (+$612.14): Work it, wife! Her monthly contributions just keep on adding up, and we're already over $7,000 in just a year of setting it and forgetting it… These guys and all 401(k)s and similar are just money waiting on a platter for you to scoop up… Make sure you're getting your employer's FREE matches and just gobble it all up while you can!! Easiest way to make money!
ROTH IRAs (+$2,855.29): A solid jump here too – courtesy of the markets climbing which still shocks me each and every month lately… I've had enough of the warm and fuzzies, and just want it to hurry up and crash again so we can get over it! Stop teasing us for so long!
SEP IRA (+$10,723.23): Same scenario here as well… Yay for the increase, but just means more of a drastic drop once the fateful day comes… (Can you tell how I really feel about it? ;) The only thing it's good for right now is inflating all our net worths!)
Here's a current snapshot of our account, where 100% of the money is invested in VTSAX:
CAR VALUES (-$24.00): Nothing too crazy going on here, just the cars doing what they should be doing, albeit not losing *as much* this month as usual… Then again, Toyotas are known to be pretty solid vehicles, so not gonna complain about that!
Here are the current values of both our cars via KBB:
Lexus RX350: $11,489.00
Toyota Corolla: $3,733.00
CAR LOAN: (-$470.64): Chipping away each and every month… And not only at my Lexi's paint job either (womp womp womp….) Here's another shot at her back side after I decided to try and run over a fire hydrant: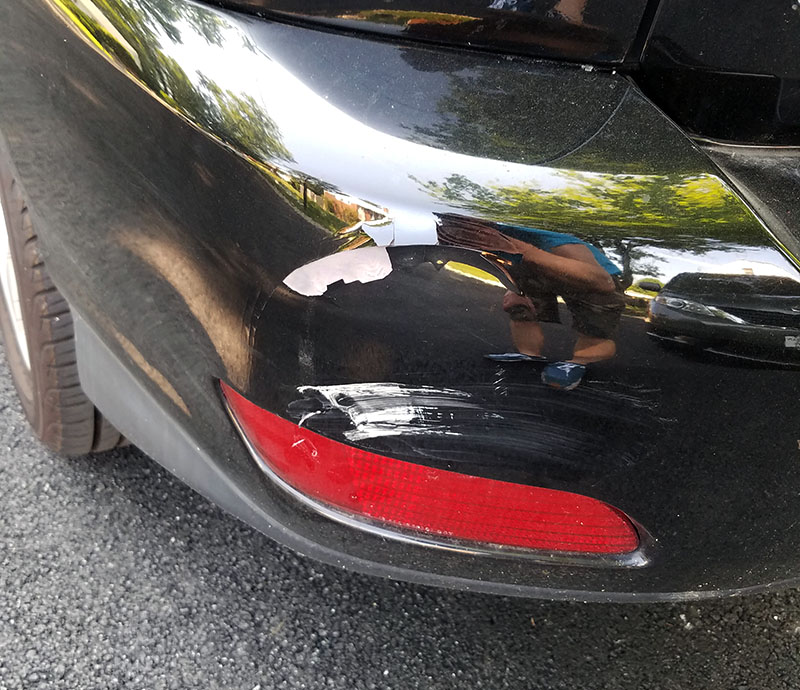 (The answer to what I ended up doing about it, btw? Taping it for the win!! Similar to Hank Moody in Californication, I seem to get this strange satisfaction by riding around in cars with cosmetic imperfections… We're nowhere close to Frankencaddy levels yet, but we got the first ding out of the way now, so all pent up anxiety has been released and now we calmly wait the future war scars to come ;))
And that's October! A $12k increase, mainly due to the markets…
Here's a look at how the past 12 months have gone for a broader view:
And then of course, the values of both my kids' net worths because we're nerds like that; (notice I keep the 529s in theirs vs mine – just another of those gray areas you gotta figure out when tracking
How'd your month go?? Anything new and juicy going on?
As always, you can find all 100+ of my net worth updates here if you want to see how it's progressed over time (almost 10 years!), and then of course if you're feeling feisty you can check out 400+ other bloggers' net worths here that we track: Blogger Net Worth Tracker. I'm currently #108 on the list.
And as I said last week, remember that your net worth does not = your self worth! But just like self worth it IS important to gain control over, which then makes you one helluva force to be reckoned with.
So get out there and OWN it!
(Visited 20 times, 1 visits today)
**********
PS:
If you're just getting started in your journey, here are a few good resources to help track your money. Doesn't matter which route you go, just that it ends up sticking!
If you're not a spreadsheet guy like me and prefer something more automated (which is fine, whatever gets you to take action!), you can try your hand with a free Personal Capital account instead.
Personal Capital is a cool tool that connects with your bank & investment accounts to give you an automated way to track your net worth. You'll get a crystal clear picture of how your spending and investments affect your financial goals (early retirement?), and it's super easy to use.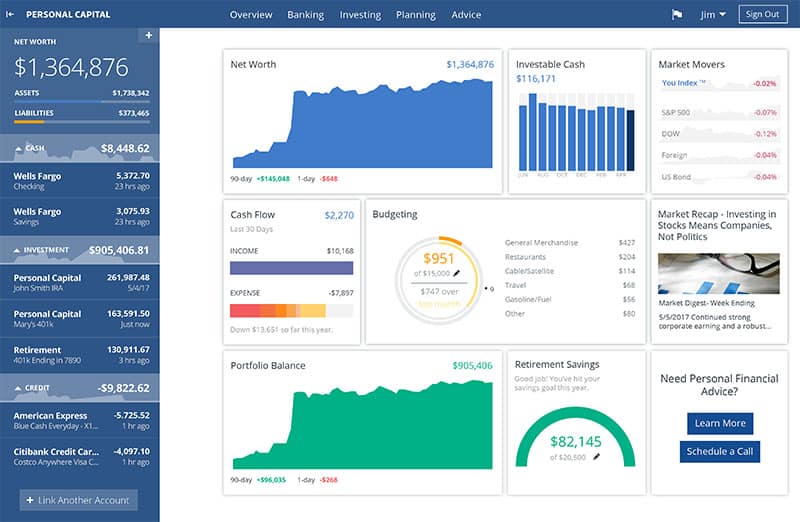 It only takes a couple minutes to set up and you can grab your free account here. They also do a lot of other cool stuff as well which my early retired friend Justin covers in our full review of Personal Capital - check it out here: Why I Use Personal Capital Almost Every Single Day.
(There's also Mint.com too btw which is also free and automated, but its more focused on day-to-day budgeting rather than long-term net worth building)
Get blog posts automatically emailed to you!