If you had to choose one: health or wealth, which would you go with?
According to a new press release I just opened up, if you're a millennial you go for the health more often than not ;) At least that's according to TD Bank who sent me these fun stats we'll be pouring over today (you can download the full report here (powerpoint)).
They asked over 1,000 consumers what their 2018 resolutions were back in January (do you remember yours??), and "diet and fitness" goals superseded all financial ones, with the top response of "eating better" (54%) trumping the top financial goal of "saving more and spending less" (39%).
In fact, health goals took home the top 3 slots!!
(Click to make bigger…)
Is this good? Bad? TD warns that it could be troublesome, but of course without your health the money is somewhat pointless :)
It did suck seeing my beautiful budgeting way down on the list though, along with "unplugging more" which is an excellent goal!, but hey – there could be worse priorities. It was cool to see "challenge myself every day" and "read more books" in the middle! My Challenge Everything experiment is still paying dividends over all these years… Which you can apply to any area of your life!
Here were some other stats from the poll:
73% of respondents admit to making a money mistake in the past year (millennials 83%)
17% of the younger generation says the biggest mistake was incurring too much credit card debt and not paying it off (something we saw in our own polls last week too, eh?)
32% of women are significantly less satisfied with their financial health than men (51%)
41% of those satisfied with their financial health are more likely to be satisfied with their physical health (75%), emotional health and wellness (85%) and family well-being (87%).
However, this link is not as strong the other way around – with those who are extremely or very satisfied with their physical health only being 69% satisfied with their financial health
Overall, confidence in achieving goals is fairly strong, with nearly all polled believing they'll be better off financially in 2018 due to having a financial plan
And then the most non-shocking news of the day:
"The biggest reason for not sticking with a resolution was that, basically, life gets in the way."
Pretty much – yup ;) How many of you even remember your new year's goals? I do, but only because it was wrapped around a pretty big life changing event – having a baby! So mine was hard to forget, haha, although I may want to once my wife goes back to work next month (!!).
(My resolution was/is to be a stay-at-home daddy blogger – which so far is going better than half the 17 resolutions of mine prior to this! Of which you can see by clicking that link up there :))
I will admit that my health goals have been majorly lacking in recent years, however…

It currently looks a lot like this: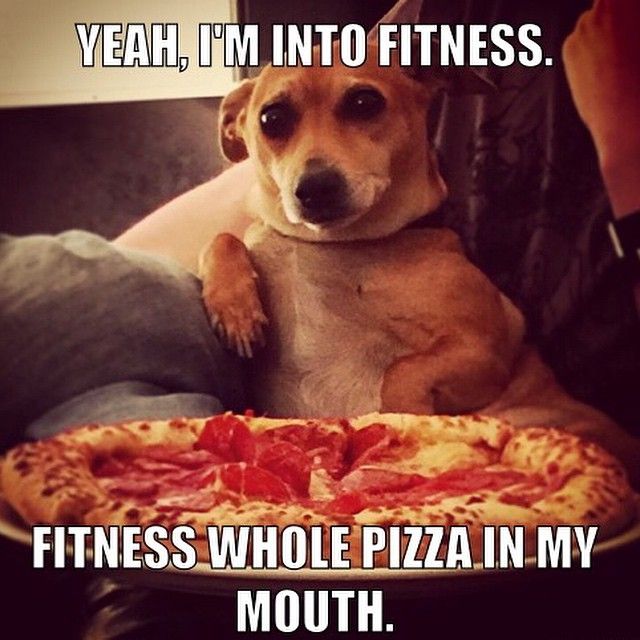 Haha… But on the other hand, my finances are on lock! Maybe that's why health is rated so high on everyone's lists? Because they're all out there knocking out $$$ goals and stacking cash so all that's left to optimize is health?! That would be nice! :)
Although I do find it interesting – especially with myself – that as much as I KNOW health is important if I want to live a long time, my actions sure don't point in that direction! How do I not prioritize something that literally KEEPS ME ALIVE?? I don't love cemeteries that much! haha..
But I guess that's something for health bloggers, not finance ones ;) So as long as you're not this guy below, you're alright in my book:
** Goes to Google "best blogs to not make me die"…**

———
This post was sponsored by TD Bank who asked if I liked talking stats on this blog… Yeah we do!! As well as any financial institutions which try hard to be available to their customers like TD does. They're open *7 days a week*, even on Sundays, and have 24 hour live customer support! They're also currently offering new customers $150-$300 when they open a new TD checking account – more info here if interested. Thanks for the fun opp, guys!

(Visited 6 times, 1 visits today)
Get blog posts automatically emailed to you!