If you ever had to attend a wedding or any of the parties that surround it, you're going to appreciate this email. If you're the couple who's referenced here, you're probably not :)
I want your comments/tips/thoughts afterwards!
Hi there,

I have a question for you. I have an engagement party this weekend. On the lovely commercially printed invite are the words "wishing well optional." Now, I lived in Canada for 20 years up until 2 years ago when I moved back to Australia. I have never heard of a wishing well or been to an engagement party over there. I mean, a party for this type of thing seems so unnecessary when there will be a hen night/ bucks night and a wedding within the next year.

The thing that has got me is the "wishing well." My friends are well set up. Both have jobs, they have a home they are paying off which is modest and I am sure they will own outright eventually and I am pretty sure no debt as she is a smart saver. I am stuck on this concept.

Do I give a couple who has everything cash? It says "wishing well optional" but then am I a tight wad friend if I do not give to the wishing well? The thought of forking over cash ( I thought $30) seems gross to a frugal weirdo like me. I do not however want to be the lame friend who gives a home made card and a punch in the arm "good luck" type of thing.

They are paying for the party and all the booze etc at the party. I wanted to get some opinions on this. It is not being able to afford sticking some money in the card, it is more the idea of supporting a grossly extravagant concept.

What would you do?
I love this email for a number of reasons. First, it shows how worldwide money is and how far its predicaments spread. Secondly, it's funny to hear that bachelors/bachelorettes have been  internationally turned into farm animals  ;) And lastly, I love me a good debate on cash giving!!
I wrote her back pretty much saying that, yes, it all sounds pretty extravagant and sucks that she now has to (or at least feels like she has to) give gift upon gift at all these parties she's attending, but also that I'd probably just plunk down the cash and do my best not to stew in it. And $30 seems fine too.
Is that sweeping the issue under the rug? Maybe. But here's why I'd do it:
I don't like drama
It's *their* day and can celebrate however they see fit – even if it's ridiculous to the rest of us
I have much bigger problems to stress out about and fix
If you're going to give a gift anyways, why not give them what you know they want?
Why are Wishing Wells so popular?
Now, I'm biased here because I personally LOVE giving and receiving cash gifts (have you ever seen anyone turn money down?? :)), but it also solves the problem of trying to give someone something when it appears they already have everything they need too. And let's just assume they do, even though we all know appearances can be deceiving.
In fact, at our own wedding we gave the option of contributing to our "honeymoon fund" so we wouldn't go into debt with it. I'm sure people found that tacky, but we had the obligatory registries at Bed Bath and Beyond, as well as Target for the *ahem* budget conscious guest as well. So it was totally up to the guests to do as they please. The cool part about the honeymoon thing though was that the site we used to form it offered the ability to tie your financial gift towards objects like "dinner outs" or "massages" or even the plane tickets we needed to get there. So that helped make it feel like a "real" gift as well. Though again, I'm just as happy receiving cash money anytime, anywhere, from any person!
But I digress…
Point is – money makes people feel all kinds of things. And in a perfect world we want that feeling to be a positive one and not stress you the hell out. So while you now know *my* feelings on such a dilemma, I'd love to get yours so it's more well-rounded and our dear reader here can help make up her mind as to how to proceed this weekend.
Oh, and what IS a wishing well btw?
Here's what good ol' Wiki has to say about it:
A wedding wishing well is a fancy donation box that is gaining popularity among bridal couples (up to 60% of weddings have them), who have often lived together before marrying, or who have been previously married, and do not need any of the traditional wedding gifts. They are also sometimes found at showers to collect monetary gifts for the guests of honor, as well as wedding wishes or marriage quotes, poems and messages of congratulations.
Wishing Wells looks like this: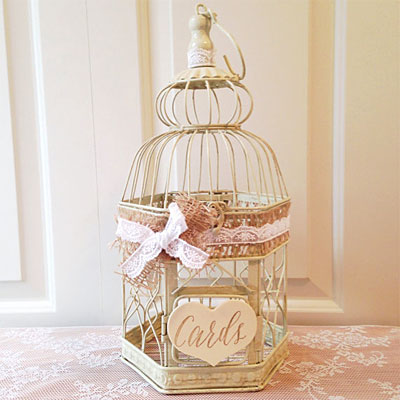 (This is a bird cage style by Etsy seller LoRustique)
And, coincidentally, I literally JUST came back from a wedding myself this weekend and actually saw a wishing well staring right back at me! Which I then plopped in our card and (*gasp*) the cash that accompanied it. We used to give physical gifts, but again after seeing how much we loved receiving money ourselves at our own wedding, we decided that's what we'd be giving going forward too. And because I hate always wondering and thinking of how much to give people (so stressful!) now my wife and I just give the same amount every time to the bride and groom: $100. Life's been easy ever since :)
(I also have a universal tipping rule of 20% too, no matter the service. This sometimes means morons get more than they deserve, but it's all about saving mental energy in the end.)
Now I've only ever seen these boxes/birdcage wishing wells at the actual wedding day ceremony and not an engagement party, so if they'll be at both for our reader here, then I'll agree it's probably a bit much. Unless whatever you give at the engagement party will count for your wedding gift too? (Yeah right!). But seriously, there are a million wedding events these days, like the bridal shower, bucks/hens nights, rehearsals and dinners, etc. etc. If we were to give money at every single event, that's a lot of coin to drop for 1 couple! you'd think one gift registry should kinda cover all wedding related events, right?
If you've never heard those either, like myself? It's a party held to "celebrate a couple's recent engagement and to help future wedding guests to get to know one another." Kinda old-timey if you ask me, but then again I could just not be hip to the game… I almost spit out my coffee though when I came across this gem in a discussion board: "I actually think that engagement parties are so 80's. Just get married already."
Okay, so the two options I see here for our dear reader is as follows:
Don't go to the engagement party and then you don't have to worry about it
Go and just drop in a few bucks and then try to forget about it
Sure you can go and not give anything since it's technically "optional," but you'll probably feel bad/ annoyed the entire time and it'll just ruin the event(s) for you. Try to have a good time and celebrate!
Okay, now for real I want y'all to chime in and give us your thoughts here on this wish thing… What would you do in this case? Speak up and say something? Bring/make a gift instead? Budget your gifts into 3 equal parts which add up to the cost of 1 normal wedding gift in the end? ;)
Share your views below and let's hook up our friend here… I'm going to get the popcorn.
——
[Wedding cake topper pic by Sailor Coruscant]
(Visited 258 times, 1 visits today)
Get blog posts automatically emailed to you!