[Hey guys! Please welcome back to the site today, Lyn Alden, who shares her take on wedding costs and why she decided to only spend $800 getting married this year! The pressure is real out there, but there are other ways if you're open to it!!]
*******
The average cost of a wedding in the United States was somewhere between $25,000 and $33,000 in 2017, depending on which source you believe.
If that's not a personal finance minefield, I don't know what is.
But even scarier, the reasons that many people spend that much are concerning, particularly in the way they finance it.
Despite earning a considerably higher income ourselves than the average household (and having hundreds of thousands of dollars stashed away before our 30's) my husband and I married in early 2018 for about $800, with most of the cost being the wedding bands.
Now, admittedly, that's a bit extreme too, but even looking back on it 7 months later, I couldn't be happier with our choice!
This article takes a look at where all the money goes for weddings, why people spend so much, how to spend less, and why we decided to skip it all.
Wedding Cost Breakdown
According to a survey of about 13,000 participants by The Knot, the average wedding in 2017 cost $33,391. They do these surveys each year with similar results, making the sample size over time pretty huge.
This number includes the engagement ring, but excludes the honeymoon. Here's the detailed breakdown:
The biggest expense by far is the venue, accounting for almost half the total price tag.
The second or third biggest is the engagement ring, at $5.7k on average.
Catering is another huge expense at $70/person, which depending on the size of the wedding is one of the biggest expenses.
Then there's the music, the ceremony, the florist, the cake, the photography, the dress, the multitude of other things, and all of it adds up to over $33k. Even all those paper invitations people send out total $408 on average. But geography plays a huge role too – the average wedding price ranges from $18k in Utah to almost $77k in Manhattan.
As a caveat, I think the sampling bias of surveys like this is a bit skewed. The types of people that would fill out surveys like this, and that visit wedding websites the most, are likely people more interested than average in elaborate weddings.
Based on another survey of over 10,000 participants in 2017 by CostofWedding.com, the average wedding was $25,764, and the median was a slightly tamer $15,000 or so. A third survey by Student Loan Hero placed the median at about $20,000.
Regardless of which source is the most accurate, it's all still rather high, considering that the median amount that families aged 35-54 have saved for retirement is only about $60,000.
Why Do People Spend So Much?
If people's reasons for spending so much on weddings were purely for happiness, there'd be less to comment on. After all, who I am I to tell anyone else how to spend their money?
Just because I'd rather stash more cash into my thrift savings plan or Roth IRA than spend on big things doesn't mean everyone else has to.
But it's murkier than that.
According to Student Loan Hero's survey, 47% of couples felt pressured to have a big costly wedding, either by family, friends, or society:
And 74% of respondents in that survey said they are going into debt to fund their upcoming wedding, with a whopping 61% of them saying they went into credit card debt for it.
If someone sees a friend have a large wedding, it can feel inadequate to have a small wedding. Like it's a direct comparison about how successful you are, or how big your set of friends and family is. It's a status symbol.
But the same thing goes for the cars we drive, the houses we buy, and the clothes we wear. It's important to step back and make sure the things we buy are truly making us happy, and that we're not just buying things to keep up appearances or stay competitive with peers.
Why We Spent Almost Nothing on Our Wedding

My husband and I spent a few hundred bucks on our wedding. We just hired a chaplain to marry us in an adorable little coffee shop, and then went out for a nice dinner together. We kept it a day just for us two to share.
The two of us are located very far from both of our families, and our families are located very far from each other, so the traveling logistics of setting up a wedding would have been a nightmare.
Moreover, our families are of two totally different religious and cultural backgrounds, with very different traditions, which would have made planning the ceremony and the reception complex. My husband comes from an Egyptian Muslim background, while my family is partially Catholic and partially New Age.
But despite its simplicity, it was just as memorable as any wedding I could have imagined having. Our favorite love song happened to play on the coffee shop radio as we got married, and I may or may not have cried happily about that coincidence. Little details like that are what make a day memorable.
We also skipped the engagement ring. My then-boyfriend and I were on a vacation in Hong Kong a few years ago, relaxing in our hotel bed looking over at the city's beautiful skyline, and I casually asked if he wanted to marry me. No ring, no public display, and no concern about which gender is supposed to pop the question.
And lastly, one of the biggest reasons for us skipping everything was to save planning time! The idea of planning for months for a single-day's event was exhausting to think about. We decided to spend that time getting extra exercise, traveling, building our business, and more realistically, watching reruns of Friends on Netflix together.
In the end, it does come down to personal taste. I don't like wearing expensive jewelry, and neither of us were interested in being center-stage of a huge gathering. But in addition to fitting our tastes, we had to push back a bit at society's expectations of how we should do it and how much we should spend.
In making this choice, we now have more than $30,000 extra money stashed away in cash and investments than we would have had with a normal wedding.
Here Are 2 Major Ways to Spend Less on Weddings
At $33,391, the average 6-hour wedding (ceremony + reception) comes out to $5,565 per hour.
Put another way, if you had $33,391 at age 30 and instead of spending it on a wedding you stashed it away in index funds or dividend stocks for 30 years earning just 7% per year in total returns, you'd have over $250,000 by the end of that period.
That one decision alone would give you more retirement savings than the average person without ever saving another dime! Even after adjusting for 2% annual inflation, you'd have over $140,000 in today's dollars: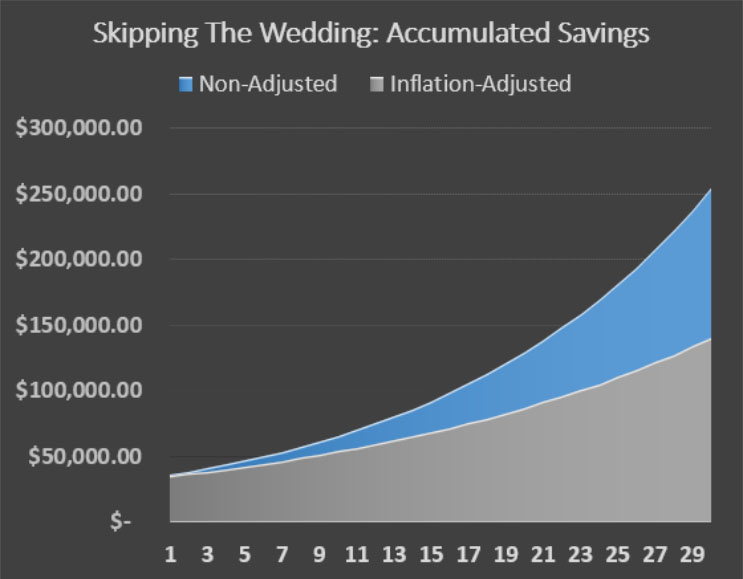 Alternatively, you could also use that $30,000 savings in other fun ways, say, by going on a $5,000 dream vacation every year for the next six years! Imagine all the stories and experiences you'd have at the end of those!
But if you don't want to go all-out and skip the wedding costs like we did, here are two high-impact ways to at least significantly trim them.
#1. Relax on Engagement Ring Rules
There's a lot of pressure on men to save up for months to buy their fiancée a diamond engagement ring.
According to the American Gem Society, this tradition started in the 1400's when Archduke Maximillian of Austria gave a diamond engagement ring to his fiancée, which started a trend among European aristocracy.
It was only in the mid-1900s that the De Beers diamond mining company began advertising the concept heavily to middle-class Americans. They even specifically marketed the idea that a man should save up a month's income for the diamond ring, and then later revised it to two months' income – which they were happy to sell!
So, it's a rather recent tradition for everyday folks, and essentially built on a marketing campaign.
But it's also self-perpetuating, because now if a man doesn't spend thousands of dollars on a ring, people think he's some broke hipster. And if you're a woman explaining to friends or family that you got engaged, but don't have a ring (or at least one without a big diamond), you'll get a field of skeptical looks.
It's important to remember though that if you don't have the title "Archduke" in front of your name, it might not be the smartest move blowing through a month or two's income as you're starting your lives together. Really ask yourselves if it's something the two of you truly want, or is it something you're doing just because it's expected of you?
[EDITOR'S NOTE: I definitely fell into the latter trap and didn't even second guess the cost of the ring when I picked it up a decade ago. $7,000 right out the door like that, and my wife doesn't even wear it anymore! Haha… I wouldn't have had the balls to go against the grain back then, but I would now.]

#2. Keep it Small (or Let's Say, "Cozy")
At about $15,000, the reception venue is usually the biggest wedding expense. And the cost of a wedding scales as you invite more people. More people means a bigger venue, more food, more flowers, more invitations, and more complex photography and videography.
Keeping the guest list intimate – close family and best friends only – helps control costs. If you're the ones spending money on it, you can make your special day as big or small as you want it. It's for you, not for everyone else!
A natural venue can help as well. Although there are downsides, having a beach wedding, a park wedding, or a backyard wedding can be beautiful ways to keep the cost down.
Brides.com has a useful article on park weddings, including the pitfalls to avoid and details to be aware of. If you pull something like that off successfully, you can save a ton of cash while still having a beautiful time. You're already paying the taxes for the park, so you might as well benefit from it!
[EDITOR'S NOTE: This is another thing I would have probably changed too… We had a ton of fun dancing through the night with 180+ people, but looking back we would have been just as happy with maybe only 50-60 of them (and definitely without all the random cousins and people you never hang out with in life anyways). It was definitely a party for everyone else more so than us. Though I did almost tear up when 10 of them went out and got mohawks during the break from the wedding and the reception :) Such a cool surprise!!]
Final Thoughts
A wedding is a deeply personal thing, and colored by tradition.
For some people, not having a large and expensive wedding would be unthinkable. And for them, the best thing they can do is budget for it ahead of time.
But for a lot of people, perhaps even half, they feel pressured to have a big wedding, and even go into debt to finance it. It's not necessarily that they specifically want a big wedding, it's that they feel they should.
The problem is that doing things the common way leads to the common outcome. Most people with middle-class incomes have low net worth, too much debt, and are not on track for retirement.
The whole personal finance blogosphere is meant to help us re-examine everything, to take a step back and figure out where we actually should spend money and where we can save a ton. That way, we can maximize our happiness but still have rock-solid finances.
I like spending money on travel, healthy food, decent clothes, and various hobbies, but not a ton else. Big events and jewelry, not so much.
The best thing we can do for our finances, I think, is separate what makes us happy from what is common or expected, and make sure we spend mostly on the first category.
*******
EDITOR'S NOTE: If you're already married reading this, how much did you end up spending on your wedding? Were you happy you did, or would you have done things differently?
Thanks for the insightful article, Lyn! And for not bashing those who DO love a big fancy wedding!
———
Lyn works in engineering management, running the day-to-day operations and finances of an engineering facility. On the side she does website development and freelance writing, and creates in-depth guides on financial topics at LynAlden.com. You can also see Lyn's first featured guest post – and quite the juicy one! – here: What Being Homeless Taught Me About Money and Happiness.
(Visited 619 times, 2 visits today)
Get blog posts automatically emailed to you!