What up, what up!
Another day, another hour spent clearing out my email drafts again ;) I think I'm up to three now, but fortunately we just passed the halfway mark and are now sitting pretty at 240 down from a whopping 602 – wowzers.
Thankfully, just like the first round, there were some salvageable ideas up in there so I thought we'd continue the series and share some more. Some of you said they really helped, so hopefully it'll spark even more good thinking today :)
And this time we started allllll the way in the back which proved to be much more entertaining for me as it was like teleporting 5 years into the past! In fact, the last draft (#602) was entered on May 19th, 2011, almost 5 years to this day exactly! Here's what it said:
"Compounding interest trick — annoying!" — Blog about how you find this trick annoying 'cuz you never get to enjoy spending any of your money! From reader:
"A Warren Buffett nugget from a biography I read: he used to protest when his wife wanted to spend, say, a hundred bucks on a dress because in his mind he would automatically compound that cost over 2 decades and would say something like, "is it really worth 1,800 bucks?!?" That's just the way he always thinks."
Haha yup! I feel pretty much the same now about it than I did back then – it would be exhausting analyzing all your expenses like that! I get it for the big ones – I do the same – but I'd go mental thinking about all the potential growth being thrown away on every day items… But perhaps that's why he's the billionaire and I'm only a thousandaire? ;)
Here are a bunch of other unpolished observations and ideas that never saw the light of day either… Until today :)
Hope it helps!
(Draft titles in bold, followed by quick thoughts)
"Where I've Been. Where I Am. Where I Want to Go." — I saw an old blogger friend break down her bucket list this way and always thought it was a cool idea. Here were my answers at the time: Where I've been: Broke. Where I am: In limbo.  Where I want to go: At the end of the day, I just want to be happy. Whatever that happens to mean at the time. <– That's the dream we're all fighting for, right? And the paths are always changing?
"From now on, you must address me as Future Millionaire" — Haha… Someone once called me that and I thought it was perfect since we're ALL future millionaires so long as we continue working hard and paying attention :) Sounds much sexier than anything else we might be called, eh?
"It's okay to bitch when you need to." — Have you ever been having a really horrible day and you say something about it, only to hear back something to the affect of, "You shouldn't be complaining – people in _____ have it much worst than you"? Drives me crazy. Yes, there will ALWAYS be someone (or some nation) that has it way worse off than we do, but why does that mean we're not allowed to vent? Are we not allowed to have our own problems while simultaneously appreciating others'?
"Edison $1.00 bill" — Check out this dollar bill that went up for auction a couple years ago – the first one collected from Edison Electric Light Company i.e. GE i.e. Thomas Edison's company to purchase electricity! I don't know how much it ended up going for, but it was estimated to be valued around $8,000-$12,000 at the time.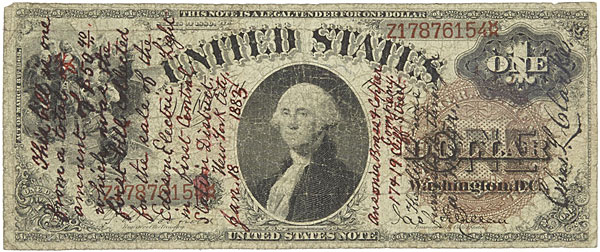 "Work Hard, Party Hard" — If there's one thing I learned in college, it was that studying all the time was NOT the way for me to succeed. I studied my a$$ off, but more importantly I also partied my a$$ off :) And hung out with friends, interacted in my community, and pretty much did everything I could to enjoy those 4 glorious years before having to go into the real world. In comparison, I had friends that studied 24/7 and ended up not only with subpar grades, but also stressed and unhappy! You have to find that happy medium as going in either extreme can be bad for you.
"When do you have "enough?"" — The ultimate question right? Someone once left this in the comments and I've always liked it so I saved it: "The key is finding what is "enough". You'll never have all the money in the world, and anyone could live on beans and rice in a broken down RV on $7,000/yr. But figuring out exactly where in between those two extremes is "enough" for you is the secret to being and feeling wealthy. When you have "enough", you are then wealthy."
"Just start telling people!" — I'm constantly amazed at how simple some things become once you start telling people about them. Not only is there a better shot of you hitting your goals once they're out into the world, but you get a host of new accountability partners as well! If there's anything you REALLY want to do/get/achieve right now, start telling people as you never know how they might help!
"All the treasures I found while cleaning up my basement…" — For a month I had gone on a basement-cleaning binge and wanted to list everything I found and got rid of/donated. However it looks like I got sidetracked as the only thing I had listed was "my lost comic book collection" haha… Which only amounted to approximately $20 bucks after then researching it  – womp womp.
"Tupac quote" — I love this – he was so grounded despite his own rise to fame!
"There's no way that Michael Jackson or whoever Jackson should have a million thousand droople billion dollars and then there's people starving. There's no way! There's no way that these people should own planes and there people don't have houses. Apartments. Shacks. Drawers. Pants! I know you're rich. I know you got 40 billion dollars, but can you just keep it to one house? You only need ONE house. And if you only got two kids, can you just keep it to two rooms? I mean why have 52 rooms and you know there's somebody with no room?! It just don't make sense to me. It don't." – Tupac Shakur
"Credit card + Charity" — Got a heads up from a reader about this card that allows you to accrue earnings for CHARITY vs travel rewards/cash back, etc. It's called the Halo Card and is set up to automatically help you donate more! Anyone have one by chance?
"For some reason, the money I earn outside of work seems much more satisfying than my regular paycheck, even if it's small in comparison." — Do you feel the same way?? "Extra" money is always more exciting to me! Even if we're supposed to treat all dollars the same!

"Paying for convenience…" — I thought this comment by Slackerjo was pretty interesting: "Today I returned a library book and then walked down the street to buy some milk. I saw a Ferrari parked illegally on the street. I guess the Royals thought is if you own a Ferrari, you don't worry about an $85 parking ticket…" Probably true!
Reminds me of a daycare story I once heard where parents were always coming in late to pick up their kids, so the daycare thought they'd be smooth and charge them extra for every half an hour they were late… Only it backfired because people realized they could then just pay more for the convenience now and so they ended up being even later! D'oh!
"WISH LIST" — What I wanted four years ago apparently: Coin ring, Swear rings, Deer antlers (???)
(Cool, but not $380 cool…)
"I find it very inspiring that regular people can reach the millionaire mark." — Email I once received in response to this post: Proof It's Possible to Become a Millionaire. It's so true!! "Regular" people are the best!
"Bought car on credit card" — Ever wonder how I financed Frankcaddy? I used one of those credit card checks – gasp! But of course I had a plan :) First, to lock in a low interest rate (landed on 3.4% w/ USAA), next, make sure to get a good deal on it (I bought it for only $3,100!), and lastly, pay it off sooner than later (I think I took 3-4 months to preserve some cash flow). Usually slapping a car on a credit card is a major no-no, but there are times where it may make sense! Provided you trust yourself in paying it back in time!
"People talking everywhere you go? There's an app for that!"–  DownsideApp.com. "The object of the game is to keep your hands off your phone. Once everyone joins a game, you flip your phone over and the game begins. The first person to pick up their phone loses."
"I Do Not want to be this guy…" — I pulled this clip from a NY Times article – so crazy! "In my last year on Wall Street my bonus was $3.6 million — and I was angry because it wasn't big enough. I was 30 years old, had no children to raise, no debts to pay, no philanthropic goal in mind. I wanted more money for exactly the same reason an alcoholic needs another drink: I was addicted."
"Life insurance motivation – hah!" — Found this comment pretty good by an "Adam" on my blog :)
"Its morbid but I've always used my life insurance as my motivation. Every payment I make on my house is $XXX.XX amount that my wife and kids don't have to use my life insurance proceeds for if something untimely should happen to me.  I just consider it a gift to them and it feels a little better each time."
"That time we got a free bed!" — Years ago my wife was obsessed with getting a new – expensive – bed. Only she's 10x more frugal than I am so she'd never pony up the money :) As luck would have it, however, during one of her searches she stumbled across the world of blog giveaways and after months of entering she actually won one! And now we sleep on a $1,000 Tempurpedic! Haha… I kept meaning to blog about this to y'all as there are a TON of blog giveaways going on at any time – particularly in the mom blogger niche – but I guess I eventually forgot. So going forward, always google "[item] giveaway" first and see if you might be able to get lucky too!
"The Unfortunate Death of Blogrolls." — When I first started blogging 8 years ago EVERYONE had a blogroll which told you who they read and loved! Which was great for all their readers so we could learn about other awesome $$$ sites too, however once the "business" of blogging came around people started phasing them out because it was "bad for SEO" and they didn't want people leaving their own blogs and yada yada yada… Thankfully some bloggers still do roundups which helps, but man – I miss them! Was such a great way to find other blogs in the world! Here's my blogroll btw, if you want to see my favorites: Budgetsaresexy.com/blogroll.
"7 random things about me" — Looks like I only got to three of them :)
I use beach towels instead of bath towels (they're nice and big and more fun!)
I put mustard on my macaroni and cheese (so tasty – try it!)
I read magazines from the back to the front (I like to take my time getting to the *important* parts)
"Would you be willing to cut your salary by 10% if it meant saving another employee?" — And what if there was a randomized chance that the employee in question could be YOU? I had blogged about this yearrrrrs ago but had to take down when my old company and I went through a court battle… Always found the idea intriguing though – would you do it?? (I answered yes at the time)
"Excellent way to think about charity" — Great comment left by a reader: "When I give a buck to the homeless guy, I am tipping him for reminding me that life can be really hard and compassion is important and that money has real value and that I am in a place where I can afford to be a little generous." YES!!
And lastly… "MC Hammer Foreclosed" — Remember this ad?? :)
(Nationwide Insurance Superbowl commercial circa 2005)
And that's it for Round II! Learn anything fun today?
I think we'll pause the series here and take a break for a bit… Getting information overload myself and don't think I can stomach another 240 drafts sorting for a while, haha… Though we're so close!!!
Anyways, hope you enjoyed these last few random days here and we'll get back to our normal scheduled programming on Friday :) Thanks for reading! Hope you're well!
****
If you missed the first installment of this series, you can find it here: Unpolished Gems Round I
(Visited 7 times, 1 visits today)
Get blog posts automatically emailed to you!