[This is another (incredible!) career that our friend Mel from brokeGIRLrich.com once pursued ;) Who you might remember from her article on living and working on a cruise ship – apparently she can't get a normal job! Haha… Also, I'll be returning to the blog sometime this week – so see you guys soon :)]
When I was eleven, I made a bucket list. It has some crazy things on it like go skydiving (nailed it) and learn how a watch works (why did that seem necessary??), but I specifically remember rejecting "run away with the circus" because eleven year old me thought that would never really happen.
Turns out, it did.
I work in the arts as a stage manager and jobs are sometimes hard to come by. I've been incredibly lucky in my career, but it's often meant zigging when other people zag and one of my zigs brought me to the circus.
Did I live on a train? Yes.
Have I been peed on by a tiger? Yes.
Do partially made up clowns still scare the crap out of me? Yes.
Did I accidentally find another great job to quickly pay off my student debt? YES!
Life on the Train
The circus is its own little bubble and, as such, it has it's own terms for lots of things. My job there was called Associate Production Manager, despite having nothing to do with what a theatrical Production Manager would do (that person is actually the Operations Manager, whereas the Stage Manager is really a Technical Director in the outside world and so on and so forth…).
I was responsible for keeping the performers safe and on time for their entrances backstage. I was also responsible for organizing and running the entire preshow, which was an hour long event that happened right before the top of every show. It allowed the audience to get "up close" with the performers and try stuff like walking across a low wire or juggling with clowns. I also switched out with our Production Manager a couple times a week, watching the shows and taking notes about the performance while also coordinating the volunteers for the animal walks.
However, the bane of my existence was PR. The circus is a big deal and cities would get pretty excited when we showed up. There were hours of TV and radio interviews, scout clinics, elephant brunches and even large scale VIP events in big cities.
Needless to say, the hours were long.
3:00 AM – Yes, that says AM. Get picked up at train to go to the arena for early morning PR.
3:30 AM – Unlock all the costume storage, turn on the music in the arena and make sure the floor is set with all the scenic pieces for all of the TV shots that are about to occur.
4:00 AM – TV crews start to arrive.
9:00 AM – Wrap up filming. Get all the performers involved sent back to the train.
12:00 PM – Go to a local construction site to team up with Habitat for Humanity and help build a house.
2:00 PM – Return to arena for everyone to get out of their costumes.
2:15 PM – Head back to train.
2:30 PM – Collapse into unconsciousness.
5:30 PM – Drive back to the arena.
6:00 PM – Start prepping for preshow.
6:30 PM – Preshow starts.
7:30 PM – Show starts.
10:00 PM – Pack up and head back to the train.
If you want a more detailed look at how my days actually broke down, you can check out the post I wrote about on this stuff here: a day in the life of a circus stage manager.
Also, for any of you theater folks out there, we had 3 shows on Saturdays and lots of Sundays. THREE SHOWS!!!
The Financials
So, you'd definitely think that with hours like that, I'd be rolling in the money, right? You would be wrong. I actually made slightly more working for the circus than in my previous job, about $38,000 a year. However, at my previous job I made about $36,000 a year and had about four months a year off. With the circus, I had two weeks of vacation, of which, I took a single weekend.
I did finally get a 401(k), with a company match. We were also provided with health insurance at about $100 a month, but trying to sort out how to find a doctor on the road was pretty much the most frustrating thing I've ever done.
At the end of the day, the hours and the pay made the job very not worth it. On the flip side, there were some incredible perks to running away with the circus so it's certainly not something I'm going to regret.
Room and board were covered on the train. I even lucked out and had a decent room. The size of most people's accommodation on the train is seriously a glorified shoebox. Honestly, it's not even glorified. I at least had my own bathroom and kitchen. That old Aladdin quote "phenomenal cosmic powers, teeny tiny living space" totally applies here.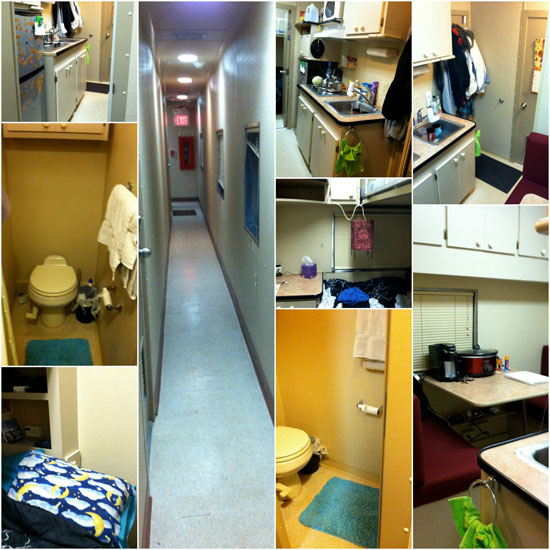 I only really had to buy groceries. I also paid $50 a month for internet through Clear, but that coverage was questionable at best. It only seemed to work about 50% of the time, because the train often parked in some really off the beaten track places.
Another massive benefit of the circus is that it allowed me to funnel most of my paycheck into paying off my student debt, so last November I was able to send out my final student loan check roughly two and a half years after I graduated. [EDITOR'S NOTE: Congrats, Mel! Way to hustle!!]
Unique Job Perks @ The Circus
My absolute favorite perk of working for the circus was train runs. When the train is moving, you can't even be reached by the outside world. The internet usually doesn't work and you often lose your phone signal too. This is a really rare thing these days and I cherished it. The train also traversed some absolutely gorgeous spots in America that you wouldn't get to see by car. It was really cool.
The circus also fueled my need for travel. I saw more of America in my year with the circus than ever before. The work weeks were rough, but for several months, I opted to keep my car out on tour with me. That meant that I had to drive from city to city but I got to stop and see lots of cool things along the way.
I would also be lying if I didn't say that I miss all the people I worked with. The circus really does have this unique family-like atmosphere that seems to happen when people live and work together. Circus folk are some of the hardest working people I've ever met. Even though I only lasted one year, plenty of them are lifers, which is still just incredible to me.
This is also the only environment were I could think "maybe I'll learn how to walk on a low wire" and there's actually someone willing to teach me. The performers seemed to find my total lack of coordination endlessly funny, but I definitely picked up some unique skills thanks to my awesome co-workers before leaving – including a beginner level of wire walking, basic trombone thanks to the band leader, and improved roller skating techniques from one of the unicyclists.
Also, where else can you find a No-Talent Talent Show? Yeah. That's a real thing. The haunted clown car is too.
So, despite what I said about the low pay and long hours, I definitely think about going back pretty often. I'm not sure I ever will, but I guess once the circus gets into you, it never really lets you go.
———
Mel blogs at brokeGIRLrich where she explores topics like how to not panic over adulthood, working in the arts, and retirement strategies that don't involve living in a cardboard box under an overpass. She also used to live on a cruise ship.
[EDITOR'S NOTE: Have one of your own interesting jobs to share with us? Let me know and perhaps we'll make you famous here too :) And big thanks again to Mel who's always willing to share her stories with us. They're all so fascinating!]
(Visited 98 times, 1 visits today)
Get blog posts automatically emailed to you!