(Article today by L Bee, who left her sorority with a lot more than fun times ;))
Social life at my small, private university revolved around the Greek system – which isn't abnormal for a school of its size. Now that I am older, I see the Greek system was just a yard-stick of status we measured each other with, and we were all too happy to play the game because it meant instant friends and oceans of booze.
Greek life definitely had its well-known advantages; a set social calendar, a pre-ordained group of friends, and a priceless sense of belonging. Having those letters on your chest freaking meant something back in those days, because back then you were eighteen and didn't know much about anything else. It all seems so trivial now, but as a young adult venturing out into the world for the first time-the safety net of the sorority had the appeal of dating Jake Gyllenhaal. If Jake Gyllenhaal comes up at a bar and asks you to bone – YOU FREAKIN' BONE JAKE GYLLENHAAL.
I recently saw an article about an item you purchase you think is a great deal, but in reality it only spawns more and more purchases. Being in a sorority is a lot like that. You think it is just about dues and initiation fees, but there are so many other compounded expenses too:
The t-shirts for the mixers (which incidentally aren't free)
Costumes for the parties that have themes (spoiler alert – they ALL have themes)
Tickets for formals
Dresses for cocktail parties
Presents for your little sister
And of course, the snacks they ask you to bring for almost weekly sisterhood events.
More than that I would say I spent the most money trying to compete. Not necessarily with my sisters, but with girls in other sororities. I also spent a good amount of money accepting every invitation that was thrown my way. If someone wanted to go out to eat – I went. I partied five of the seven night of the week that first year and it definitely added up.
I did some "research" for this post and went back through all my credit card statements from this period in my life. All the expenses broke down as follows:
$1,680.00

: Monthly dues @ $70 a pop for 24 months (I was only in the sorority for two years before I transferred schools)

$150.00

: One time "initiation fee"

$306.00

: Gifts for Big/Little Sisters


$140.00

: 10 different t-shirts @ $10 a pop for 14 different events

$170.00

: 1 year of outfits for recruitment

$70.00: Fines. Not including the $100.00 I donated to an Alcohol Awareness speaker because I got caught drinking on the bus…
Grand Total= $2516.00 over two years
And that's just what I spent on Greek related expenses alone. This doesn't include the many outfits for all of the cocktail mixers/formals that required special attire, or the money spent socializing outside of the sorority either. It adds up.
I had friends who rushed at bigger state universities and dues were even triple that. Per Year. This means at a bigger school only the truly wealthy can afford to go Greek. Which I think is awesome… if you can afford it. At my school the dues were so low practically everyone was doing it. So you either sucked it up or chain smoked behind the dumpsters near the dorm with the girls who refused to rush for financial/political/religious reasons.
Financial pressures for guys in fraternities can often be greater than for women as well. In addition to the normal dues, the men spend a lot of money out-of-pocket recruiting new guys each fall on things like steak dinners, tickets to sporting events, the works. National Panhellenic Boards have pretty stringent rules on what sororities can and cannot do (spend) for rush, so  it can often end up costing young men even more for the privilege of having Greek letters.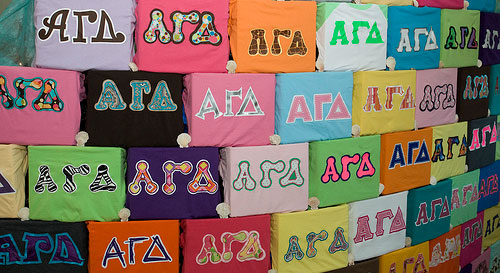 A lot of new freshman often use the small fortune they amassed in grad gifts to bankroll going Greek. I did this and personally feel it was a mistake.  When the grad cash ran out I put those expenses on a credit card, which compounded and compounded, and after college I found myself in nearly $10,000.00 worth of debt. Which I didn't pay off until I was 24.
You can do what you want – but you will thank me when you use that hard earned cash/graduation money to study abroad, take a cool trip, or use it to fund your internship in NYC for a summer. Those are all purchases that (most likely) won't spawn further spending AND will enrich your life.
There are some people who make the argument sororities/fraternities are HUGE networking tools once you are out in the "real world," and in theory they will one day pay for themselves. They won't. The only money's worth I ever got out of it was my money's worth in liquor.
In truth, the biggest argument I can make FOR going Greek is the friendship itself – which you can't put a dollar value on. The laughter and warmth of those memories are the ones that will keep you warm at night in your mid-twenties when you can't go out anymore because you have to be at your desk job at 8 a.m. I know it's hard, but if you are reading this and contemplating going Greek, please make sure to look at it from a financial standpoint as well.
——
Article by Lauren (known to her friends as L Bee) – Authoress of the personal finance site "L Bee and the Money Tree". On her blog she details daily struggles with the ever elusive "tree of wealth", snarky thoughts on fashion and pop- culture, and gross/funny stories about her dog, Murray. A freelance writer based out of the Atlanta area, L Bee spends her free time enjoying theater, drinking wine, and annoying her boyfriend.
EDITOR'S NOTE: If you can believe it, I, too, was once in a frat ;) I don't remember how much I paid overall back then (I should go back through my credit card statements too!) but I'm sure it was at least $1,000ish. Though we also only had 1/2 of the events that normal fraternities did cuz I was in an "honors" one which only partially counts. Even though I much preferred it because we had women in our mix too! Woop woop! I'd totally spend the money all over again, I had a blast… and it def. looked good on the resume.
(Top photo by SigEp NV Alpha '03, bottom photo by Murray State)
(Visited 100 times, 1 visits today)
Get blog posts automatically emailed to you!