[As part of our new weekly column by Mr. 1500 of 1500Days.com]
******
See that sign up there? I noticed it on a hike in Boulder Colorado a couple weeks ago. I had no idea what a paraglider was, but I was determined to find out. The thought of flying greatly excites me, but I always dismissed the idea of owning anything that flies because of the extreme cost.
I didn't have to wait long to learn about paragliders. On the way back, my youngest child started yelling excitedly and pointing at something in the sky:
I waited for the paraglider to land and then accosted the pilot with questions. He told me that I can get certified in just a couple of weeks and gave me some websites to research equipment and lessons. It turns out that the sport isn't cheap:
$7,000 (!)
That is a lot money to fly around on a big kite. However, I didn't have to think about it for even a second; I'm doing it. Flying around the mountains of Colorado will make me happy, so I think this may be the best $7,000 I'll ever spend. Unless I screw up and spiral to my death. Then it won't be so great. If that happens, I hope death comes quick! Sorry wife and kids!
Bikes
I love bikes. I love them so much that I have three of them: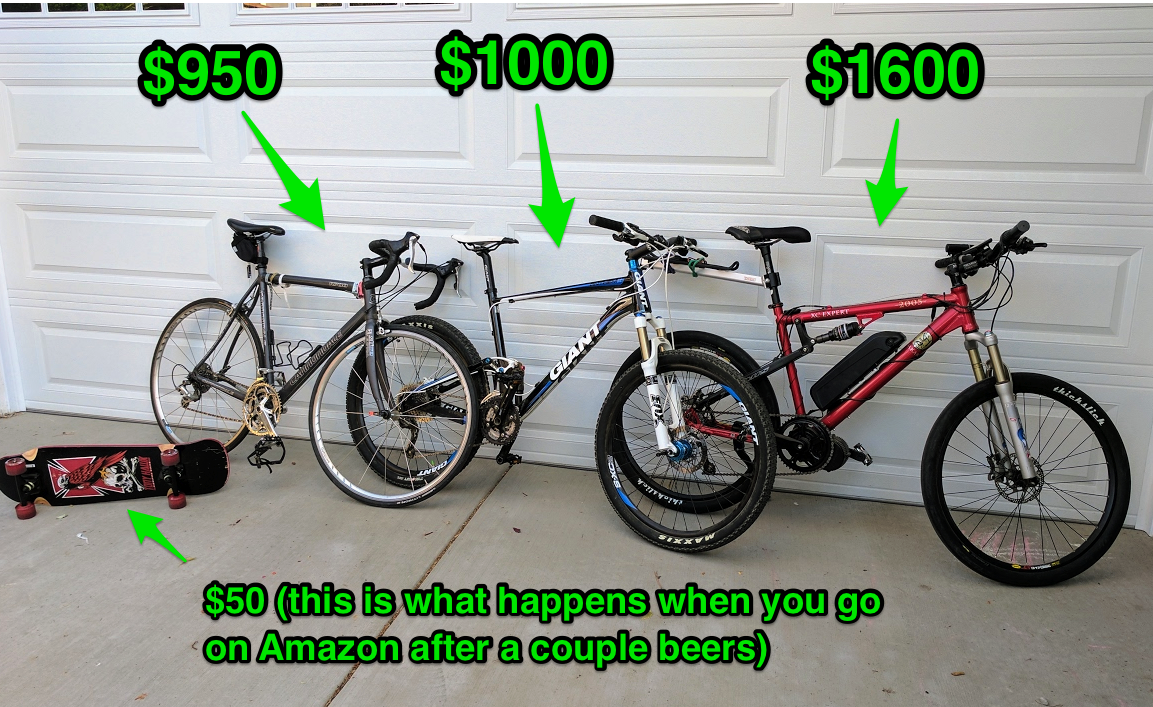 The grey Cannondale is a road bike that set me back $950. I take it for rides into the mountains where I push myself until my legs burn. I've ridden 128 miles in a day and gone 50 mph on it.
The black Giant is a full-suspension mountain bike that I purchased used for $1,000. I've flown over the handlebars many, many times. Somehow, I've never injured myself beyond bad scrapes. Knock on aluminum.
The red one is an eBike that I built for about $1,600. This is my commuter machine. I can get around town quickly, eliminating the need for car trips when time is tight.
Beers
Alcohol is toxic. If you're going to drink something that's bad for you, it should taste good. These all tasted very good:
There are folks who will spend $500 for one bottle of beer. I'm not that crazy, but I have spent $10 on one. Drinkers of Lite beer think that is crazy. So be it.
Important note: Beer is for after flying or biking!
What I Won't Spend Money On…
I'll blow $7,000 becoming a human kite, $3,600 on bicycles (and a skateboard) and $10 on a bottle of beer. Here is what I refuse to spend money on:
Too much house
Money tied up in a house isn't working for you. Your primary home is usually a poorly performing investment, so every place I buy is modest. I also try to buy homes in need of some love and then put some sweat equity into them.
Fancy hotels
I'm in a hotel room to sleep. They all look the same with the lights out. I pay a little more not to stay in the Bedbug Inn, but fancy hotel chains aren't for me.
First class airline seats
I never understood why someone will pay $1,000 to sit in a wide seat for a couple hours when they could buy a nice recliner from the furniture store for $400 instead and enjoy it for decades. I'm sure my butt would appreciate those wide seats and my legs would be comfortable with the extra legroom, but it would sure piss off my wallet.
What's Important to YOU?
You may think I'm insane for paying $7,000 to fly around. A human kite isn't for everyone, but it will bring me happiness and the money won't break the bank (as long as the kite doesn't break!).
One of the keys to life is figuring out what makes you happy and pursuing it full throttle.
"Your problem is how you are going to spend this one odd and precious life you have been issued. Whether you're going to live it trying to look good and creating the illusion that you have power over people and circumstances, or whether you are going to taste it, enjoy it, and find out the truth about who you are.  – Anne Lamott
We all need meaningful work and activities. At the core is figuring yourself out. I still have work to do, but I'm getting there. How about you?
(Visited 18 times, 1 visits today)
Get blog posts automatically emailed to you!