My brother always thinks I have my $hit together because I never ask him for any help. It's true I never ask him in the general sense, but it's false I don't have any problems. I just go about it a different way than straight up asking people for something which I admittedly suck at.
Instead, I tell people what my goals are.
And do you know what happens when you tell people what you're trying to accomplish? They want to help you out with them! A different way of going about it, with more or less the same outcome.*
Here are two other reasons to tell people what you want:

It makes it a "thing" once it's out there
It holds you accountable (as do your good friends)
It's great to want things in your head, but saying them out loud is a whole other ball game. Once people know what you want, it means you now have to *act* on it else you'll be fielding a lot of questions you'd rather not answer. Your friends naturally want to help you out, and more often than not it will spark THEM to share some of their own goals in return. Which you can then help return the favor. It's total peer pressure, but in a good way :)
Here are some good goals to tell people:
I'm trying to be debt-free (guess what? Your friends probably are too.)
I'm trying to sell my yummy cupcakes (would you like to buy one?)
I'm looking for a better job (don't tell your boss!)
I'm working on retiring early (you can do that???)
I'd like to live on an island in the shape of my ass (Ummm….)
And here are some real-life examples of my own recently:
#1. I wanted to help people with their money one-on-one. I've wanted this for years actually, but I've never said it out loud. Until the day I blogged about it and now here we are with over half a dozen clients. Sure it helped to have an audience to spill my guts to, but without the act of telling people it wouldn't have mattered anyways. I'd have exactly the same amount of clients as I did before sharing it: zero. And these days we all have bigger networks with Facebook and Twitter, etc. Not to mention your close real-life friends and family too – the ones who probably want to help you even more!
#2. I wanted to be a coin collector. I started telling all my friends about it, and now I regularly get coins passed over to me either for review, or for keeps. It's awesome. I had no idea how many people I knew were sitting on stashes of coins they could care less about! I even helped a family member get over $3,000 for a stash that had been sitting in a box for decades collecting dust. And my payment for helping them? Oh, sexy coins :) Not to mention a gain of new skills, prompting of a new coin blog, and an entirely new network of coin collectors & dealers who I was forced to meet in order to help unload this box of goodies. I went straight from Coin Collecting 101 to Coin Collecting 301 in a matter of months, and am now a member (and webmaster – hah!) of our local coin club. All because a family member heard I liked coins.
#3. I wanted to have babies. Okay, this one's a bad example because there was only two people who could help in this department – my wife and a fertility expert, haha… – but still, I put it out there and now we have a nice little brood going ;) So don't forget about all the hard work you still have to do to get there too – regardless of who helps or doesn't in the process. If you want something bad enough you can't give up. It took us over two years to produce baby #1 and we were definitely worried, scared, frustrated, etc. And then we got pregnant.
Your friends aren't mind readers
So while asking people for help is certainly an important trait to have, telling people what you want out of life and sharing your goals can be just as beneficial. Your friends aren't mind readers – they're all caught up in their own set of problems and goals, so you have to just put it out there and let the world do its charm. And not in The Secret type of way either – you still have to work your tushes off to make it happen, whether you visualize it or not.
I'll give you one last example that literally happened 30 mins ago in the middle of writing this post. My friend Anne sent me a tweet asking me for something out of the blue: a dollar bill. That's right, a single dollar bill, haha… Why? Well, she's taking a course on how to make a $1,000/mo business, and the first task was to ask someone for a dollar until she got it.
Mission accomplished: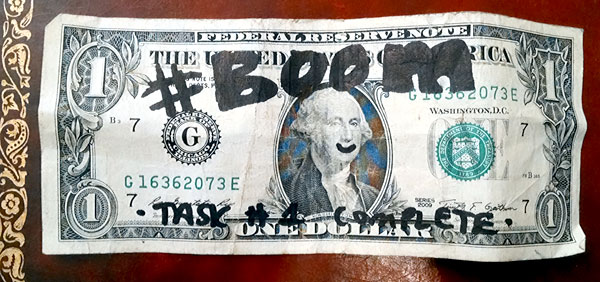 (See, friends help each other out :))
So this is your mission over the weekend: Tell one person a goal you really want to reach. It could be a money one, a business one, a hobby one, it doesn't matter. Just let one new person know what you're shooting for. And if they don't ask to help you right away, immediately send them over to this post to put them in check ;)
Remember, we're not mind readers. We don't know how to help you if we don't know what you want!
——-
* Directly asking for help will always get you better results since by nature it requires a "yes" or "no" from the other party. Still, it's important to put your goals out there to increase the likelihood of reaching them. And if you suck like me at asking for help, well, now you have an alternative :) No more excuses!

[Photo up top by EladeManu]
(Visited 122 times, 1 visits today)
Get blog posts automatically emailed to you!