[Welcome to another edition of our Side Hustle Series! This time around one of my FAVORITE gigs I've always wanted to try but still haven't – yet ;) Peggy Bree stops by the blog today to share her experience being in over 200 shows/films over the past 6 years, and what you can expect to be paid from it all… Seems like the perfect gig for any multitaskers out there! Or those who just want to say they've been in movies! Lol… Take it away, Peggy!]

******
During my university days, I took a regular part-time job at the mall. One day, a co-worker of mine asked if I could take her shift. Curious, I asked her why she wanted me to cover for her the next day, and she told me she was booked to perform as an extra in Degrassi.
Her reply intrigued me as I never thought I could make money from being a film extra. I asked her how I could get started, and she gave me her agent's contact information. Afterward, I sent over my headshots and personal info to the agent. Within a few days, I started getting booked for shows and movies!
It was pretty awesome to do this while I was still in school. I would bring my laptop to work so that I could do my homework in-between long scenes. It was like getting paid to do my homework! I've had this side gig now for about six years.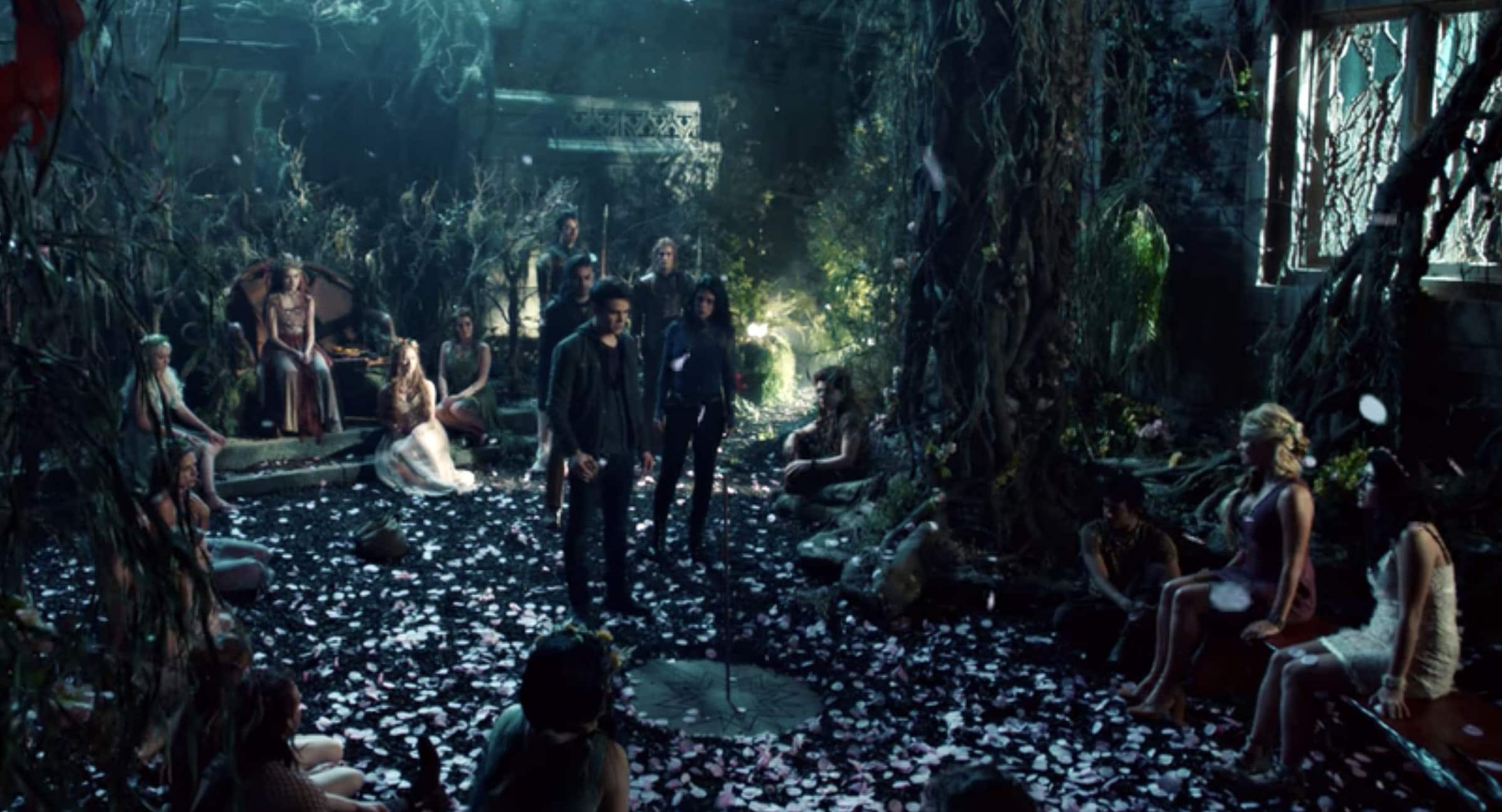 Girl on the far right, Shadowhunters Season 3 Episode 12
What It Takes To Be a TV/Film Extra

To be honest, anybody can be a TV extra. You don't need any formal acting experience. In fact, you don't even need to look like a supermodel or know Steven Spielberg or David Cronenberg to succeed. You just need to know how to market yourself as a brand/product with diverse headshots and looks.
Once you have a variety of headshots, you should send them to your agent so that they can start submitting your photos for background casting roles. More importantly, you need to build a good relationship with your agent if you want more work in the future.
How Much I Get Paid

I'm currently a member of ACTRA TORONTO, the local film union of Toronto. The base rate for 8 hours is about $220.50 Canadian Dollar (CAD). Even if you work for 2 hours, you will still be paid that amount. And if you are on set for more than 8 hours, you will receive overtime bonus, which is double the hourly rate!
I once made close to $800 CAD working on set for 16 hours. Sometimes if you're lucky, you can get upgraded and get a line, and then be paid the rates of actors. Once, I was given a line and made close to $1,500 CAD for the day! However, the truth is that it's rare to receive upgrades, even though it does happen.
PRO TIP: The more you are *physically present* on different sets, the higher your chances of getting upgraded and earning more money. So try accepting as many gigs as you can!

Pros to Being a Film Extra
#1: Great Extra Cash!
From my experience, I can testify that this is a great side gig to add to your basket of income streams. Like I mentioned previously, with this job you are guaranteed to make $225 CAD a day, even if you work for 2 hours. This side gig also allows you to work on your other projects during waiting times, and, if you work overtime hours on set, your base day rate can go up to $800 CAD (or more) for that day.
#2: Fun and Variety
Every set is different and packed with fun. One day, you can have the role of a Handmaid on The Handmaid's Tale; the next day, you can play the role of a fairy on Shadowhunters.
To date, I've been on over 200 shows and movies as an extra! The shows range from Private Eyes, Titans, Good Witch and more.
Girl on the left, The Umbrella Academy Season 1, Episode 6
#3: Good Food 
As a film extra, you also have the privilege to eat all kinds of food that's provided during catered lunch. Most of the time you'll be eating the same meal of the highest-paid actors or actresses, so you know it'll be good!
#4: Cool People
Apart from the fun and cash perks, this side gig will also allow you to meet many interesting people. In fact, I've met so many friends on set who've now become my best friends (Julie Tu, Julie Abcede, Gloria Li, Michelle Moon).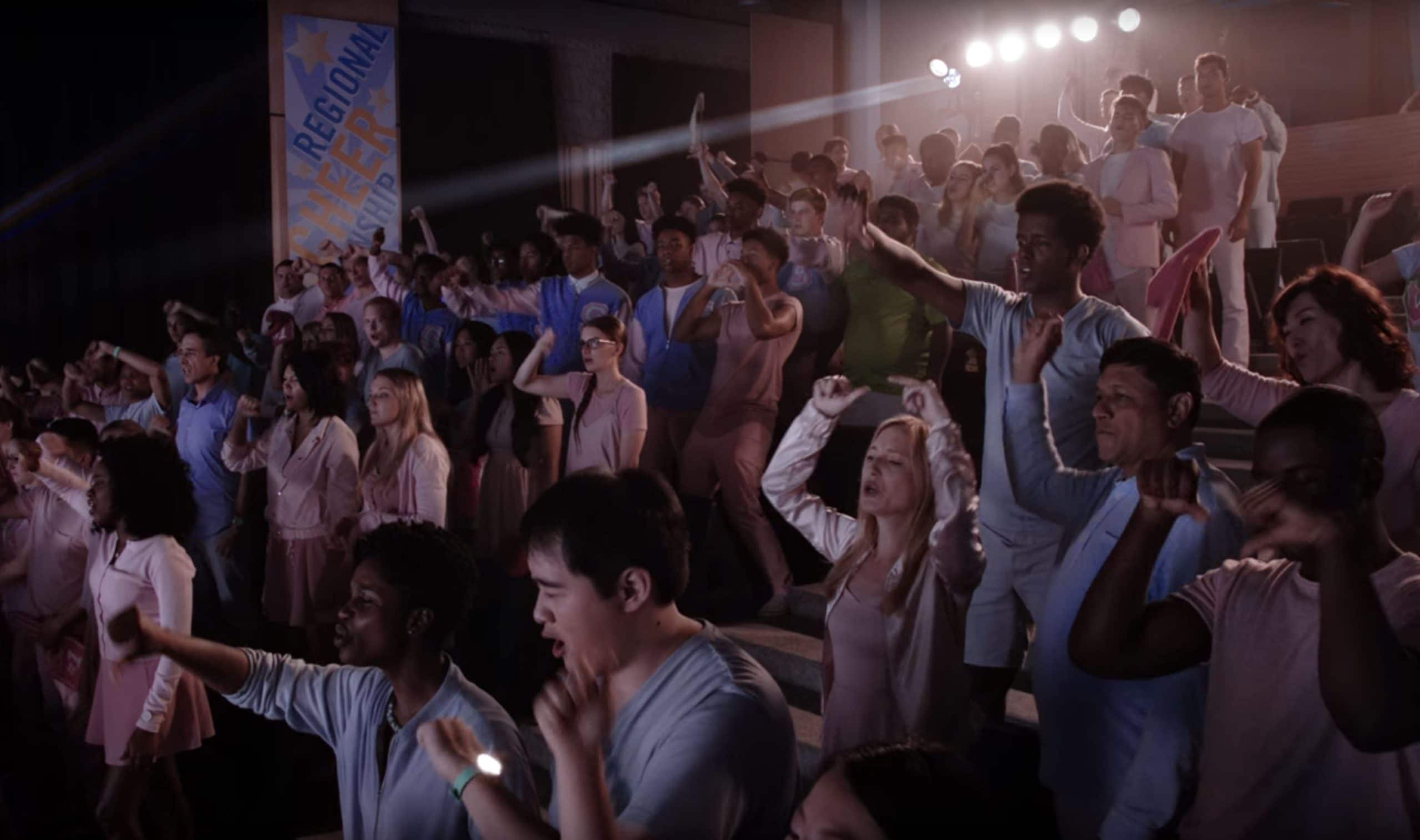 Middle, with Julie Abcede, Disney Zombies Movies
Cons to Being a TV/Film Extra
#1. Long Waiting Times
Expect long waiting times. Sometimes, you may not even get to set. Nobody ever knows for sure when a day is wrapped because the decision is dependent on so many random factors.
For example, if the scene is daylight dependent (meaning the scenes are all filmed outside and none of them are set in the night), you can probably expect the director to stop filming in the evening. However, this schedule might change if the director decides to add some interior shots that are not daylight dependent. Needless to say, the waiting time is incredibly unknown. And you will never know for sure how long you will be there!
A few times, I was on set for 18 hours and it was brutal. The more you can fill that time being productive in these cases, the better. During wait times you can work on freelance projects (like me) or chat/network with new people.
#2. You Can't Really be Sick
Cancelling bookings or projects that you've already accepted is usually frowned upon in this profession. Even if you are sick, you can't default. If you do, your agent will not be happy with you and he or she may not contact you again in the future for being unreliable. Hence, it is always advisable to think twice before accepting any bookings.
#3. Variable Pay
This job is seasonal. Based on my experience, I think there's more work in the summer than in the winter. This means the income you will earn from this job will not be stable as it depends on what's filming and available. However, when there's a lot of work available, you could sometimes be working every single day!
How to Become an Extra
If you want to add this side hustle to your basket, I would advise you to research the agents in your area or to visit sites/resources like ACTRA Toronto.
[EDITOR'S NOTE: A quick google search for U.S. resources sent me to these places – maybe others in the industry can elaborate more for us?

CentralCasting.com — "the leading Background Actor casting company in the United States."
SAGAFTRA.org — "The Screen Actors Guild and the American Federation of Television and Radio Artists"
Backstage.com — Open casting calls and auditions for extras
Also to note: it seems that "background actor" and "extra" are interchangeable here, at least in the U.S…. Maybe it's akin to those who call themselves "writers" instead of "bloggers?" ;)]
Bottom Line
Based on my experience, the PROs definitely outweighs the CONs. You can pursue other interests while on set, meet new friends, and eat good food. If a regular girl like me can do it, you can succeed too in this hustle and earn extra cash!
*******
Peggy Bree is a part-time digital nomad from Toronto, Ontario. She is the founder/ creative lead of BLANK ROOM, a branding studio intended to uplift curious entrepreneurs and experienced folks with thoughtful branding and design. Recently, she published a book called BRANDING QUICKIES, a collection from 20 women who share their best insight, tips and advice to help others grow their brand. You can follow her on Instagram and BLANK ROOM's Facebook page.
For the full list of our side hustles, click here: 70+ Ways to Make Extra Money
For the past 3 we've featured:
(Visited 242 times, 1 visits today)
Get blog posts automatically emailed to you!