[This is an awesome guest post by Sarah at Life, Comma, Etc… #IMHO]
It's easy to hop on a trend and add a hashtag to your latest tweet about going over the family budget. We've all seen them, lately:
"Yeah, I want a down payment, but #YOLO right? And Maybe I should stay in and study tonight, but if I say no, they'll stop inviting me! #FONSY.
While these trendy lifestyle philosophies seem like harmless fun on your Twitter feed, it's another thing when you realize the real-life budget consequences of living life by a short-sighted acronym.
Torn between between dismissal and adoption? Take a look at the following best and worst case scenarios to find out how to put these philosophies to work for you:
#YOLO – "You Only Live Once"
YOLO is short for "You Only Live Once" and the dire life-and-death implications are obvious. With respect to your religious beliefs, this trend capitalizes on the fact that you'll only live the life you're living right now once. So, the logic goes, this is your only chance to go crazy on the frozen yogurt bar, drop 10K on that vintage Led Zepplin t-shirt, or ring up the most expensive bar tab ever. It represents the sentiment that experiencing the benefit of life and money now is the most important factor, and this philosophy works out in two different ways:
Best Case Scenario: Not only does this probably fund the economy with impulse-runs to Las Vegas, but it keeps you on a permanent entertainment high. It's no longer a question of discretion or moderation, it's just how much of it you can bankroll before you have to go home and be boring again. Assuming you have friends to share in the glory, a YOLO lifestyle makes for some great stories.
Worst Case Scenario: Obviously, you'll run out of money sooner or later without discipline. Have the cash? YOLO can very quickly turn into a depressing, hedonistic experience. While it may be true that you only live once, if you live irresponsibly, it leaves plenty of room for regret.
The Middle Ground: Reap the benefits of YOLO by allowing yourself a few indulgences without going overboard. Decide in advance what experiences are worth putting off your financial goals, and what experiences you need to wait and save for. Then put your plan to action and enjoy the outcome!
#FOMO – "Fear of Missing Out"
FOMO, or "Fear of Missing Out," is called into play when you scroll Facebook for the latest updates of your friends and find yourself feeling restless. As Get Rich Slowly reported, FOMO is that "uneasy and sometimes all-consuming feeling that you're missing out — that your peers are doing, in the know about, or in possession of more or something better than you." Can you guess where that leads? Right down the path of keeping up with the Joneses.
Best Case Scenario: Purely motivated by FOMO, you can expect to be in the know on major trends among friends and in the news. FOMO-related activities include constantly refreshing your email, RSS, and social media feeds, and knowing the who, what, where, and when of every major event in your area of interest.
Worst Case Scenario: From texting while driving to commitment-phobic behavior in relationships to "keep your options open," going full-on FOMO can paralyze you into missing out on a lot of things.
For starters, it's hard to make choices at all, which can sometimes lock you into making bad choices by way of inaction. Then there's the agony of feeling like you're constantly behind on the latest technology, purchases, and investments, and that only leads to sadness and financial crisis.
To avoid the full effect, pause before you make financial decisions to make sure it's something you really want to do — not something you're doing just to keep up with or be available to your friends.
The Middle Ground: Choose good over evil by using your FOMO-instincts to connect more with friends. Find out what everyone's doing by getting in touch personally, not through your wi-fi connection. You can also use your need for knowledge to thoroughly research purchases before you make them– just give yourself a time limit so you aren't paralyzed into indecision.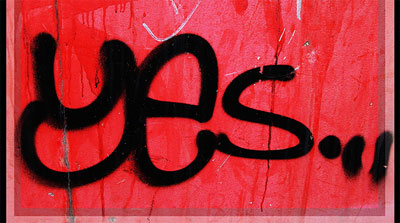 #FONSY – "Fear of Not Saying Yes"
The "Fear of Not Saying Yes" is another trend that can have real financial (and life) consequences. FONSY and FOMO may seem oddly similar, but the difference is that while the latter is motivated by wanting to be involved in a lot of stuff, FONSY speaks to the social pressure of not being able to say no. FONSY encourages people to take on responsibilities, projects, and obligations that they might have said no to… if they weren't so afraid of not saying yes.
Best Case Scenario: FONSY can work against you, sure, but it can also leave you with more accomplishments and experiences than you might otherwise choose for yourself. If you're not acrophobic (afraid of heights) and your friends are going sky-diving, FONSY might be that extra push you need to have that experience.
Worst Case Scenario: When you participate in a FONSY lifestyle, you wear away at the boundaries that make your life your own. For example, if you're trying to stick to a strict budget to pay down your student loans, FONSY might encourage you to spend that savings on a weekend trip invitation from friends without really enjoying it. You also might say yes to work opportunities that don't meet your income requirements, or don't respect your time.
The Middle Ground: Instead of accepting every invitation for every opportunity, take time to set a vision for your financial and emotional goals. Then carefully assess every opportunity to see if it aligns with your vision. If it does, even if it's uncomfortable, say yes without fear.
Do any of these pros outweigh the cons? Or are these philosophies perhaps ridiculous to begin with? What do you think?
————
Sarah Greesonbach is a former teacher turned blogging and social media specialist on the hunt for the meaning of life and a YA publisher. Read about back-to-basics food, love, and finance at Life [Comma] Etc or work with her at Greesonbach Creative.
Photo credit #1: UglyRenaissanceBabies
Photo credit #2: Mark Turnauckas
Photo credit #3: erix!
(Visited 67 times, 1 visits today)
Get blog posts automatically emailed to you!