Another month, another money update!
It feels quite funny rejoicing about our jump in net worth here when we're about to unload $18,000+ in the very near future, but I guess for right now we can smile one last time before it takes a dive, right? :) Technically we're still up since we haven't paid anything yet! Haha…
All that aside though, May was a perfect snapshot of what an ideal monthly update SHOULD look like. Savings and investments were up, mortgages and car values were down (as to be expected), and overall everything plopped into place exactly like they're supposed to be when you rock your money. If it weren't for what's to come I'd totally be doing cartwheels naked down main street! It's too bad you'll have to miss that ;)
Here's how May broke down:
MONSTER CASH (+1,585.72): The first big jump in savings in quite some time. I was peering through some past few updates we've had, and 75% of them were all down months. We had good reasons for most of those times, of course, but it still doesn't change the fact that we've been bleeding cash over the past handful of months. Something we'll def. have to be cautious of going forward from this point in time – now that all our major stuff will be out of the way
529 College Savings (+$125.99): A nice uptick from money already invested and being left alone.
IRA: SEP (+$2,157.97): And same here!! Nothing new added, yet the account still continues to grow while you sleep :) My favorite type of making money! (Until the market turns psycho, of course…)
IRA: ROTH(s) (+$2,375.77): Same. Nothing new added but a nice increase nonetheless.
IRA: TRADITIONAL(s) (+$5,259.04): This one too! Five large ones from just sitting back and watching the money grow! WOO! If that's not proof socking away money is smart, I don't know what else is. And here's how they're all broken down too, still with our IRA Test in the works (with no definitive end in site still… cuz I'm lazy):
IRA #1 (NOT Managed): $71,664.75 **Leader for over a year

IRA #2 (Managed, USAA funds): $67,606.7
IRA #3 (Managed, ALL funds): $68,308.81

AUTOS WORTH (kbb) (-$597.00): My Cadillac literally went down ONE dollar, haha… that's awesome. Though not so much dealing with insurance now after our latest car incident, ugh… Gonna be blogging about that one in a bit… Not a fun decision about to be made :(
Pimp Daddy Caddy: $2,159.00
Gas Ticklin' Toyota: $7,218.00
HOME VALUE (Realtor) ($0.00): This one remains the same as it has been for a while too – set at $285,000 when the last home in our neighborhood sold. It's quite possible it's increased a tad since then, but I'm not going to bother with looking into it yet until we need that info for something specific down the road. Like maybe selling our house or something… Better for it to remain lower than it should be than the opposite! :).
MORTGAGES (-$633.85): This is the mark it hovers at when we're not putting Operation Kill Mortgages into effect. AKA knocking away $2,000 extra in principal each month. It's safe to say we won't be getting back to that anytime soon with all these moving/housing expenses we've been coming into. And honestly, not even sure it makes sense to continue to pay down much right now since it's now an investment property? I'll have to give that some more thought and see how I feel about it – it's all kinda been on pause lately.
That's it for this month! How did you guys do? Anyone else feeling mildly uncomfortable knowing large expenses are looming around the corner? We can all commiserate together and feel better about ourselves ;)
In all seriousness though, I do hope your tracking and paying attention to all this stuff is really going well. It's an incredible feeling knowing your hard work and patience is paying off each and every month – all helping you get to your goals that much faster. It's not always fun or that exhilarating at times, but every time you do that update it should hopefully be motivating you to keep on going strong.
At the very least, it's important to know *where* all your money is at all times. You'd be amazed at how many of your friends can't even tell you that!
Your friend in wealth,


———————
PS: How sickening was Game of Thrones this week??? My word!

(Visited 9 times, 1 visits today)
**********
PS:
If you're just getting started in your journey, here are a few good resources to help track your money. Doesn't matter which route you go, just that it ends up sticking!
If you're not a spreadsheet guy like me and prefer something more automated (which is fine, whatever gets you to take action!), you can try your hand with a free Personal Capital account instead.
Personal Capital is a cool tool that connects with your bank & investment accounts to give you an automated way to track your net worth. You'll get a crystal clear picture of how your spending and investments affect your financial goals (early retirement?), and it's super easy to use.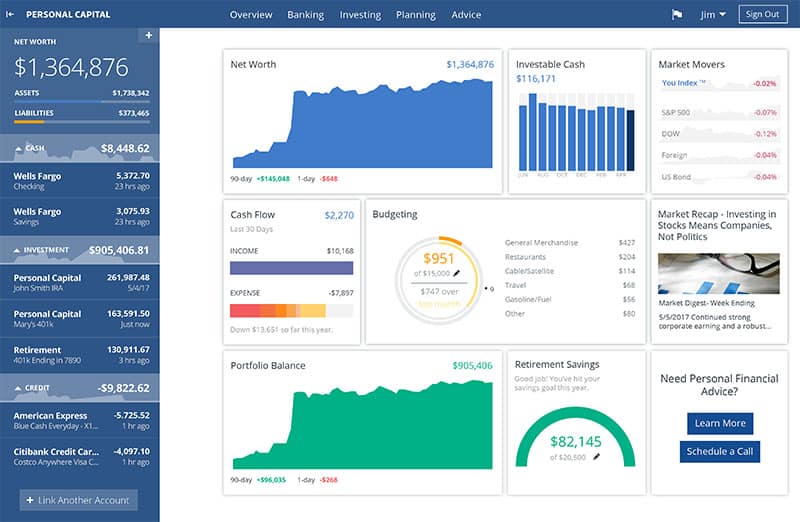 It only takes a couple minutes to set up and you can grab your free account here. They also do a lot of other cool stuff as well which my early retired friend Justin covers in our full review of Personal Capital - check it out here: Why I Use Personal Capital Almost Every Single Day.
(There's also Mint.com too btw which is also free and automated, but its more focused on day-to-day budgeting rather than long-term net worth building)
Get blog posts automatically emailed to you!