[This is part of our monthly Net Worth Series where I share our real life #'s with the world. Seeing this from other bloggers was game changing for me a decade ago stumbling across the PF world, so I share ours every month in hopes it helps motivate you too. Welcome to net worth update #111.]
Well hello there, April – how did you get here so fast?? What did you do with January and February and March? Or my 30s for that matter?
Sometimes I like to lay back and close my eyes for a few seconds, and then shoot up real quick in shock as if I was just waking up from a coma of 10 years.  I look around to see if I can figure out where I am now (you usually can never tell as most places look the same), then I'll find a mirror to see how much I've aged since coma'ing out (that part's always the scariest), and then, if I happen to be around a computer, I'll pretend to figure out how to log onto all these newfangled apps and websites so I can check in on the status of my money :)
It's pretty random, I know, but I tell you this much – it suuuuuuure puts things in perspective taking that quick moment to freeze time! Because believe it or not, another 10 or 20 years will pass us by before we know it, and we're gonna be praying HARD that our past selves set us up on the right path to catapult all our hopes and dreams and financial desires! Similar to that Retirement Freedom calculating we talked about the other week, the power of time and compounding is no joke. Just think about where you were yourself 10 years ago financially, and where you are now? Night and day, right?
Anyways, enough philosophizing, but do pat yourselves on the back for caring enough about your future to be spending time on a personal finance blog right now :) I'm sure you don't admit it to the entire world, but you're in good company here and we salute you.
Now onto the numbers… Here's how March broke down:
CASH SAVINGS (-$878.32): Blech. I wish I could tell you that I have plans in the works to make millions every month going forward, but the truth is I still struggle with doing stuff for money vs doing stuff for passion. I never set out to be an entrepreneur or to make money online – I do all this stuff because I love it! – but somewhere along the line it became my full-time gig and I realized there's a big difference between running a blog as a *hobby* and running a blog as a *business*. Pros and cons to both sides (which we'll save for another day), but in a nutshell I still find it hard to do both and tend to gravitate to the fun "passion" side. For the better or worse of my wallet :)
BROKERAGE (+$10.83): Ten dollars more than we had last month! Just Acorns continuing to round up our daily transactions and drop the spare change into our portfolio for us. Nothing too exciting, but hey – it's not like we had to lift a finger? Been thinking of nixing it though just to streamline my accounts more and have one less thing to maintain, but we'll see…
THRIFT SAVINGS PLAN (TSP) (+$445.49): My favorite addition to our net worth family ever since my wife went back to the work force last Fall :) The #'s are so fun to watch compound on top of each other with every paycheck, and is the one area of a 9-5 I miss! Having your company do all the payroll and taxes for you, and then giving you FREE MONEY just for doing what you're supposed to be doing anyways – saving for retirement! Easiest way to double your money. Make sure you're taking advantage of it if your employer offers contribution matches!
ROTH IRAs (+$94.68): Nothing special going on here, although next month it'll look a lot better as we max this out for the 2016 year (only 12 more days left, FYI!).  I always wait until our taxes are done for the year before doing so, just to make sure we have the cash and there aren't any surprises.
SEP IRA (+$349.40): Same here too – the bump is coming in the next report as we max out the $12,000+ we're allowed to for the 2016 year. I miss the dollar cost averaging we used to do, but again I prefer being safer than sorry as you never know what self-employment will bring cash-flow wise. Or at least I never know, going back to that whole passion vs business thing :)
CAR VALUES (+$268.00): Kelly Blue Book says our cars are worth more this month instead of less like they're supposed to be (maybe Toyotas and Lexuses are all the rage this month?), but we just roll with it and copy/paste down the numbers fully expecting it to auto-correct itself later… Here's what they say our two cars are currently worth:
Lexus RX350: $12,565.00
Toyota Corolla: $3,918.00
BTW: If you missed our post last week and are interested in what personal finance bloggers drive, check it out here and see if it surprises you or not! –> The Cars of Personal Finance Bloggers
CAR LOAN: (-$464.10): Still enjoying our pumped up cash reserves too much to get myself to pay this off in one fell swoop, but I have been throwing in an extra couple of hundred towards our monthly bills each month. I'll probably make the call to kill it once and for all by the end of the year, unless something funky happens. I don't hate debt as much as other people, so long as you can afford it (wait, did that make sense? haha…).
And that's March for ya!
Here's a snapshot of how the past 12 months have gone. If you're wondering what happened in December to get us out of the slump, read this (I kinda sorta cheated, but kinda not?)
And then here's the worths of my two wee ones, now 2 and 4 and no longer babies, *tear*…
The 529s are only growing due to the markets, but I plan on stealing Paul's idea of having family put money into them as birthday/xmas gifts going forward so I'm really hoping it works out! Would much prefer that than more shiny toys (though I'm sure the kids would differ :)). You can read more about his idea, and 5 other awesome ones from our community, here: 6 Great Money Ideas to Steal
That's it for today! How did your month go? In the positives now from the negatives? In the negatives from the positives?

Share below so we can all pat you on the backs or console you :) It's a 100% safe zone here where we actually encourage people to talk about their money openly! Imagine if the real world allowed that?
To see all our net worth reports over the years, click here, and to see our blogger net worth tracker (now over 240) click here. Below you'll also find resources to help you get started in tracking your own if you haven't done so already. One of the best things you can do for your money, I promise!!
Here's to a prosperous April :)
UPDATE: I initially calculated the #'s wrong here, so if you saw this post in email or online/social channels Monday morning, that's why things look differently now. I WISH it were up $20,000 this month, haha, but sadly that is not the case :) Thanks to all those in the comments section who alerted me to the discrepancy which has now been fixed. Sorry!
(Visited 24 times, 1 visits today)
**********
PS:
If you're just getting started in your journey, here are a few good resources to help track your money. Doesn't matter which route you go, just that it ends up sticking!
If you're not a spreadsheet guy like me and prefer something more automated (which is fine, whatever gets you to take action!), you can try your hand with a free Personal Capital account instead.
Personal Capital is a cool tool that connects with your bank & investment accounts to give you an automated way to track your net worth. You'll get a crystal clear picture of how your spending and investments affect your financial goals (early retirement?), and it's super easy to use.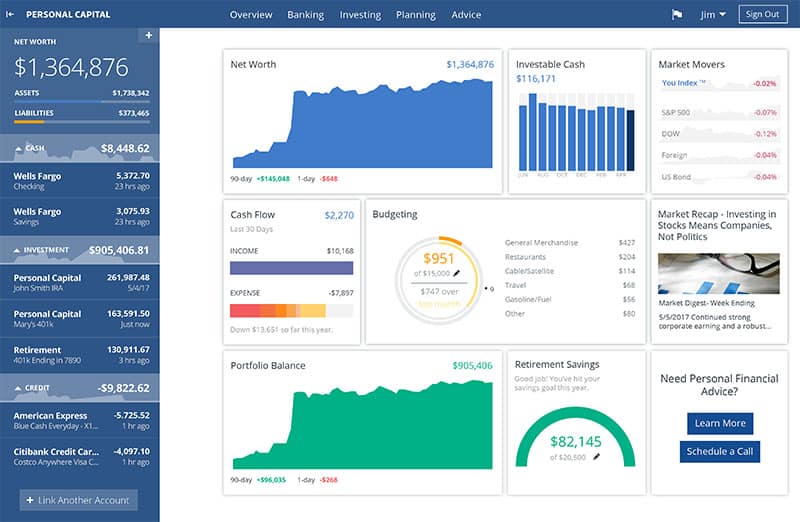 It only takes a couple minutes to set up and you can grab your free account here. They also do a lot of other cool stuff as well which my early retired friend Justin covers in our full review of Personal Capital - check it out here: Why I Use Personal Capital Almost Every Single Day.
(There's also Mint.com too btw which is also free and automated, but its more focused on day-to-day budgeting rather than long-term net worth building)
Get blog posts automatically emailed to you!