[This is part of our monthly Net Worth Series where I share our real life #'s with the world. Seeing this from other bloggers was game changing for me when I first stumbled across the PF world, so I've been sharing ours every month here in hopes it helps motivate you too. This is net worth update #112.]
*******
Hey hey! Another month, another net worth update! And this time I promise I won't screw it up like last month's when I thought I had an extra $20 G's that I didn't – womp womp…

Nothing screams excitement like having to tell everyone you goofed up and were actually only up $700! Haha… But this time, I swear – we're up $46,000!!!  4,600 :) And as you can see in the chart above, we were busy this month…
We finally maxed out our SEP IRA for the year (we always wait until we run our taxes to do it)
We finally maxed out my Roth IRA for the year (also on the back burner until tax day)
We finally stopped the Acorns experiment after 2+ years. I still very much love and recommend 'em, but my minimalist side finally won over and decided that streamlining our accounts was more important than some extra investing on the side. Especially since we don't have a problem with that area in money (if you're just starting out though, or need an extra push, def. check Acorns out!)
Outside of those moves, the month was otherwise pretty boring… But a boring we like to see with investing, eh? Slow and steady increases is the name of the game!
Here's how the whole month went down…
CASH SAVINGS (-$20,143.40): A big hit this month, but fortunately we have something to show for it – more $$$ in investments :) So really it's just a transfer of wealth, only into areas that give you a much better return down the line! Not that we have plans on siphoning out any more cash in the near future … A big savings buffer is key when you're self-employed.
BROKERAGE (-$656.44): Bye-bye Acorns! We'll miss you! But not to fret, we're still investing and will continue to sing your praises far and wide as we move along here…. Y'all are still one of the most genius apps in my eyes – helping people invest so easily by rounding up their spare change like that! It's genius! And if I weren't so tied to Vanguard or merging all my accounts, I'd have happily stayed along for the ride… And not to worry, we didn't blow through the money you helped us save up over the years – it's just moved into our Roth IRA with all our other VTSAX money :) Thanks for the good times!
THRIFT SAVINGS PLAN (TSP) (+$467.87): My wife's new job continues to pay dividends! Every month we see a nice chunk of around $500 go in, and every month I kiss her for helping add to our financial security and moving us away from a single-income family :) It's had its trade offs like moving back to daycare and other extra expenses (the DC area is not cheap!), but overall it's been a big help for our family, and even more so for her career. Now if only the gov't can figure out their upcoming budget and quit dicking around!
ROTH IRAs (+$6,746.52): $5,500 of this was from our extra infusion maxing it out, and the rest was from the gains from the month. A far cry from being 100% gains like previous months (we got spoiled!), but a nice increase nonetheless :)
SEP IRA (+$17,429.87): Same with this puppy too. About $13,000 was added money, and the rest market gains. Here's the latest snapshot of how our funds have been performing since moving over to Vanguard three years ago:
CAR VALUES (+$283.00): For the 2nd month in a row, our car values have gone up – which is of course weird. This time around it looks like my Lexus got a boost more so than the Corolla which saw gains last month. But of course at the end of the day none of this matters until it's time to sell them :)
Here are their current values according to KBB:
Lexus RX350: $12,996.00
Toyota Corolla: $3,770.00
(And if you missed it, here are my thoughts on our Lexus since now owning it for about 9 months… A handful of them are pretty surprising!)
CAR LOAN: (-$464.07): Throwing a little extra towards it every single month! My plan was to have it all paid off by the end of the year, but the more I stare at our cash savings the more I don't mind seeing this debt here :) I guess you can say we're getting charged for the security of having a nice buffer, as financially stupid as it may seem… But hey – at least we're aware of the situation, eh?
And that wraps up April's numbers!
Here's a look at how the past 12 months have gone down…
And then here's the latest numbers on our two kids' net worths:
Btw, my youngest just turned 3 over the weekend, and I tried out Paul's idea of getting family to help fund his 529 vs bringing more toys into the house ;) Only 1 person went for it, but hey – that's $20 more now than my son had before! Haha… So big thanks again, Paul. I'm going to continue to try it out as future birthdays and Christmases come along and hope that everyone eventually gets the hint ;)
How'd you all do this month? Anyone hit any major milestones? Anyone retire early?
I talk to my boy Steve every week who pulled his cord back in December (at the ripe age of 35 – that bastard!) and he's like a little kid in a candy store… Just living it up every day! Thanks for being an inspiration for us, buddy :)
To see how other bloggers are doing, check out our Ultimate Net Worth Tracker over at Rockstar Finance, and if you want to see my own journey over the past 9 years, you can see every last update of our net worth here.
As Biggie once said…
(Shout out to Candice Marie for this brilliant rendition)
*********
(Visited 13 times, 1 visits today)
**********
PS:
If you're just getting started in your journey, here are a few good resources to help track your money. Doesn't matter which route you go, just that it ends up sticking!
If you're not a spreadsheet guy like me and prefer something more automated (which is fine, whatever gets you to take action!), you can try your hand with a free Personal Capital account instead.
Personal Capital is a cool tool that connects with your bank & investment accounts to give you an automated way to track your net worth. You'll get a crystal clear picture of how your spending and investments affect your financial goals (early retirement?), and it's super easy to use.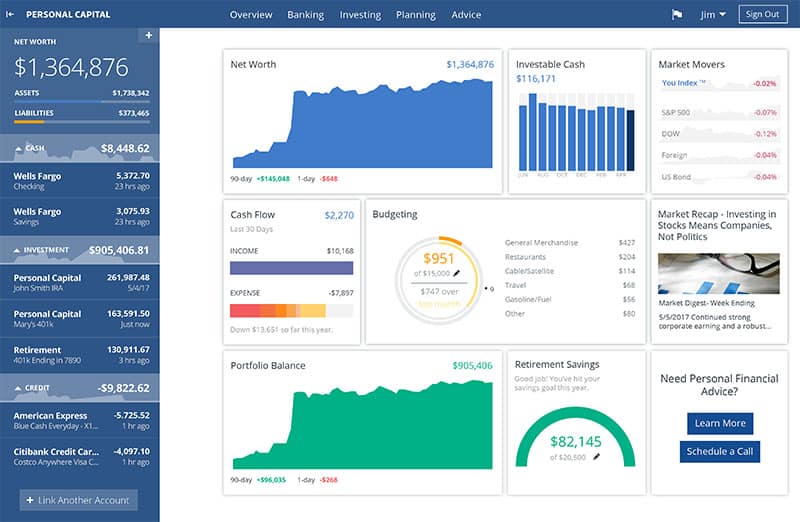 It only takes a couple minutes to set up and you can grab your free account here. They also do a lot of other cool stuff as well which my early retired friend Justin covers in our full review of Personal Capital - check it out here: Why I Use Personal Capital Almost Every Single Day.
(There's also Mint.com too btw which is also free and automated, but its more focused on day-to-day budgeting rather than long-term net worth building)
Get blog posts automatically emailed to you!