What up what up $$ lovers! You been tracking your net worth over there like good little boys and girls? You know it's the best way to measure how well you're doing financially right? Whether you're paying off debts or saving or investing or building a mini hustle empire?
Well if you don't, now you do. And don't make me reach through the screen and shake it outta you ;)
As for myself, this marks month #87 in a row we're tracking it and it's been quite the ride so far. Here is what it looks like in a picture:
A damn good way to keep motivated, am I right? And it wouldn't exist if I stayed lazy and never started tracking… To say it's been a complete game changer is an understatement.
Anyways, this month wasn't as sexy as the last one when we gained $17k (!!), but nonetheless it's all a part of the process and you keep doing the things that you have *control* over and brush the rest off. In the end it'll all trend upwards if we continue working hard at it!
When you track your worth you can also calculate other fun things such as:
Your Early Retirement Number —  As of today, the calculations say I can quit working if I want to when I'm 53. Similar to last month, but an entire year LESS than where I was the month before that. Which I know because I check once a month!
Your Lifetime Wealth Ratio™ — This one gives you an idea of how good you are at saving/growing wealth. You divide your net worth by the total $$ earned in your lifetime as reported by the Social Security Administration (it's not 100% accurate but that's fine) and it pops you out your %. The higher the better. Right now I'm at 57.5%, which is better than the 55% it was at last November when I first made this ratio up. Granted the SSA website hasn't updated 2015 earnings yet ;)
Point is, when you know where you stand financially you can forecast your life and goals a lot better. And more accurately, for that matter. So make sure you're keeping an eye on it! Whether it's in the negatives or in the millions!
Okay okay, I'll stop harping on you now… :)
Here's how March broke down…
CASH SAVINGS (-$12,927.36): This looks damn scary, but it could have been scarier had we not dumped $11,000 of it into maxing out my SEP IRA for the  year ;) I finally got around to doing my taxes (or, rather, having my accountant do them – best $$ spent EVER!) so it was time to pump that IRA up and save thousands that would have gone straight to Uncle Sam. So our cash reserves gets sliced even more, and now we're really starting to get to shakesville. Which is good that my wife will be all done with her dissertation this month and can go back into the work force after 5 years – OMG!!!!!
BROKERAGE (+$124.24): This one is up, but only cuz I started using Acorns to increase my non-retirement holdings of which $140+ was invested and dumped in here. We actually lost money in this department return-wise, but of course it's all about the end game…
Here's how my two accounts/experiments here now break down:
IRA: ROTH(s) (-$348.47): Nothing new added here unfortunately, though I am debating on whether or not to take out another $5,500 from our cash reserves to max it out before the 15th hits?? It's not the safe thing to do right now, but I haven't missed maxing it in over 5 years! Ack…
IRA: SEP (+$9,963.31): BOOM! That's where all our savings went :) Although similar to our brokerage accts and Roths above, we actually lost money return-wise but dumped in a lot to max this guy out for the 2014 tax year. Something I wait to do until my biz profits is finalized so I know exactly how much we can invest here (SEPs are tied to profits). Still, it's nice that we have another $10Gs now actively invested vs sitting in my savings account waiting to come out and play. Looking at our Early Retirement Spreadsheet again, you can see how much of a difference it can make!
Here's a snapshot from our Vanguard account that's now almost a year old, wow! That was fast!!! And of course all of this $350,000+ is in the index fund, VTSAX. Which I'm still very happy about.
AUTOS WORTH (kbb) (-$493.00): A sizeable drop in value on my wife's Toyota, while my pimp daddy Caddy stays flat at $1,000 which I just keep at and have stopped tracking with KBB… It's been dinged up quite a bit these past three years, but it's still driving strong!
Here are the current values:
HOME VALUE (Realtor) ($0.00): This still remains the same @ $300,000 as we only update it when we talk to our realtor and ask him to run comps for us… I've tried using Zillow and other places but it's too wonky for my blood. And it doesn't really need to be exact until the time it comes to sell anyways :)
MORTGAGES (-$695.64): Never gets old seeing these numbers! We round up to the nearest $100th with every payment (or, actually, the 2nd nearest $100th so it adds even more!) and it's become such second nature that we don't even realize we're paying extra. Until we run these net worth reports and I'm happily reminded so :) One of the best habits we've taken up.
Here are the balances left on our stupid mortgages:
And that wraps up another month of $$$ tracking!
Here's how we've done over the past 12 months… some ups, and some downs:

And here's how our boys did ;)
You'll see some similar cash to investment ratios going on there too… That's because we take out a chunk of their savings from over the year and invest it into their college 529 plans to better grow over the years. Better in the markets than sitting there twiddling its thumbs! And great for tax benefits too :) (We go directly through our state who fortunately encourages this stuff)

So there you have it. Net worth #87 on the books now. If you'd like to see #'s 1-86, you can do so here: J's Net Worth Tracker. And if you don't like the way I track my money, you can see how 150+ other bloggers do it here: Blogger Net Worth Tracker ;) It's not scary once you get started!
Happy April,
——–
PS: As always, my favorite ways to track this stuff:
(Visited 72 times, 1 visits today)
**********
PS:
If you're just getting started in your journey, here are a few good resources to help track your money. Doesn't matter which route you go, just that it ends up sticking!
If you're not a spreadsheet guy like me and prefer something more automated (which is fine, whatever gets you to take action!), you can try your hand with a free Personal Capital account instead.
Personal Capital is a cool tool that connects with your bank & investment accounts to give you an automated way to track your net worth. You'll get a crystal clear picture of how your spending and investments affect your financial goals (early retirement?), and it's super easy to use.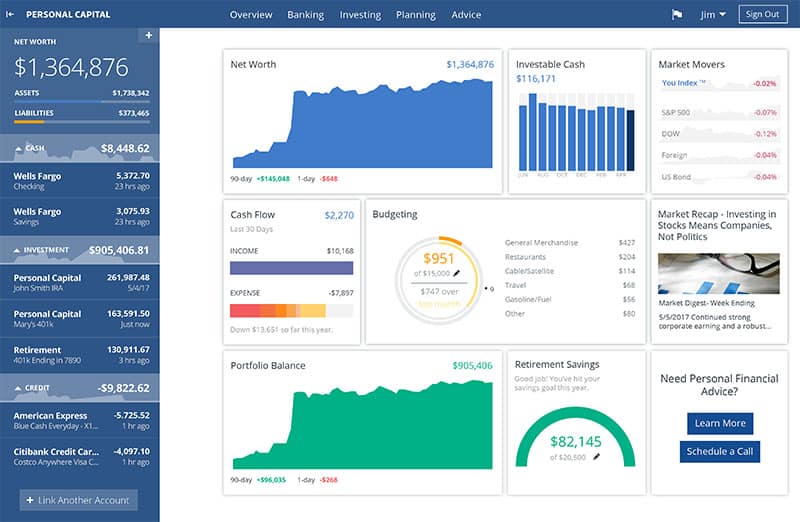 It only takes a couple minutes to set up and you can grab your free account here. They also do a lot of other cool stuff as well which my early retired friend Justin covers in our full review of Personal Capital - check it out here: Why I Use Personal Capital Almost Every Single Day.
(There's also Mint.com too btw which is also free and automated, but its more focused on day-to-day budgeting rather than long-term net worth building)
Get blog posts automatically emailed to you!