Another month, another nerd-fest! Haha… I had a friend just ask me what I was doing via gchat, and I very proudly stated "My net worth update!" It took him 15 mins to respond… I don't think he was impressed ;)
But honestly, who here DOESN'T like checkin' on their money? That's why you're my crew. I can say anything I want about money here (like how much I'd love to re-enact Scrooge McDuck's awesome coin dive!) and y'all get it. You're good people, and I'm glad to call you my friends :)
Now back to the task at hand.  Our new net worth. As you can see, we've got some pretty major changes going on up in hurrr. Specifically, with that horrible red tax number up there – bleh. I talked ranted about paying these quarterly taxes earlier in the month, but seeing it up there like that just solidifies my hatred for it. I've already said my piece though, so we fight another day!  (And save like balls before the next one comes)
Other than that, it was bidness as usual.  Websites didn't make as much money last month, but the stock market more than made up for it.  And the wifey – she socked away $2k this month!!  That'll do the trick every time ;)
Net Worth Breakdown: APRIL
CASH SAVINGS (+$1,427.09): All Mrs. BudgetsAreSexy here.  My stuff lost $600+ due to less advertising revenue this month, as well as that nasty tax bill aforementioned.  (So, I pretty much "lost" $6,000 this month) Not alarmed though – most of it was seen from far off.   And this next month should make up for it a bit!
EMERGENCY FUND (+$100.00): We're getting closer to that $10,000 again!  My goal is to at LEAST throw in $100 each month no matter what. Without taking away from any of the other funds either – it's gotta be pure leftovers from the month. Don't question me ;)
*NEW –> TAX FUND (-$5,575.00): I kinda sorta took some of y'alls advice, and made this an extra line item in the calculations.  It doesn't 100% reflect as perfect as I want yet (aka you save up money every month, only to have a big hit and disrupt the total net worth), but I kinda like the way it looks up there right now.  The reality is I do save up the money and then get pinged every 3 months, so it is pretty accurate – as long as I, personally, understand that the $5k I'm saving up is not MINE to do what I please with. Which I do ;)  I wouldn't be self-employed if I couldn't handle that one – I'd be in jail for tax evasion. Okay this paragraph is getting reallll long, haha…
IRAs – ROTHS & SEP (+$674.20): I decided to clump these guys up to save room going forward.  I had the newer SEP detailed out, but an IRA is an IRA (at least for these purposes), and my goal for tracking them is to see how my "investments" in that category are looking each month.  So clumping works out just as nice.
401(k)s (+$5,929.06): LOVE love LOVE this! I know people say it's not "real" until you cash it out, but guess what?  If I cashed it out right now I'd realize these gains!  But yeah, for the most part you can't count on this money being there 100% unless you're storing it all in a cash account or something.  Which wouldn't really do you that well over time.  For now I enjoy the fun spikes and continue to learn how it all "works."  I'll take the excitement over cash anytime when it comes to investments.
AUTOS WORTH (kbb) (+$75.00) : Few extra dollars this month on behalf of the trusty ol' Toyota.  It's been slowly rising over the last couple months for some reason… I like it ;)  Not that we're selling anytime soon.
Pimp Daddy Caddy: $2,695.00
Gas Ticklin' Toyota: $10,680.00
HOME VALUE (Realtor) ($0.00): Same number as usual.  Though this reminds me that I still have to reach out to our realtor and get him to soft-appraise it for me again.  It's been a year, and he knows this place like the back of his hand.  Any luck it could be going up?! :)
CREDIT CARDS ($0.00): Just the way daddy likes it…
MORTGAGES (+$153.36): Still going strong w/ the "rounding up" habit… I barely notice it, and it def. chips away a little each month… if only it would get up and sell itself! (I'm not bitter)
Mortgage #1: $286,175.72 – 30 year fixed, interest-only @ 6.875%.
Mortgage #2: $61,911.88 – Maxed out HELOC w/ 2.8% interest.
There ya have it kiddos.  Another month down, another quick financial snapshot.  It's kinda funny.  I never SEE all this stuff happening over the month, but when you sit down to actually run the numbers it really paints a picture!  For the good, or for the worse.  I thought I'd be swimming in debt this month due to the tax stuff, but obviously we did better in pretty much every other category.  This is why it's SO IMPORTANT to force yourself to check in on things every month.  It's the gradual stuff that can make or break you!
True story: I was losing money every single month for a year, before blogging, and I had NO idea it was happening.  In fact, I thought I was SAVING money every month! So please, if you're not already tracking it, start today.  An hour a month can literally change your (financial) life.  And I want you happy and chillin' on a beach with me one day!!! :)
Much love,



—————–
PS: Did I mention you should start tracking your money?
(Visited 16 times, 1 visits today)
**********
PS:
If you're just getting started in your journey, here are a few good resources to help track your money. Doesn't matter which route you go, just that it ends up sticking!
If you're not a spreadsheet guy like me and prefer something more automated (which is fine, whatever gets you to take action!), you can try your hand with a free Personal Capital account instead.
Personal Capital is a cool tool that connects with your bank & investment accounts to give you an automated way to track your net worth. You'll get a crystal clear picture of how your spending and investments affect your financial goals (early retirement?), and it's super easy to use.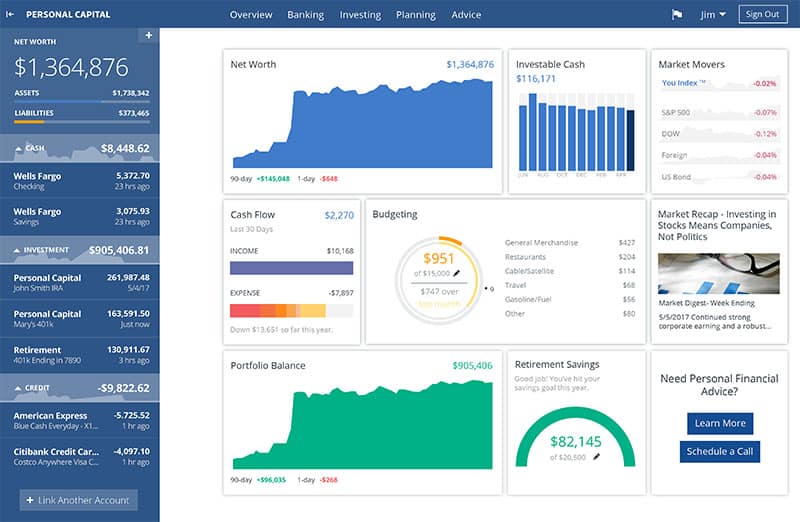 It only takes a couple minutes to set up and you can grab your free account here. They also do a lot of other cool stuff as well which my early retired friend Justin covers in our full review of Personal Capital - check it out here: Why I Use Personal Capital Almost Every Single Day.
(There's also Mint.com too btw which is also free and automated, but its more focused on day-to-day budgeting rather than long-term net worth building)
Get blog posts automatically emailed to you!