[Remember last week when we asked how far you'd go to pay off your debt? Well, our guest today, Kristin from The Wayward Home, chose tiny space living as her poison, and has been living quite the adventure because of it! Here's her story on what it's like to live in tents and cars, and now on sailboats. Gotta admire the $hit out of people for having the courage to go after such things! Hope you enjoy!]
*******
I looked around my apartment in plush Mill Valley, a suburb of San Francisco, and wondered what the hell I was doing. I'd given up most of my stuff, put the rest in storage, and was about to move out of my $1,650 per month studio and go intentionally homeless.
My boyfriend and I had calculated we could save upwards of $20,000 if we could live in his Toyota Prius and in a tent on campgrounds for a year.
So, I decided to throw all common sense to the wind and live in a tiny space with a man I'd known for only six months. Luckily, we got along well.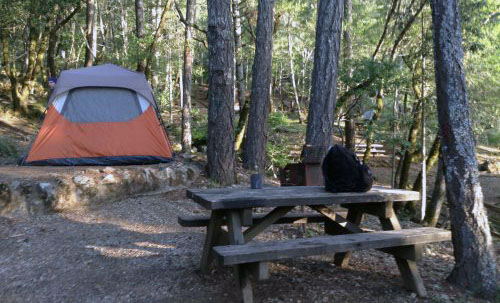 At first, we camped in the campgrounds of Mt. Tamalpais, which is about 45 minutes north of San Francisco, where we both worked at full-time jobs – me as a news reporter at KGO radio, him as an electrical contractor. We spent our evenings roasting potatoes and salmon over the fire, playing guitar, drinking beer, enjoying the sounds of the wind in the trees and the owls hooting in the inky night. We spent the mornings getting ready for work at our gym, and on weekends we'd oftentimes play music in a shipping container that served as our jam space.
Camping was fun and felt like a great adventure, until hooligans destroyed our peace one night at the campground. It was just us and them, and when we asked them to quiet down, they began circling our tent and threatening us. Finally, we had to call the cops. An officer came out, forced the crew to dump their booze, and then left. The threats on us became worse, and we sat in our tent, afraid and tense. We again called the cops, and as we waited for them to arrive, we made a run for it down a nearby trail in our pajamas and sneakers at 1 in the morning. It was one of the scariest moments of my life. Finally, a few police officers came and kicked that awful crew out for good, but after that, we started sleeping only in the back of the Prius, feeling that metal and glass were safer than fabric and mesh.
We slept in marinas, in rest stops, in campgrounds, and out near our shipping container. Amazingly, we both fit in the back of the car with the seats folded down, and enjoyed the fresh scent of night air wafting through our cracked windows.
At 34-years-old, I quickly paid off debt that had been lingering for years, and started to build my emergency fund. My boyfriend, who is now 47, and I often discussed the merits of living below one's means and how it can kick the crap out of debt while also paving the way for financial freedom. I learned that I can live without most things in life, and still be happy.
After four months living in the back of a Prius, I was done, ready to once again have the luxuries of what most of us call "home." So, I rented out a room in a floating home (houseboat) in Sausalito for $1,450 per month.
But seven months after living in a real house, I was laid-off from my full-time job as a news reporter in San Francisco. Refusing to go into debt again or burn up my emergency fund, I decided to move onto my boyfriend's sailboat which he'd recently bought and was fixing up for world travel. I got rid of even more stuff and put my childhood mementos in my mom's garage.
Now, all I own in San Francisco is my car and my clothes packed into the trunk.
The sailboat was undergoing a complete restoration when I first moved aboard, so we had to live without any comforts of home. We had no toilet, no stove, no internet, no running water. I'd be lying if I said it wasn't hard. But as the months ticked past, more amenities were installed, and now the sailboat is full of beautiful appliances, like a sparkling stainless steel stove that I'll never take for granted.
The plus side of living on a sailboat is that we only pay about $400 per month for rent, a steal in one of the most expensive housing markets in the United States, where the average one-bedroom apartment is around $3,500.
Our plan now is to live aboard until the boat is 100% ready to go in the open ocean, and then we're going to live a life of travel while I work remotely as a freelance writer and blogger. First, we'll head to the Baja Peninsula in Mexico and explore the Sea of Cortez, then we'll head to the Pacific Northwest and Vancouver Island. After that, who knows. The world will be our oyster.
I'm completely in love with the sailboat now. I love feeling the wind buffet the boat in the marina, and the tinkle of rain on top of the cabin house. I love how connected I feel to nature; that I can smell the salt air while cooking dinner on the stove. I love that when we're bored of the marina, we can sail somewhere else in the Bay and anchor out for the night. There is a sense of peace and wonder associated with a sailboat, and right now, I can't picture myself ever living in the confines of a house again.
The sailboat also forces us to save money in other ways, not just on price of rent. We don't have cable TV or any other subscription services; we get all shows and movies from the library. Our utility bill runs about $5 per month. We try to cook dinner in rather than dining out, which saves hundreds per month. I buy clothes only second-hand.
Both of us are now incredibly frugal, which will allow us to live a traveling, nomadic life. We estimate that when we're sailing around the world, we'll only need to spend $15,000-$20,000 per year. That means working less and living more.
If you asked me a few years ago, I never thought I'd be living tiny. I never thought I'd be obsessed with living below my means and living with less. But now, I can't imagine it any other way.
*******
Kristin Hanes is a journalist, freelance writer and blogger who lives on a sailboat in the San Francisco Bay. When she's not sailing, she's exploring nature on foot, and has hiked 230-miles in the Sierra Nevada. She's also obsessed with saving money. You can follow her adventures on her blog: The Wayward Home.
EDITOR'S NOTE: Here's another post you may like along these lines that we featured a few years back: Making money as a virtual assistant while living on a sailboat!
(Visited 55 times, 1 visits today)
Get blog posts automatically emailed to you!