INSIDE: Finally pulled the trigger to see what the fuss was about. Picked up a Honda Odyssey & so far so good?! Here's my thoughts as a minivan dad.
And boy, do I feel like a dad haha…

One of the first things I actually noticed, but it's kinda cool! I AM a dad, and I'm proud to be one! :)
But seriously, here's my thoughts on being a minivan dad…
What Being a Minivan Dad is Like
I'm not sure it's my favorite car yet, but after a week of driving it so far, it isn't the worst thing in the world… And my kids are obsessed with it! They literally ask to go with me EVERYWHERE now just so they can hang out in it, haha… They're also enjoying their newfound independence of buckling themselves in and opening/closing the doors too – now that they can't ding a car even if they tried. They even stand up in the back to put their jackets/backpacks on – it's crazy roomy!
The one thing I'm finding I like the most so far, though, is just the fact we're finally now *experiencing* life with a minivan instead of always wondering and thinking about it all the time. We bought it, and will now know pretty shortly whether the fuss was all worth it! ;)

And thinking about it along those lenses makes decisions like this a lot easier to swallow too – especially when you've been fighting it so long ;) Regardless of how it turns out we'll now KNOW instead of wonder! And so far I'd say I'm about 70% convinced it was the right move?
I'll have to come back in a few months and see where we're at ;)
In the meantime, here are some of the stats of the van for those who enjoy such things:
2016 Honda Odyssey
60,000 miles
3.5-liter V-6 engine
19/28 mpg
Seats 8
Sunroof
Leather seats
5 out of 5 star safety rating
Backup and side cameras (which I never use, hah)
Third row seating that folds down flush with floor for more cargo area (great for yard saling!!)
Detachable 2nd row middle seat for creating a walkway and/or hang out area for our dog (who now LOVES being in the car too! Hasn't thrown up once since shuttling her around compared to being in the back of the SUV (where she threw up almost every time :())
Purchased at Carmax again, because despite the higher prices I just love how easy and efficient they are! And always such a good inventory to poke around and test drive from too…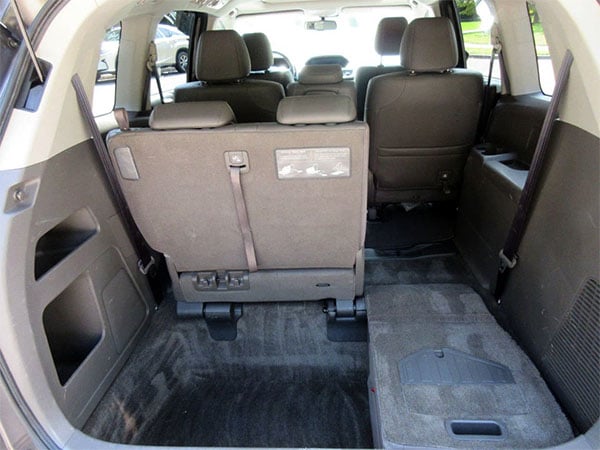 As for costs, we paid a little over $21,500 which includes tax and titling (and NOT having to spend 10 hours at the DMV – a priceless win itself!!), and we traded in our 2005 Toyota Corolla as well.

And then we also got to cross off another experience on the list – PAYING FULLY IN CASH! My first time doing so, which surprisingly also cut down the time and paperwork involved by half too. Though only because we paid w/ a *check* vs cash in a briefcase, haha… I asked about that, of course, but apparently that actually doubles the time due to all the compliance stuff it triggers! And unfortunately the option to slap it on a credit card for rewards wasn't available either, which was my first question ;)
At any rate, a far cry from this experience 3 years ago when we were on the verge of depleting our cash reserves and barely hanging on cash-flow wise, but as it tends to do, it just goes to show that a lot can change over the years when you keep at it… I never want to go back to those days again, but I sure can appreciate where we are now more having gone through it! :)
So there we have it! I'm officially a minivan dad now, and my wife has already plundered the Lexus for her daily driver, haha… I'll keep you posted with how it goes, but so far I haven't suffered any dire consequences or major hits on my street cred, at least that I'm aware of…
How are your car journeys going? Anyone else recently give in to The Van life? Anyone pulling the trigger on *other* experiences they've always wondered about?

That really has been the best part of it for me so far… Just finally *going for it* and experiencing the hubbub once and for all… Not completely sold on it yet, but for now we turn up the tunes and roll!
******
PS: There are some things I'm NOT liking very much so far… Like the millions of *electronic* features from the keyless push start to the automatic sliding doors to the dual screens and cameras that just seem to complicate things even more! I get that it's more convenient, but man – so many more things that can now break! What was wrong with early 2000's technology?! :)
(Visited 400 times, 1 visits today)
Get blog posts automatically emailed to you!