[Hey guys! Got a cool story for ya today by my man Vita Valka – a 35 year old freelance web designer from the Czech Republic who convinced his family to switch from a house to a travel trailer after getting tired of their debt. With kids (!!), and while still working on the road! If you ever wondered what that word "digital nomad" meant, this is it…  Take it away, V$!]
Until 2012 I was the traditional middle class boy, burning exactly 100% of what I earned.
Between 2005-2007 my income in Czech Republic was between $14k-$24k a year and I could afford a mortgage for a condo in Prague and a used fiver Beemer.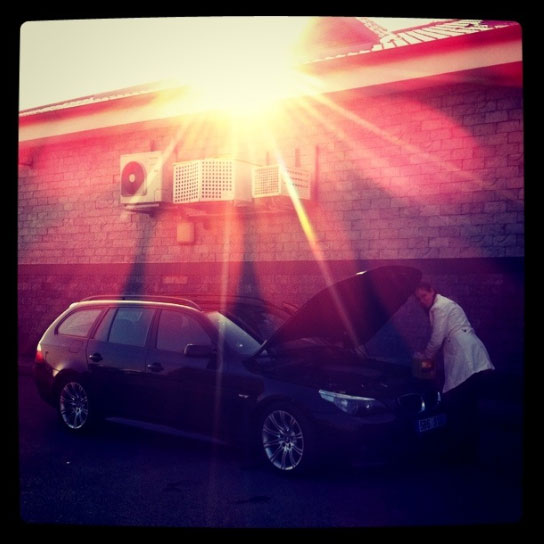 After marriage and two kids in the making, we later "needed" a house. So we took another mortgage and a few other loans and tada! — in 2012 we had a new house. Happy, but also at the bottom financially.
At one point we had 6 loans and 2 mortgages. I even sold our BMW to get cash out for some of the house debt and leased a new car. We literally took on as much debt as possible. It was scary.
After our second girl was born, we realized there was more to life than just a big house with mortgage and a shiny leased BMW at the entrance. And so the changes started to emerge…
Why a Travel Trailer?
My wife and I wanted a bit more freedom and a life full of memories that we'd be proud of at the autumn of our lives. And we realized that getting a travel trailer might be the thing that would give us the ability to travel with a family of 4 for several months a year while not ruining our already difficult finances.
Friends told me I was crazy. I pretended I knew what I was doing. We borrowed money again to buy the cheapest travel trailer with enough beds, still holding together, for around $4,000 and went on our first journey to Croatia for a month. With one girl being 2 years old and the other about 3 months old.
And it was mind blowing! That trip changed everything.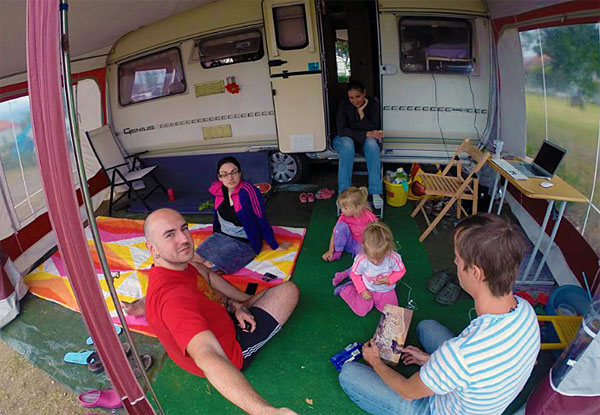 Since that time we've been doing trips every year. We've traveled through Italy, Turkey, France, Spain, Portugal and Morocco as you can see from our map of travels. We have been writing a blog, been featured in several magazines around Czech Republic, and also been on a TV show as "the caravan family" while inspiring people around us.
Does It Work Financially?
I had been a freelancer since a young age, co-founding and helping build a few private companies, so I knew how to make a living. Still, this would not work of course if I didn't make enough money.
My wife received about $200 a month while on maternity leave (you get 3 years of leave in the Czech Republic with government assistance), but that was pretty much it. Her main role was, and is, taking care of our children and life's daily tasks while mine is: to make enough to pay all the expenses.
Being scared of all our loans in 2012, I did everything to fight back. I gave myself a period of two years (2013 and 2014) to get rid of all $52,000 worth of debt we owed to our friends and family, and after working long hours we paid it off a few months before 2014 ended. All that while traveling on a budget with our travel trailer!
Letting Go of a Well Paid Gig
During 2015, already reading J Money's blog, I realized that working for a growing corporation was going in the opposite direction of the freedom that traveling was giving our family. And so I sent my thank you to coworkers and I returned to pure freelancing.
Since then I've been earning a bit less as a freelance designer, but I have enough passive income coming in from selling my digital illustrations that cover all our expenses plus a few trips each year. And as I keep doing design projects, I can easily pay off the remaining debt in a few years thereby increasing the level of free cash flow too.
I also began to save money and invest in 2015. The strategies I'm exploring are mainly stocks – using the long term value strategy by Benjamin Graham (& Warren Buffett). I'm also putting money into P2P lending and dividend funds as well as exploring Bitcoin & Gold. It's too early to judge, but so far I like it!
Our Priorities Have Changed Dramatically
The travel trailer was a crazy idea at first, but looking back it was the catalyst that changed our life from "stuff collecting" to minimalism. Being pulled by the traditional approach to living (birth-mortgage-death) to enjoying every single day with a smile. We changed our eating behavior, began playing sports, and made room for more quality time with the family.
I also began to play with our family expenses, optimizing every piece of recurring costs. Creating scientific excel sheets I've gone on to save some 20-30% of what our expenses used to be two years ago. Just by re-negotiating contracts, changing providers, killing TV and other subscriptions, and from working from home (or in my case, caravan). This was a big lesson for my introvert self who was originally scared of negotiating.
My working life has changed as well since 2007. I used to work 10-12 hours a day plus commute. Now I'm at 6-8 hours a day with no commute. And I make over 3 times the figure I was making in 2007.
Because the quality of my work is higher there's almost no distraction in my daily routine, especially thanks to my wife. And I keep the focus on delivering results to clients on time.
When the computer is turned on — I'm a machine using all the legal drugs, such as coffee, electronic music and Japanese Matcha tea. I also avoid personal meetings with clients since Skype is a fair substitute while helping the planet as a side effect.
What's To Come?
All in all I'm a crazy happy man! I'm really surprised that the desperate financial situation in autumn of 2012 turned so good in just 3 short years. That is the most mind blowing thing for me. It was a tough fight, but well worth it.
My current goals are pretty much optimizing the situation we're in. We still have a leased car until the end of 2017 and two mortgages on the books. We'll probably sell the apartment in Prague and use the free cash to pay off the car and scale-up the stocks or P2P portfolio. Managing investments from a travel trailer is more appealing to me than real estate.
I'll probably launch a few bootstrapped online projects too later. The experience and skill set I've collected over the years is better when used! Perhaps with a project that helps people live better lives?
There's a universe of opportunities I now see when not having to rely on a paycheck.
I'm definitely going to continue tracking my net worth according to your guidance too, J. Money! Right now I'm not a real blogger yet, just a little one, and I'd be pretty low on your Blogger Net Worth List – somewhere on the 97th spot or so. But give me a few years and I'll jump up with fireworks!
*****
Thanks Vita! Love the enthusiasm/creativity! Now who wants to sell all their homes and move into trailers with me??? :) We can sneak attack Steve's Airstream!
PS: Other travel-related stories we've covered:
(Visited 16 times, 1 visits today)
Get blog posts automatically emailed to you!